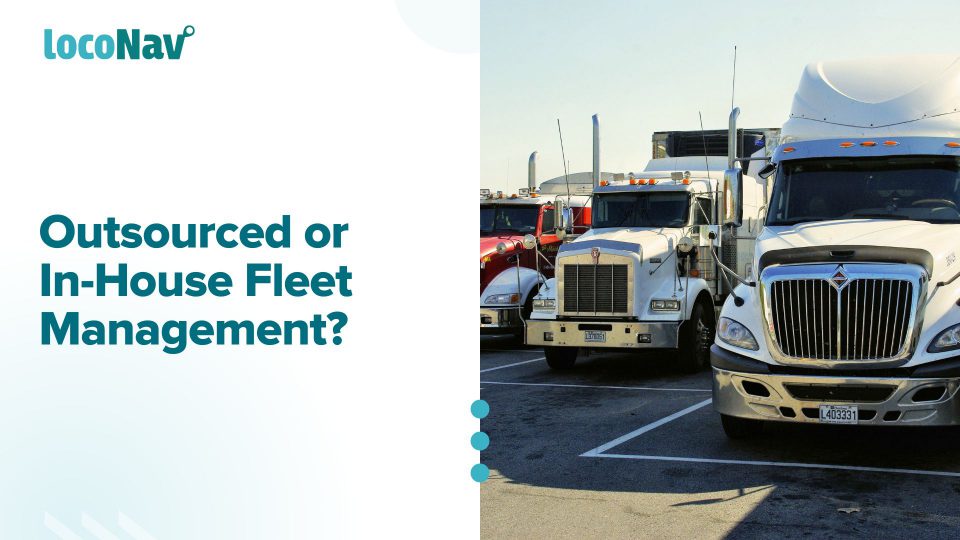 Outsourced Or In-House Fleet Management: What is Right for Your Business?
We have discussed the benefits of fleet management at length. It has its benefits in nearly all industries, from pharmaceuticals to healthcare to school bus fleets. While the choice of using a fleet management solution is obvious, there are many questions that arise even after you make the decision. Should you use a dedicated fleet or a private fleet? Should you use commercial vehicles or fleet vehicles?
In this blog, we will be addressing one such question. Outsourced Or In-House Fleet Management, which one is better for your business?
Manage your fleet efficiently with LocoNav's Fleet Management Solutions!
Different Approaches To Executing Fleet Management
For many businesses, fleet management raises one of those age-old business quandaries: whether or not to outsource. There are compelling reasons on both sides, but no single answer fits all businesses. We will evaluate the pros and cons of both options, so you can make a more informed choice.
Outsourcing Fleet Management
Outsourcing your fleet management means that you hire professionals from another company that are dedicated to providing fleet management. These companies usually serve multiple clients and industries at the same time.
PROS:
Gain Access to New Ideas:
Outsourcing fleet management could be just what your company needs. New ideas may prove invaluable in improving and optimising your processes in ways you never imagined possible.
Focus On Things That Matter:
Outsourcing fleet management may allow you to focus on the things that really propel your business forward. It may be simpler to outsource vehicle management to a specialised organisation in order to eliminate management processes and any associated risks.
Resource and Knowledge:
Outsourcing frequently entails gaining access to previously unavailable specialist systems, tools, and knowledge. The systems and tools will give you access to market knowledge, allowing you to benchmark your performance to identify any gaps and areas for improvement.
CONS:
Poor Communication
Discussions with external FMOs (fleet management organisations) about the implementation of policies and procedures may take some time. Before it can be finished, it must travel via various channels. Furthermore, this time usage may be inefficient.
Contract Administration
Once a contract has been signed, it is impossible to negotiate prices during trade difficulties.
In-House Fleet Management
In-house fleet management is when fleet operations are managed by employees of the company.
PROS:
Cost Management and Control:
You and your staff know your company better than any outside agency. Regardless of how fantastic the source is. Familiarity with the vehicles, drivers, and resources can aid in identifying potential issues before they become major issues. You can see smarter methods to collaborate with the rest of the company that could save money or increase operational efficiency.
The Big Picture:
Outsourcing can be useful for focusing on specific improvements. Particularly in specialised fields. However, what about the big picture? Understanding your company's larger aims and main goals is also crucial, something an in-house operation will understand. A third-party service provider will not have access to critical business information such as investment and expansion plans.
CONS:
High Capital Costs
When compared to outsourced fleet management corporations, spending money on effective fleet management equipment for monitoring daily operations can be pricey for businesses with smaller fleets.
Difficulties in Attracting Skilled Workers
Hiring experienced staff to do certain fleet management tasks can be difficult and costly.
What to Consider Before Choosing an In-House or Outsourced Fleet Management?
Here are the three important questions to consider while choosing the best option for your company:
How many fleets are there?
Count the number of fleets you have and account for all expenses such as maintenance, compliance, purchase, and so on. If the entire cost appears to be exorbitant, then outsource fleet management without hesitation.
Is your team overworked?
Are fleet management responsibilities diverting your employees' attention away from vital business operations? Then, outsourcing fleet management can undoubtedly help your company save time.
How will outsourcing affect employee and customer communication?
If entrusting external authorities with control over your business operations is risky, reconsider outsourcing.