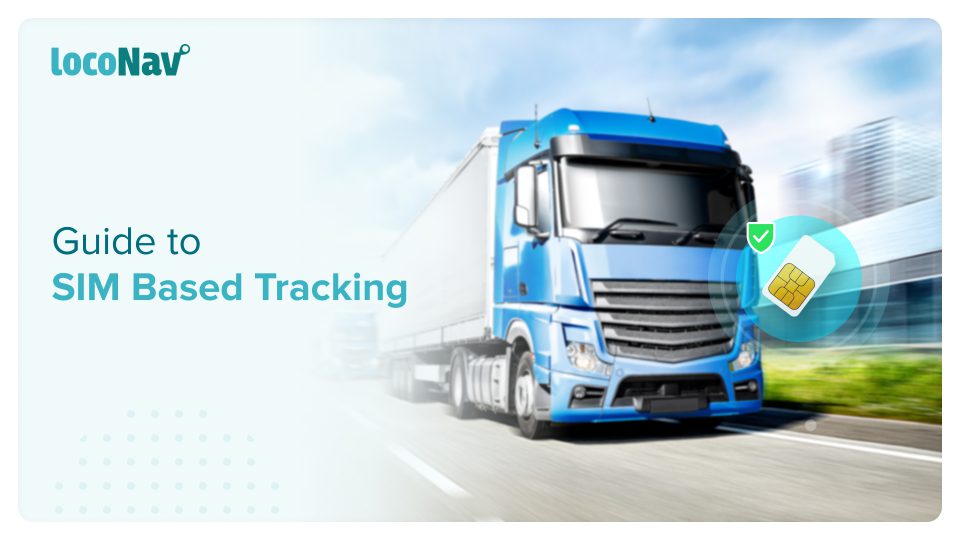 Should You Consider SIM Based Tracking?
The success of the logistics industry appears to be dependent on delivering commodities in a suitable assortment, place, and time. It is the company's primary responsibility to complete the task within the specified time range. So, the main task here is to properly knit all key things and disseminate them in the correct order without delaying or impeding delivery.
The changes in the automobile industry have provided vehicle makers and logistical companies an advantage. While precise fleet tracking is one thing, adopting a cost-effective technology will become the crucial differentiator. The new method of tracking the fleet is now more required to know the fleet's movement, forecast correct arrivals, and boost efficiencies.
The days of traditional GPS tracking devices are quickly fading as a costly and time-consuming technology. It is time for fleet management and logistics organisations to embrace SIM-based tracking technology in order to solve expenditure limits, minimise operating expenses, and maximise ETAs.
Check the live location of your vehicle with LocoNav's Vehicle Tracking System!
What is a SIM Based Tracker?
A SIM-based tracker assists in monitoring the trucks by using the GPS coordinates from the driver's cellphone network. Drivers must give their permission to track their vehicles for this application. This online SIM tracking system is suitable for market/hired automobiles and trucks.
The SIM based tracking device is intended to track a vehicle's real-time location for improved fleet operations without the use of traditional GPS tracker devices. This SIM-based system is cost-effective, pay-per-use – pay for the days or when services are activated, no term payment required, as is common with GPS vehicle tracking solutions.
What are the Benefits of a SIM Based Tracking System?
Cost-effective Tracking
Sim-based tracking does not necessitate the purchase of a tracking device. As a result, there are no installation or maintenance costs. You only need to pay a small fee for tracking services.
Simple Installation
All you need is a phone number, the identity of the operator, and authorization to track. That is all! You enter these details into the site to start the process. It will not take more than an hour to get started, and it may take less time in some cases.
No term-payments
You do not pay on a monthly basis for SIM tracking services. Simply pay as you go. You will not be charged for days that you do not utilise the service.
No wear and tear
Because there is no need to install the device, there is no wear and tear with SIM based tracking solutions. The vehicle sustains no harm. The automobile retains its original perfect condition.
Internet access not required
It operates flawlessly even in distant regions where internet connectivity is limited or non-existent. It does not require internet access to function. It is compatible with the cellular network.
Differences Between A GPS & SIM Based Tracking System
Here we will highlight the basic differences between a GPS and a SIM Based tracking system:
Working
SIM-based tracker services are available even on low-cost feature phones, as they do not require a smartphone with internet access. As a result, SIM-based solutions are preferable for tracking the route progress of assets, as well as knowing detainments and diversions, as not all drivers may have a smartphone to access these services.
A GPS tracker, on the other hand, can only be utilised after connecting to the internet.
Device Upkeep
SIM-based tracking requires little time and effort.
GPS tracking hardware requires effort and money to maintain.
Consent Tracking
SIM based tracking system works without hindering the consent of the driver as the driver has to approve the tracking feature on his mobile device.
GPS tracking hardware requires no consent and might be a problem for some drivers.
Data Accuracy & Reporting Capabilities
Since a SIM based tracking device does not require a constant internet connection, its reporting capabilities are not hindered in the case of a no-network zone. This ensures that data is more constant and accurate.
On the other hand, a GPS tracker requires an internet connection for reporting and data may not be uploaded in real-time.
Final Thoughts
The SIM Based Fleet Tracking Solution is intended to track fleet operations across many locations based on position coordinates captured via the driver's cellular network. It was designed to track, locate, and monitor the everyday operations of the fleet without the usage of typical GPS trackers. SIM based tracking also has many benefits over traditional tracking methods as highlighted above.
FAQ
Who Needs SIM Based Tracking?
Anyone who operates assets operated by labour can use SIM Based tracking to their advantage. By installing a SIM based tracker in the operator's smartphone, the asset owner can ensure the safety of their asset.
How Secure Is My Data In SIM Based Vehicle Tracking System?
Just as with any technology, SIM based tracking is not without its limitations. But if you take the proper measures and restrict any unauthorized access to your mobile device, your data is very secure in a SIM based vehicle tracking system.
What Kinds Of SIM Cards Are Compatible In This Type Of Tracking?
As long as it's equipped with a carrier network, any SIM is compatible with SIM based tracking.