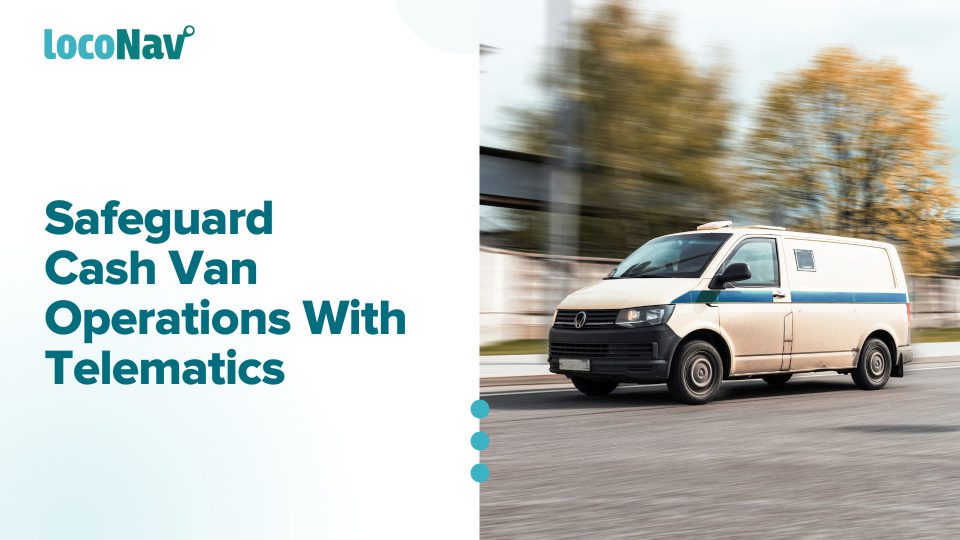 How To Use Telematics For Cash Vans?
Every industry that has a variety of high-value assets must be tracked for their safety and security. Cash vans serve as one of the most essential high-value assets for banks. These vehicles are in charge of delivering cash to various sites. Cash-carrying vehicles play an important part in the banking industry by transporting and distributing cash from banks to ATMs.
In this blog, we will see how telematics for cash vans can be crucial.
Manage your fleet efficiently with LocoNav's Fleet Management Solutions!
Why is it Important to Monitor Cash Vans?
Moving money from one location to another is a dangerous activity that demands meticulous planning, monitoring, and scheduling. When an asset exits a bank's secure facility, it is instantly in substantially higher danger. Bank vehicles transport large sums of money, necessitating the installation of a security system to monitor the vehicle's operations, route deviations, stoppages, driving behaviour, and other factors.
These vehicles are particularly obvious targets, and the number of these threats has increased over time. To combat this, a GPS monitoring and fleet management system can be utilised to trace cash movement between bank offices, branches, and ATM locations.
How Does Telematics for Cash Vans work?
By improving vehicle security with a cutting-edge GPS Vehicle Tracking & Fleet Management system like LocoNav, you will reap numerous short and long-term benefits, including:
Tracking and monitoring your vehicles in real-time using GPS tracking
Keeping track of departure and arrival timings to and from the branch and ATMs.
Communicating between vehicles and the bank's headquarters using dual-facing dashcams
Optimizing the fleet operations via scheduled maintenance and fuel monitoring
Improving route management and vehicle assignment (view fuel levels and maintenance schedules during trip creation) to shorten cash distribution time.
Enhancing security for drivers, cash and vehicles using eLocks that can only be accessed by authorized personnel and remote engine immobilisation.
Explore LocoNav For Tracking Cash Vans
LocoNav's GPS Tracking System and Fleet Management Solution allow you to efficiently and effectively keep track of all of your in-transit cash trucks. It is solely intended for real-time monitoring and security of your bank's fleet. If an incident occurs, the system can pinpoint the exact position for police to respond to. This is especially valuable if communication between drivers and the fleet manager has gone down or is not functioning properly.
These capabilities provide value to the safety and security of ATM money/cash transfer vehicles, as well as quick recovery of your high-value assets – an award-winning, inexpensive, and comprehensive tracking & security solution to meet your company demands.
LocoNav Solutions Suite is an innovative mix of fleet and asset management solutions that will assist you in managing your fleet from start to finish. From vehicle tracking to vehicle management, video telematics to thorough reporting, and fuel monitoring to tyre management, we have got you covered. We provide you with every tool you might possibly need to maintain your fleet functioning.