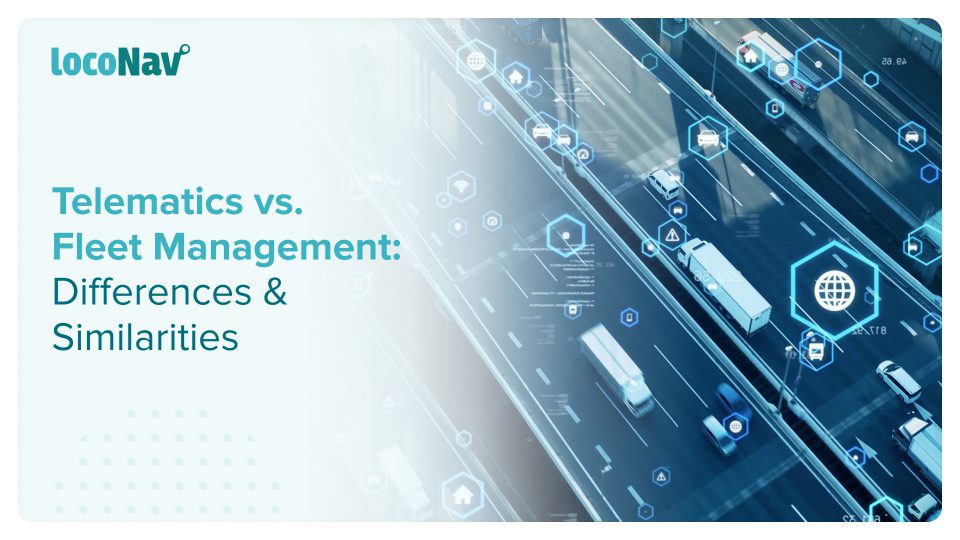 Telematics vs Fleet Management: Differences & Similarities
People often use the terms telematics and fleet management interchangeably. However, it is not quite accurate to do so. Businesses are increasingly turning to fleet management and telematics software to improve the visibility and productivity of their fleets. However, there is some overlap between the two tools and their respective roles in fleet management.
Although there is some crossover, they are not exactly the same. Fleet management and telematics are two competing systems, with one lacking the other. It is critical to define and distinguish between the two. In this blog, we will define both telematics and fleet management independently and then discuss the difference between telematics and fleet management, and also the similarities between the two.
What is Telematics?
A telematics system, at its core, consists of a vehicle tracking device mounted in a vehicle that permits the sending, receiving, and storing of tracking data. It links to a SIM card via the vehicle's onboard diagnostics (ODBII) or CAN-BUS connector, and an inbuilt modem allows communication over a wireless network.
The gadget captures GPS data as well as a variety of other vehicle-specific data and transmits it to a centralized server through GPRS (General Packet Radio Service), 4G mobile data, cellular network, or satellite connection. The server analyses the data and displays it to end users through secure websites and apps tailored for smartphones and tablets.
More specifically, telematics solutions such as LocoNav have the following features for businesses:
Equipped with active sensors, the telematics unit can detect risky driving situations and assist drivers in avoiding collisions.
Driver Behavior Monitoring
Playback driving videos or examine driving metrics to obtain insight into driver behavior and take steps to improve driver performance and keep your fleet safe.
Receive real-time notifications when risky driving events occur, such as hard braking, fast turns, or distracted driving, and record high-quality video proof.
Make your business more profitable with LocoNav's Telematics
What is Fleet Management?
While telematics refers to the individual data points collected from in-vehicle devices, fleet management solutions help consolidate and manage these vehicle data points across every fleet of your fleet's telematics devices.
Managing a diverse fleet of commercial vehicles can be difficult for fleet managers. Still, the proper software allows you to manage your whole fleet in one location, giving a holistic perspective to fleet operations through a connected, scalable platform. With this, you can manage your fleet from a single remote screen and always be aware of what is happening in the field.
More specifically, fleet management solutions such as LocoNav have the following features for businesses:
Track all your assets in real-time to ensure high standards of safety and productivity.
Get real-time over-speeding notifications, alerts on entry and exit points, real-time idle monitoring, and vehicle servicing and maintenance alerts.
Fleet Maintenance Metrics
Get diagnostic, mileage, and health reports for all of the cars in your fleet so you can worry less about the health of your fleet and focus more on growing your business.
Track driving behavior, reduce idling time, and save money on fuel.
Manage your fleet efficiently with LocoNav's Fleet Management Solutions!
Highlighting Differences between Telematics Software & Fleet Management Software
In general, telematics is concerned with your vehicle's data (collection, transmission, and storage), whereas fleet management is concerned with your complete fleet and its life cycle.
Although it should be obvious that telematics falls short of keeping your fleet organized, efficient, and productive on its own, it is telematics alone that will bring the crucial aspects required to increase your fleet's ROI, performance, and safety.
Some key differences between fleet management and telematics software are:
Telematics is more concerned with real-time vehicle data such as location, speed, harsh driving, fuel usage, and more. While fleet management aims to streamline the administrative operations associated with handling all fleet lifecycle data.
While telematics is ideal for just collecting data points, fleet management is ideal for reporting and analysis of said data.
Telematics is live moving data points on a map, whereas, fleet management is rows and columns in a database.
What are the Possible Synergies Between Telematics and Fleet Management Software?
Telematics data is frequently saved in the cloud, but it must still be animated, acted upon, and translated into actionable insights on a browser/app. This is where fleet management software may help. You may see and export reports, create alerts, send emails, acquire business intelligence about every aspect of your fleet, link with third-party solutions to improve fleet performance, and much more using fleet management software.
This is how fleet management and telematics software can work together:
The capacity of a telematics system to gather and provide vehicle location data can assist a fleet manager in more properly documenting and reporting drivers' time on the job for invoicing and timecard purposes.
The capacity of a telematics system to provide real-time and historical data regarding driver behavior—average speeds, braking, acceleration, cornering, and so on—can provide fleet management with insight into whether drivers are mishandling business cars. This information can be used by a fleet manager to incentivize drivers to be more responsible.
The capacity of a telematics system to track and report on engine hours and miles logged for each vehicle can assist a fleet manager keep track of each vehicle's frequently needed maintenance schedules, which can help enhance the company's long-term ROI of its vehicles.
Which one Should you Choose for your Business?
Hopefully, you can now see that fleet management software and telematics systems are two distinct options. However, when combined and efficiently integrated by a fleet management software vendor, they can dramatically improve your fleet management capabilities.
Telematics systems such as LocoNav deliver meaningful information to your fleet management software, which helps to boost fleet productivity. Such integrated solutions, in conjunction with other integrations, assist to make your operation more productive by using smart data in a seamless and automatic manner.
Integrating telematics devices with your fleet management software might be critical in satisfying all of your fleet management demands in today's connected environment.