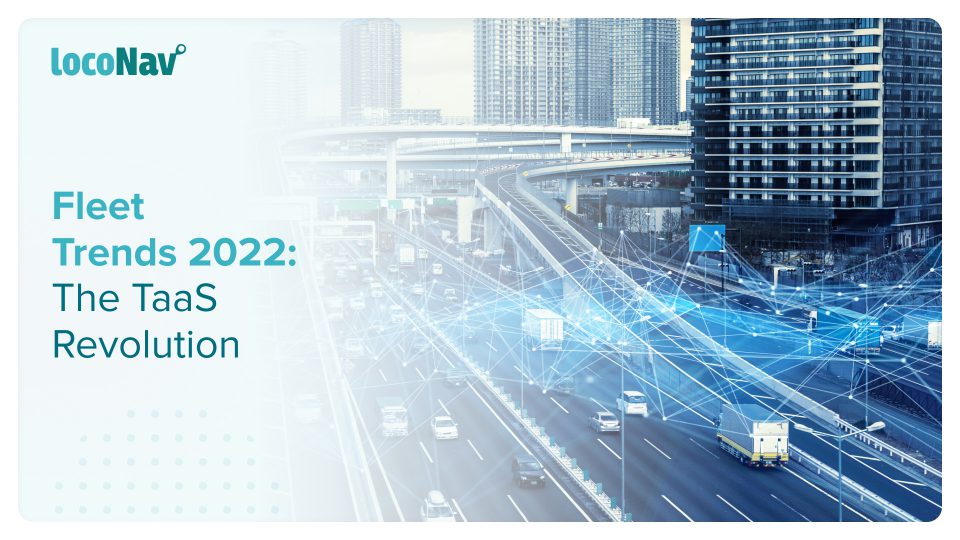 How is Transportation As A Service (TaaS) revolutionizing the Fleet Business?
As far as can be remembered, owning a vehicle has been a status symbol. It has been seen as a mark of financial stability as well as freedom. However, as the world moved forward, so did the challenges in owning a vehicle. Cars are a major contributor to the declining air quality and buying and maintenance costs are through the roof. This is where Transportation As A Service or TaaS comes into the picture. With the adoption of TaaS, vehicle ownership will decline and the usage of public transportation will see a noticeable rise.
This blog will highlight all Transportation As A Service technology basics: what it is, why it is needed in today's world, how it can help various transportation-dependent sectors, and finally how it can revolutionize the fleet industry.
What is TaaS or Transportation as a Service?
TaaS or Transportation as a Service, also called MaaS or Mobility as a Service, is the mass deviation from owning personal vehicles to adopting public transportation, rental car companies (Zoom Car, Avis India), and private rideshare transportation (such as Uber, Ola, and BluSmart).
Based on a 2019 study by the Centre for Science & Environment (CSE), the average car in India is parked 95% of the time. Since the driving time is just 5%, adoption of TaaS can have the following benefits:
Reduction of land wastage caused due to parking structures
Elimination of parking fees
Reduction in environmental strain
Aside from saving money, many people use Transportation As A Service to eliminate time wasted commuting. You are free to use your time on other things if you don't have to drive throughout your commute. When you get home, you can spend time with your family. You can spend your commute time learning a new language, reading a book, or doing your favorite hobby.
Need for Transportation Fleet in Today's World
Most transportation fleet today do not have the in-house proficiency to come up with a platform that can act as an aggregating platform between them and their customers. TaaS fleet will have the following benefits over the traditional fleet:
TaaS fleet will function similarly to public transit today, but it will integrate commercial transportation companies into a gateway, much like an app.
People can then use the gateway to reserve and pay for rides whenever they need to.
TaaS fleet will also receive more customer visibility, thanks to the corresponding apps.
The fleet is used up to the maximum capacity, which ensures fleet owners make the most of their available resources.
How does TaaS platform data aid in –
Transportation as a Service platform data includes onboard diagnostics, user verification, safety sensors, driver behavior, telematics, traffic conditions, and more. This data is helpful to various industries, some of which we will discuss ahead.
Route Optimization
Vehicle routes can be optimized by integrating data from the car's location concerning a map and information from traffic updates.
Retail Geofencing
When the location data from an automobile is linked with data from an information system (such as Google Maps), plenty of location-based retail services can be provided.
Driverless Experience
the capacity for a TaaS platform to solve various use cases adds value to another trend; to develop a V2X (Vehicle to Anything) linked transportation ecosystem where city transportation infrastructure can communicate with automobiles to create a driverless experience.
Benefits of TaaS Adoption in Fleet Businesses
Though going forward the benefits of TaaS adoption will be endless, here are 3 that particularly benefit fleet businesses:
Decreased Maintenance Cost Per Vehicle
A vehicle loan, licensing, insurance, maintenance, and fuel are all significant costs connected with owning a vehicle. While these costs are normally spaced out throughout the life of the vehicle, they do mount up quickly. In comparison, the prices of an occasional fleet rental do not appear to be as daunting.
Increased Utilization
On weekends and holidays, fleet managers might broaden the fleet for public usage. This could allow businesses to recoup the long-term costs of operating and sustaining a fleet.
Safer Fleet
Adopting the TaaS model allows fleet managers to lower the risks involved in acquiring and managing a fleet. With fewer vehicles, the organization faces less risk in terms of insurance and traffic accidents and infringements.
FAQ
What is TaaS technology?
Most transportation fleet today do not have the in-house proficiency to come up with a platform. TaaS technology acts as an aggregating platform between them and their customers.
Does TaaS help in reducing the problems in the transportation industry?
Yes. TaaS helps in reducing the problems in the transportation industry such as:
Lowering transportation costs
Increasing vehicle mobility
Optimum utilization of resources
Is TaaS the future?
Yes. With the growing population and the corresponding environmental impacts, adopting technology such as TaaS is a viable future course in the automotive industry.