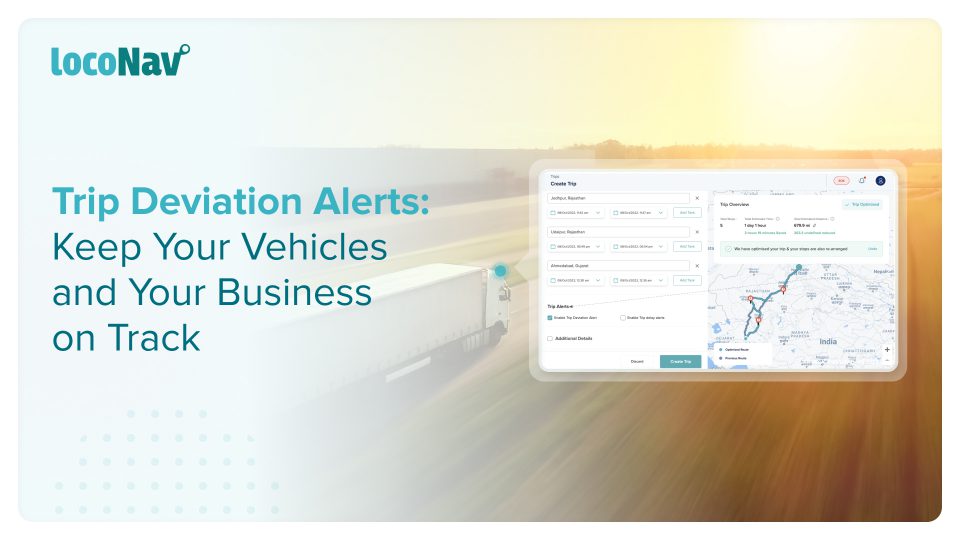 Trip Deviation Alerts – Keep Your Vehicles and Your Business on Track
To thrive in these changing times, fleet companies must adopt practices that are agile, cost-effective, and keep safety at the forefront. A successful fleet is one that carries out the optimum number of trips at the lowest possible operating cost. A crucial contributing factor to a successful trip is route optimization.
While the benefits of following an optimized route are abundant, what can you as a fleet manager do to make sure it is followed? With the latest enhancements, LocoNav's Trip Deviation feature is an integrated format of the routes module & trip optimisation. This can allow you to monitor at-risk routes and drivers specifically and improve trip optimization.
Make your business more profitable with LocoNav's Telematics
How can you leverage this feature?
Step 1: Make sure you have subscribed to "Vehicle Route Deviation" alerts for all your routes.
Step 2: Enable deviation alerts with a single click while creating a new trip.
Benefits of Subscribing to Trip Deviation Alerts:
With the new "trip deviation alerts" feature, you get the following benefits:
Reduce Overall Trip Time
By enabling trip deviation alerts, you can eliminate the need to constantly monitor your vehicle and invest this time in boosting other fleet operations. It will also help you in reducing unplanned breaks and stoppages which reduces overall trip time, thereby increasing trip frequency.
Enhance Fleet Safety
By ensuring your drivers follow the route you designated, you can avoid unauthorized vehicle usage, theft, and damage. Trip deviation alerts not only safeguard your fleet but also play a part in driver safety.
Rich Analytics
You can view historical data of deviation alerts to analyse what routes see the most deviations, and even identify frequently defaulting drivers.
NOTE: This feature is available for all users where New UI for create/edit trip is enabled.