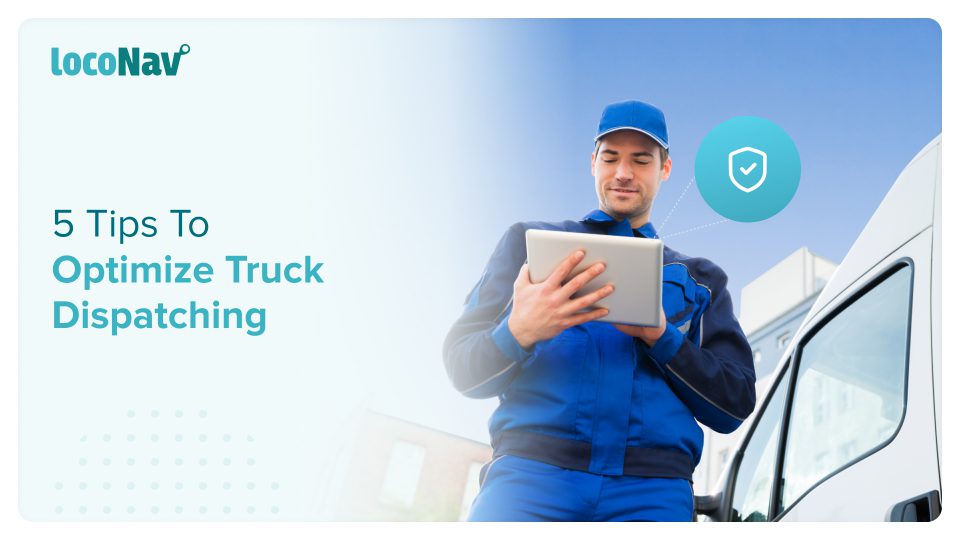 5 Tips To Optimize Truck Dispatching
Truck dispatching is critical to the efficient operation of any fleet. Dispatchers are experts who assist in the coordination of fleet movements. In their day-to-day jobs, they have a direct link to drivers. Dispatching is vital to the running of any fleet, and these individuals have the ability to make or destroy a fleet's entire operations. Every fleet owner's wish list should include a skilled dispatcher running an efficient business.
Dispatchers' jobs are increasingly being supplemented with or substituted by technology. You have arrived at the right place if you are wondering how to dispatch efficiently. There are numerous ways to improve truck dispatching efficiency in your fleet.
This post will highlight the top strategies for improving truck dispatching.
Manage your fleet efficiently with LocoNav's Fleet Management Solutions!
What is Truck Dispatching?
Working as a truck dispatcher might include long, intense days. They are in charge of the driver and trip scheduling, as well as all driver interactions while on the job. This type of communication may include details regarding traffic issues, vehicle breakdowns, missed deadlines, or delivery problems.
Truck dispatchers are also in charge of tracking transportation expenses such as mileage, fuel consumption, and repairs. They must also keep track of all shipment and delivery details. They devise routes that will eventually save the driver's time and money.
Finally, depending on the size of the organisation they deal with, they may ensure the precision of completed timesheets, payroll, and other summaries. They may even be in charge of finding new drivers or external trucking businesses.
What Are The Biggest Challenges Faced During Truck Dispatching?
Truck dispatching operations are a critical component of transportation companies, and failing to have an integrated approach to streamline the chores has a negative impact on the company's bottom line. Among the difficulties encountered due to a lack of truck dispatching software are:
Delivery Time Constraints
With the increased demand for same-day delivery, delivery windows have shrunk. It is basically a race against time for logistics companies to sort, label, process, and allocate items to vehicles for delivery. Manual truck dispatching makes it difficult to abide by small delivery windows.
Routing Issues
Manual dispatching and routing are incapable of anticipating unanticipated scenarios such as blocked highways or inclement weather, resulting in lengthier journeys and delayed deliveries.
Failing to Intimate Customers
It is difficult to notify every consumer about the delivery status via a manual dispatch system. As a result, the customer service crew is swamped with inquiries.
Empty Miles
Fleet operations necessitate a substantial amount of vehicle traffic to and from warehouses. This also implies that the truck is sometimes travelling without any cargo, i.e., moving with an empty trailer. These travels, known as empty miles, resulting in significant income loss as well as the waste of precious time and fuel.
Lack of Automation
In a manual trucking dispatch setting, a large logistics employee pool, whiteboard planning, and many calls between dispatchers and drivers are usual. The shipment and driver assignments are done in person. Manual operation tracking is time-consuming and prone to errors.
Tips For Truck Dispatchers To Optimize The Dispatching Process
Follow these 5 tips for successful truck dispatching:
#1 Invest in Real-Time GPS Tracking
When dispatchers need to inform consumers of expected delivery times, they frequently call drivers. For drivers, this is a time-consuming and frustrating experience. Using real-time GPS tracking, dispatchers may instantly access accurate location data and predicted arrival times via a digital interface. It allows dispatchers to adjust loads while also providing information to drivers in the cab.
Some GPS monitoring software like LocoNav offer intuitive ETA alerts for every trip as well. GPS trackers can assist you with streamlining your operations and improving the efficiency of your fleet.
#2 Define Fixed Processes
Fleet businesses must be able to execute a well-defined and efficient work process in order to be successful. Processes help to clarify tasks and activities, reducing confusion and enhancing productivity. To improve fleet efficiency, provide daily reporting to track if processes are being implemented.
#3 Schedule Trips Dynamically
Last-minute cancellations can be effortlessly re-routed without affecting timelines. This saves delays and maintains critical SLAs. In addition, in the event of a breakdown or an accident, the truck dispatching programme quickly transfers the trip to another available driver and vehicle.
#4 Optimize Trips in Real-Time
Companies can use historical data and real-time changes to plan and optimise routes more effectively. The innovative solution reduces costs while increasing fleet productivity.
#5 End-To-End Automation
Businesses can spare their staff from administrative planning activities as the programme automates them, saving labour and lowering costs. Because there is little human intervention, the automated method reduces the possibility of human error.
Benefits of Route Scheduling For Truck Dispatchers
Dispatch monitoring software aids in the implementation of a cost-effective route optimization strategy that takes into account location, multiple stops, vehicle, and fuel expenses. To determine the optimum dispatch route, the software employs GPS to monitor traffic and weather conditions. This also aids in making real-time modifications and informing the driver of any changes.
For maximum transparency, the programme can be used to send notifications to all interested stakeholders, including the consumer, regarding the status of the delivery. The software includes facilities for consolidating and analysing historical data from all routes, allowing management to research and enhance their dispatch system.
FAQ
What Are The Impacts Of Driver-Dispatcher Relationship On Fleet?
Drivers and dispatchers are on the same logistics rung. Both are in charge of making decisions that impact the delivery of a load. When dispatchers and truck drivers work together as a team, everyone has a chance to succeed.
How Can I Cut Down My Dispatching Time?
You can follow these 4 tips to cut down on dispatch time:
End-to-end automation
Route optimization
Real-time GPS tracking
Dynamic trip scheduling