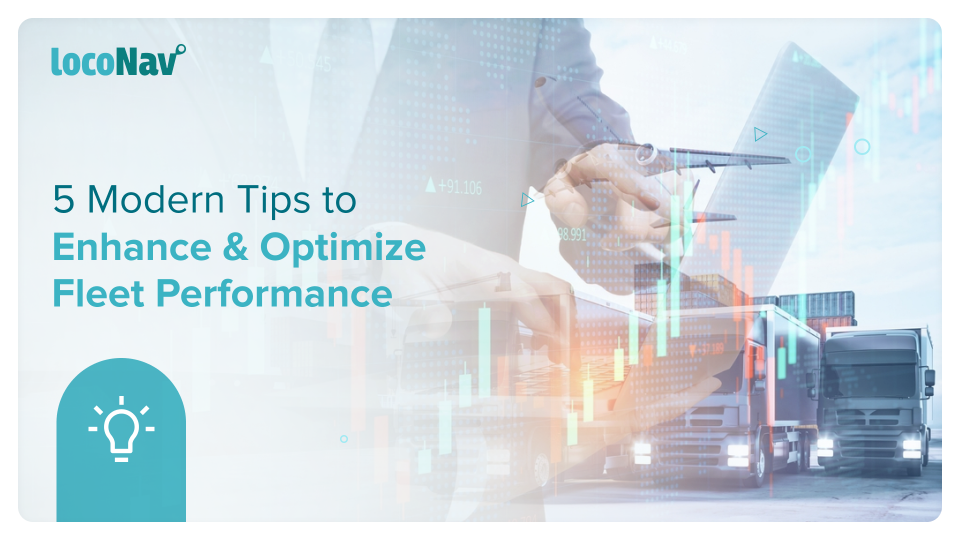 Tips and Tricks to Enhance & Optimize Fleet Performance
The cost of operating and maintaining a fleet is a large component of your operating cost in companies that rely extensively on transportation (such as freight, food delivery, and others).
Fleet management is a discipline (and profession) committed to operating fleets more economically and minimizing your company's annual costs to optimize fleet performance and client connections.
What is Fleet Optimization?
At the core, to manage a fleet is to optimize fleet performance. Fleet management, in and of itself, is the optimization of all functions and activities of a fleet. While fleet management ensures that all duties are completed and that the organization functions properly. The goal of optimization is to make such operations better than they are.
Proper equipment use results in lower expenses and more revenues. It also leads to less downtime, decreased fuel consumption, and increased production. Essentially, the key to optimize fleet performance is to address utilization issues.
Manage your fleet efficiently with LocoNav's Fleet Management Solutions!
How To Measure Fleet Performance?
YOU CANNOT MANAGE WHAT YOU CANNOT MEASURE
Metrics provide managers with information about where they stand. They monitor performance, give benchmarks, and provide goals and targets for the fleet function's day-to-day and strategic tasks. Metrics to measure fleet efficiency:
Customer Satisfaction: Tracking customer service satisfaction, which includes not only drivers but also peers, supervisors, and anybody else with whom your team interacts, is not only a good business practice but will also boost productivity.
Team Performance: The bottom line for fleet managers is to provide and operate a fleet of vehicles at the minimum possible cost; yet, doing so with an ineffective organization incurs additional expenditures. Determine the activities that you and your team members execute daily, and create a performance index to monitor them, such as tasks per hour.
Idea To Implementation Lag: Fleet management must be agile, as many similar events and technologies have an impact on how a fleet operates. Monitoring the timeline from the "concept" stage to execution is a metric that assesses how quickly a fleet manager can react and how well he or she can anticipate industry developments.
Asset Depreciation: Depreciation remains the single most expensive fixed cost in any fleet. When aiming to optimize fleet performance, fleet managers should be required to maintain a depreciation statistic to focus on where the money is.
The objective is to establish a baseline and then track performance over time. The benchmark can be used to establish historical measurements and track trends, or it can be utilized from the current point forward.
Fuel: Fuel, by far the most variable cost, has piqued the public's curiosity in recent years.
Kilometers per liter is a helpful metric for comparing the fuel efficiency of various cars. It has nothing to do with cost because the price of fuel at the pump (as we've seen in recent years) can alter drastically in a matter of days.
5 Ways To Optimize Fleet Performance
While a fleet management software is at the forefront of every fleet efficiency hack, here are 5 other tips to optimize fleet performance:
Regular Fleet Replacement 
The very first step in effectively adapting to changes in a fleet is to update policies. Adopt a vehicle replacement policy for utilization purposes. When a vehicle exceeds this time limit, it often incurs higher upkeep and fuel costs.
Route Optimization
Improving route planning is one of the easiest methods to boost utilization. Route optimization guarantees that your cars are taking the most efficient routes. This enables them to arrive at their proper destinations on time or ahead of schedule. Travel times that are shorter improve the number of trips that your fleet can handle. Route optimization also reduces idle time and fuel usage. You can manage multiple fleet management functions with a single tool.
Evaluate Service Time vs. Idle Time
Hours of Service (HoS), idling time, engine running time, and other data are recorded by telematics systems. This allows you to see where and how long assets are being used. You can identify whether assets match your criteria after you have a lifetime policy in place. Find ways to maximize their use or merge your assets if they are underutilized. You no longer have to rely on potentially false reports from driving partners or controllers. You're also getting information on assets that aren't often reported on. Telematics analyses this information and generates trend reports. It then employs algorithms to determine optimization potential based on this.
Embrace Telematics
Adopting telematics is critical for fleet operators to eliminate bottlenecks in route planning. GPS devices are fitted inside automobiles to capture all relevant data. It improves the overall operations of the fleet and is crucial to optimize fleet performance.
Telematics' exceptional pervasiveness in fleets has improved tech procedures. Owners of fleets have more influence on on-field operations and can make more informed decisions. Finally, leveraging technical services like the IoT and AI in logistics assures that drivers will take the most productive routes and make deliveries on time.
Streamline Driver Management
Your fleet telematics and management software should monitor drivers' locations as well as the state of their task fulfillment, eliminating the need for you to contact them via distracting calls or messages.
This technique helps to give drivers authority over their daily routines, which improves job satisfaction in an industry where drivers are in short supply. It also facilitates interactions for drivers, and its monitoring features assist drivers in better managing their time.
We may conclude that it is critical to streamline and optimize fleet performance to boost efficiency and lower overall costs. Understanding how your fleet works can help you improve the customer experience by delivering real-time information. Finally, fleet owners can get control of their fleets and gain visibility into every facet of their operations. Creating a clear policy that is a great fit for your organization can take your firm to the next level.