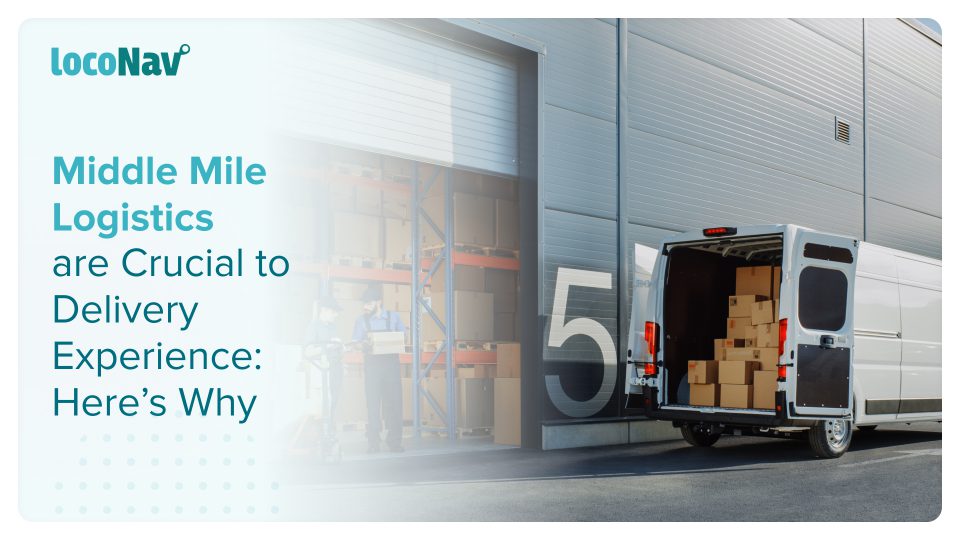 A Deeper Dip into Middle Mile Delivery
As an online business, it's easy to become so focused on internal operations and processes that you lose sight of the client who set those things in motion in the first place. Your livelihood is dependent on client loyalty, therefore it's critical to provide value to them at every stage of the journey. Your delivery experience (especially middle mile delivery and last mile delivery) is an excellent approach to accomplish this.
The delivery of products is a key touchpoint in the whole customer experience. The customer experience begins when a customer discovers your product, purchases it online, and continues until the product is delivered to their door. A great and well-designed delivery experience will boost client retention and do miracles for your marketing, with middle mile delivery or middle mile logistics playing a key role.
In this piece, we will dive deeper into the world of middle-mile delivery.
What is the Meaning of Middle Mile Delivery?
The "middle mile" — the portion of the distribution chain in which products are shipped from a supplier's warehouse to a retail store — may not have the same buzz or high profile as last-mile delivery, but an increasing number of stores see middle-mile logistics as a rapid way to reduce delivery costs. Focusing on this often-overlooked portion of the supply chain could help these companies compete as the internet delivery industry becomes more congested.
Why is There a Need to Focus More on the Middle Mile Delivery Model?
The middle mile provides cost-saving options that the last mile does not. The same company is likely to own both the distribution center and the physical location, giving them the ability to control both ends of the supply chain. This is critical in decreasing inefficiencies, and many businesses have begun to use entire control to achieve savings.
One advantage of tighter middle-mile logistics that is often neglected is the flexibility to respond to change. The middle mile has limited space for error, which encourages convergence and optimization among enterprises and their partners. If a company controls the middle mile, it will be able to adapt.
Companies are refining their supply chains in order to retain competitive pricing and good margins in the brick-and-mortar arena. The middle mile has the most potential. Offering prices equivalent to or cheaper than digital shops keeps people returning to the storefront. Cutting costs in the middle mile delivery is frequently the best solution. Higher velocity and reduced landing costs can be passed on to the consumer without eroding margin.
How is it Different from –
First-Mile Delivery
The conveyance of merchandise from the merchant's or manufacturer's grounds to a central warehouse is referred to as first-mile delivery.
The conveyance of merchandise from the warehouse to retail stores is known as middle mile delivery.
Last-Mile Delivery
The delivery of items from a warehouse or distribution center to fulfillment facilities where consumers purchase their products is known as middle mile delivery, also known as second-mile delivery. 
Last-mile delivery, on the other hand, is the transportation of finished goods from the fulfillment center to the consumer.
What are the Advantages of Second Mile Delivery?
Allows for Cost Savings
Middle mile operations provide cost-saving opportunities that last-mile delivery does not. You have superior control over the warehouse or manufacturing center, as well as the fulfillment facilities, with this technique. As a result, you can stay in charge of everything, eliminate inefficiencies, and save money.
Allows for Adaptability
When organizations implement their middle mile plan, they are able to respond to changes more quickly than before. Because the margin for error is small, the performance and productivity of partners and businesses improve. It also enables them to better manage the first mile and hence rapidly adjust to changes.
Competitive Advantage.
Various organizations are strengthening their supply chains in order to stay ahead of the curve and offer competitive rates with solid margins. The cost-saving options provided by middle mile delivery allow businesses to sell goods at cheaper costs than their competitors without sacrificing revenues.
Best Practices To Optimize Middle Mile Delivery
When your business is largely reliant on third-party freight brokers and trucking providers, you have little influence over your middle mile delivery costs. As a result, the first step in optimizing your distribution is to strive to operate your middle mile in-house. The mechanics of the middle mile are predictable and repetitious. As a result, middle mile automation is not difficult to achieve – at least in terms of route planning.
You may begin automating the most monotonous tasks as you handle middle mile supply chain operations yourself. To accomplish this, think about investing in a route optimization solution or a distribution route planner. Because every organization is different and has various demands, choosing a flexible middle mile solution will be more cost-effective than a one-size-fits-all solution.
Customize Middle Mile Optimization Variables
After selecting and installing a routing system, you must maximize its effectiveness. When developing distributing and middle mile logistics routes, ensure that the appropriate optimization restrictions and business rules are in place so that you can reduce operating costs with the press of a button.
Schedule Repetitive Routes
The next step toward a more effective mid-mile is to automate procedures even more. Middle mile logistics helps you to plan routes ahead of time because of its predictive nature. When you have to prepare the same routes over and over, you waste valuable time.
FAQ
Which industries are adopting middle mile delivery?
The industries that are primarily adopting middle mile delivery solutions are:
eCommerce
Third-Party Logistics
Freight & Delivery Fleet
What factors influence middle mile delivery?
Some factors that influence the middle mile delivery are:
Route Planning
Location of Manufacturing Site
Location of Warehouse Site
Level of Automation