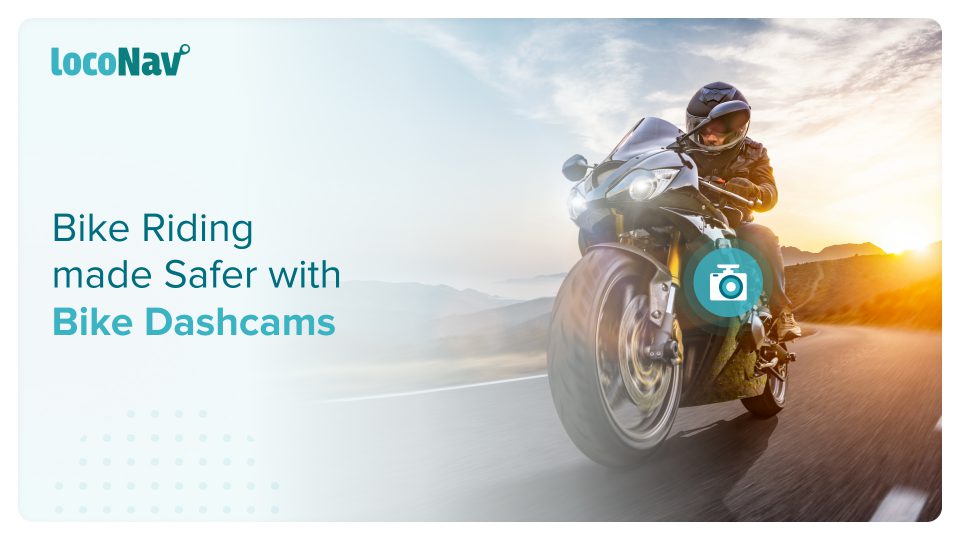 Why Should you get a Bike Dashcam?
Owning a motorcycle not only provides the enjoyment of riding in the open air, but it also provides additional perks such as affordability, improved fuel efficiency (which can save you money on petrol), and easier maintenance. A bike is also an environmentally friendly option because it emits less carbon and uses less oil than four-wheeled cars. In reality, there are numerous other advantages to owning a motorcycle and a bike dashcam.
Motorcycle ownership, on the other hand, necessitates a high level of responsibility on the part of the riders. This is especially significant given that some of the documented road accidents are the result of uncontrolled motorcycle riding. That is why, before purchasing a motorcycle, it is important to examine the benefits and drawbacks. Numerous motorbike accessories can keep you safe while riding. One such accessory is a bike dashcam and it is exactly what it sounds like, a dashboard camera for the bike.
Motorcycles, as you know, do not have dashboards per se, but technology has advanced in recent years to allow riders to attach dashcams to their bikes. This is extremely beneficial while making a quick errand on your bike or traveling across the nation.
How is a bike dashcam different from a car dash camera?
In this section, we will see how to compare a bike & car dashcam.
A bike dashcam, like an in-car dashcam, promises to give video and audio recordings while riding your motorcycle. This footage can be utilized for various purposes, including acting as a "silent witness" when traveling.
Bike dashcams have grown over the years to be water-resistant and suitable for all motorcycles. Bike dashcams also offer an "auto-on" feature that activates the unit when the ignition is turned on. This eliminates the need for you to fuss with the device before and after each ride.
| | | |
| --- | --- | --- |
| CRITERIA | BIKE DASHCAM | CAR DASHCAM |
| Device Built | Can be a single channel or dual channel. Bike dashcams have grown over the years to be water-resistant. These units are built to last and equip bikers with their own "black box". | Can be a single channel or dual channel. These units are built to last and equip drivers with their own "black box". |
| Storage | Capable of recording 1080P video to an onboard memory card. Bike dashcams can be configured to automatically loop recorded footage, eliminating the need to download and empty footage from your memory card. | In dashcam use, a high-endurance card developed specifically for continuous use and write-intensive applications is required. Class 10 (10MBs per second) is usually sufficient, even while recording 1080p HD images. |
| Functioning | Motorcycle dashcams are hardwired. This means that when you park your bike, an automated parking mode is activated, and your bike dashcam can measure any collision that occurs even when you aren't riding it. | A car dashcam is wired in such a way that it turns on and begins recording as soon as the ignition is turned on. |
Why is it Important to have a Dashcam on your Bike?
While many of those things can be as entertaining as dashcam fail videos, there are far more compelling reasons to consider putting a bike dashcam.
Record Adventures
We understand that riding a motorcycle can be a breathtakingly beautiful experience. But, whether it's breathtaking coastline or scenic views, local wildlife, or just a great stretch of curvy roadway, having a dashcam means recording it all without jeopardizing basic motorcycle safety standards.
Furthermore, if you use a dual-channel motorcycle dash cam, you can record different perspectives at the same time.
Legal Compliance
Let's be honest, motorcycles are thrilling, and speed is invigorating, so it's all too easy to turn up the speed. One thing leads to another, and before you know it, you've been pulled over by a disgruntled law enforcement officer who's giving you a ticket.
This is due to the fact that many motorbike dashcams have both speed recording and GPS tracking. If you are ever pulled over for exceeding the legal speed limit and believe you were not, you may easily access your dashcam app data to establish your innocence.
Document Accidents
Motorcycle accidents are tragic, but they occur on a regular basis. If you've been riding for a while, you've probably had at least one (or the aftermath of one) firsthand. That's where a bike dashcam comes in handy.
Assume a vehicle enters your area and pushes you off the road, leading you to crash. Obviously, you are not at fault, but without any physical touch with the other vehicle, your insurance provider is unlikely to simply accept your word for it. Especially if the at-fault party fails to stop or fails to notice you.
If you have a video of the occurrence from beginning to end, the facts are evident. Submitting dashcam footage to your insurance carrier will not only save you money on premiums, but it can also help to expedite any claims you may have by providing tangible evidence of who was at blame.
Which Type of Bike Dashcam Should you Invest in?
The majority of bike dashcams on the marketplace today are available in two configurations: single-channel and dual-channel.
Single-channel bike dashcams record events in front of the bike using a single forward-facing camera. These systems are simpler, less expensive, and quicker to install, but they frequently lack the technological and safety elements found in premium dual-channel systems.
Dual-channel motorcycle dual dash cam includes two cameras, one in front and one behind the rider. Most riders choose dual-channel devices because they provide video proof for rear-end collisions, which are prevalent in traffic with motorcycles. Some dual-channel devices can even warn motorcyclists of potential collisions that they might not notice otherwise.
FAQ
Can I use an action camera on a bike?
As action cameras become more powerful and, in some cases, voice-activated, they have become quite popular among motorcycle enthusiasts. While they are fantastic for capturing your journey on and off the road, they are not as convenient as a motorcycle dashcam unit.
Does a motorcycle dashcam also come with parking mode?
Yes, motorcycle dashcams come with parking mode. Bike dashcams also offer an "auto-on" feature that activates the unit when the ignition is turned on. This eliminates the need for you to fuss with the device before and after each ride.
What features should you consider when buying a motorcycle dash cam?
Choosing the best motorbike dash cam is a personal decision on par with selecting your preferred riding gear. There is no one-size-fits-all answer, but considering some variables will help you swiftly and confidently pick through the many possibilities. Consider the following:
Video Quality
Loop Recording
Storage Options