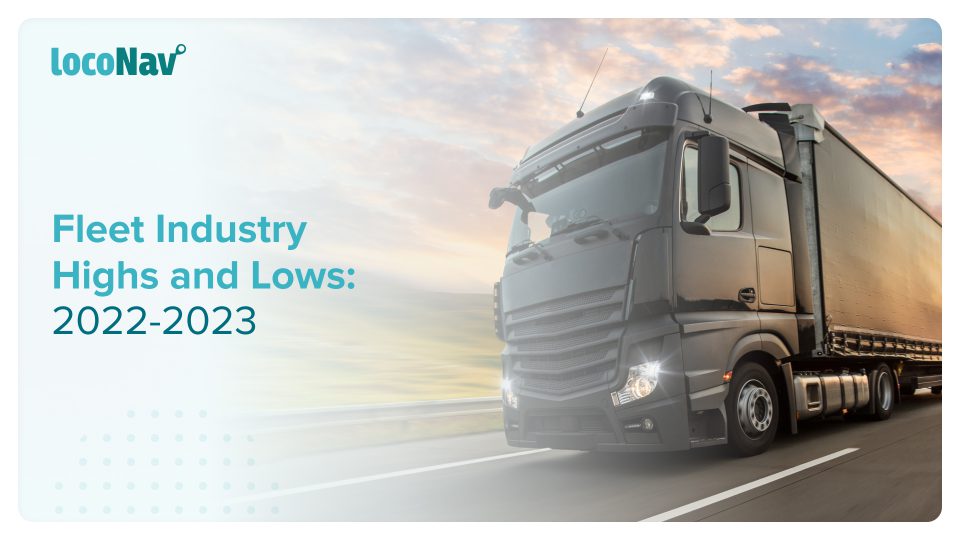 Fleet Management Industry Trends 2022-2023: What's On The Horizon?
While we anticipated that 2021 would usher us back to simpler, more normal times, it became evident around halfway through the year that firms, regardless of industry, would have to keep adjusting to the "new normal." For fleet management industry trends, this required negotiating untrustworthy supply networks and figuring out how to increase real-time operation-wide communication to assure continuous mobility of fleet assets.
As fleet technology advances, assisting businesses in meeting changing needs, we thought we'd compile a list of 2022-2023 fleet management industry trends that may affect your operations:
What are the upcoming fleet management industry trends?
In the post-pandemic era, the fleet management business has transformed further as organizations embrace new technology technologies to boost efficiency and reduce expenses. Let's see the top fleet management industry trends that will dominate in 2022.
Technology Switch
While driverless cars as fleet management industry trends are still some time away, many automobiles are incorporating technology to improve the driving experience.
From enhanced cruise control and exact navigation applications to health and wellness capabilities like in-car air filtration, street pollution analysis, and massage capabilities to improve circulation and reduce stress on lengthy journeys, 2022 is likely to be a transformative year for in-vehicle technology.
Rise of MaaS
As fleet managers can tailor their services and shift away from their old strategy, mobility-as-a-service (MaaS) will grow more popular. A report states that by 2025, the worldwide MaaS market is expected to be worth USD 230400 million.
Fleet managers will test with and even lease company-owned vehicles. Mobility as a Service will help fleet managers rethink current fleet management industry trends. Companies that embrace vehicle sharing can make much better use of idle vehicles, regulate budgets, and minimize their carbon footprint. Key fleet metrics will also alter, shifting away from vehicle numbers and statistics and toward aspects such as timing, trip completion rates, attendance rates, and annual budget.
Remote Operations
Due to the ongoing COVID-19 epidemic, remote fleet management will be a frontrunner. Fleet managers are looking for innovative ways to monitor their fleet drivers' efficiency and manage activities in a remote context. A competent fleet management software will allow managers to better communicate with their executives, track fleet statistics in real-time, and stay in touch with their staff.
Electrification of Vehicles
With tougher emissions rules, the sale of electric vehicles (EVs) surged in 2021. EV adoption is likely to increase even more in 2022 as more businesses release high-end models that will improve communication through greater data exchange and smart fleet software. The capabilities of automatic vehicle (AV) technology have advanced significantly. By increasing driving hours, AV offers a substantial opportunity to boost productivity.
Increase in the Reliance on Video Telematics System
To evaluate real-time diagnostic levels, fleet managers will use telematics and Geolocation fleet tracking. They may use a customizable dashboard to track their fleet drivers' locations, monitor the status of their cars, and ensure they are following safety procedures. In 2022, fleet management solutions will be expanded with new features such as voice integration, comprehensive data analytics, and increased Artificial Intelligence (AI). In-cab video has also evolved as one of the hottest new fleet management solutions.
Increased Vehicle Security for Commercial Fleets
Fleet cars contain a substantial amount of confidential data that must be safeguarded. fleet management industry trends will prioritize enhancing cybersecurity measures in 2022. Several fleet owners are moving their attention from tactical to strategic management and upskilling in IT to take on additional duties. With more data visibility, they will concentrate more on data gathering and review.
Game-Changing Fleet Data & Analytics
Because of developments in fleet management solutions, there will be more emphasis and innovation on safety in fleet management industry trends. Geofencing, driving behavior, and alert systems, among other features, will be enhanced further to reduce injuries and hazards. Intelligent surveillance systems are projected to give more detailed vehicle and driver activity alerts. Furthermore, deeper insight and reports will assist in identifying and correcting faults and vulnerabilities in your safety procedures.
Last-Mile Delivery: The Hero of the Supply Chain
Automation speeds up the complete delivery process, lowers human effort, boosts productivity and profitability, aids in forecasting future needs and fleet management industry trends, and provides several other advantages. It also aids in meeting evolving consumer preferences and last-mile delivery trends. More companies will use last-mile delivery software in 2022 to streamline order dispatch, route planning, work distribution, performance analysis, and other logistics duties.
Top Lows You Should Prepare For
When managing a fleet, fleet managers encounter a number of issues that affect both productivity and profitability. The following are the most typical challenges of fleet management industry trends for 2022:
Fleet Redundancy
Another consequence of the COVID-19 epidemic was the significant disruption to international supply networks caused by the shutdown of businesses all around the world. The closure of so many firms and the disturbance of global trade routes for products put a strain on fleet managers who required replacement components for their fleet vehicles delivered on schedule.
To deal with the uncertainty, many fleet managers are looking for alternative suppliers for crucial vehicle parts and repair supplies. If one provider runs out of supplies, the fleet manager can turn to another supplier to keep their fleet vehicles in proper working order.
Supply Chain Constraints
A fundamental concern for fleets in 2022 is one that has persisted from previous years: continuous supply chain disruption. Consumers and fleets have been watching as microchip constraints seep the car industry, as well as growing material costs as crucial transportation channels, are exposed to COVID-related lockdowns. Everyone is suffering the effects across industries. While these difficulties are likely to persist in the future year, fleet leaders and owners can mitigate their impact.
Sky High Fuel Prices
While the price of fuel is virtually continuously fluctuating, 2022 doesn't provide much in the way of price projections. This puts the fleet business in jeopardy, as the current crude oil excess may temporarily reduce fuel costs, producing a false feeling of safety. If oil production does not increase, we may face rising prices and fuel shortages. Fuel prices, on the other hand, should remain reasonably steady if demand is lowered due to another pandemic wave.
Environmental Controls
Extreme weather events have raised awareness about climate change and resulted in new clean air regulations being implemented around the world. As environmental regulations tighten, fleet managers confront a slew of demands to meet, as well as pressure to phase out the usage of internal engines. Fleet managers and the technical professionals who support them must be aware of the problems and devise their own solutions.
Explore Fleet Management Solutions with LocoNav
While there are a lot of high and low tides to ride in the fleet industry, an efficient Fleet Management Solution like LocoNav will help you improve your fleet operations in the following way:
One of the most essential problems for a fleet manager to facilitate optimal delivery is fleet maintenance. Because fleet maintenance expenditures can be prohibitively expensive for small fleet owners, maintaining a regular maintenance plan aids in the prevention of most problems.
Fleet managers may simply track maintenance needs while saving time and work by using optimization techniques tracking software.
Fuel expenditures are one of the most significant expenses for a company that operates a fleet. Companies are finding it harder to maximize their performance and produce ROI when international oil rates fluctuate and fuel levies rise. The route optimization feature of LocoNav can assist a corporation in contracting fewer cars while retaining maximum efficiency.
With the automation of fleet operations, technology has accelerated a large-scale revolution in the fleet industry. Managers can improve fleet performance and client retention by utilizing a fleet management tool such as LocoNav.
LocoNav provides a full fleet management solution that includes accurate scheduling, optimal resource usage, and the ability to control all processes from a single dashboard. Fleet providers can incorporate our software solution to benefit from easy assignment processing, real-time vehicle tracking, and making better choices with precise performance indicators.