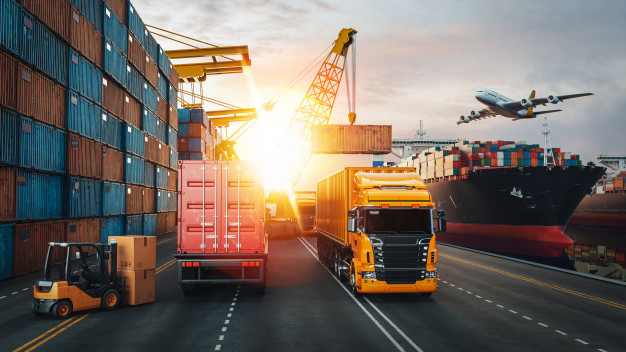 A Fleet Manager's Guide to Cross Border Transportation
With the rise in global trade, there has been a substantial increase observed in cross-border transportation, which, in turn, has generated excellent opportunities for internationalization for both large and small companies. Cross-border transportation, however, is very complex on its own due to a multitude of factors such as customs paperwork, potential security clearances, carrier requirements, and safety issues. Nevertheless, as long as the two countries mutually benefit, the trade partnership will continue, however, shippers must keep their eye on the ball.
The United States and Canada have the most extensive trade relationship with each other. The trade between the US and Canada is estimated to be more than $2 billion daily and about 3 lakh people cross the border every day by all modes of transportation. The comprehensive trade relationship between these two countries is based primarily on mutual reliance. The fact that both US and Canada are codependent on each other for goods and services won't be changing anytime soon.
Cross-border transportation consists of several elements, and any obstacles or hindrance can prove costly to shippers and carriers alike. To manage the complexity with ease, companies need to function with an intent to increase the accuracy of operations and lower the obstructions at the crossings. After all, the last thing you would want to hear is "stuck at the border."
Nobody can deny the fact that when it comes to cross-border transportation, even a slight slip-up can cost your business gravely. If your business involves cross-border transportation between Canada and the US, the logistics ecosystem is even more complicated. Despite having trade agreements with each other, the border crossing between the US and Canada can still act as a barrier if you fail to meet any of the requirements which in turn causes costly shipment delays.
Cross-border transportation is highly complex and there are many risks associated with it from the fleet management point of views such as safety of the vehicle and driver, on-time delivery, communication with the driver, protection of the load, roadblocks, congested borders, fuel availability, local crimes, and some other occasional hostilities. A comprehensive fleet management telematics platform can help alleviate most of these risks.
The Basic Outlook  
Isn't it important for a fleet manager to have transparency and real-time visibility on the location of the vehicle? What if your vehicle is not adhering to the planned route? Is your vehicle passing the checkpoints at the correct time? Well, a fleet management system will help you get answers to all the questions, be it through ad hoc eyes on-screen or automated notifications. Video footage is another sophisticated add-on that can offer the fleet manager much more information as well as peace of mind. Finally, alerts about mechanical problems, fuel consumption, external threats, accident alarms enable rapid response and quick action.
There's a requirement for a telematics system for cross-border transportation, but what exactly is it that you should be looking for? With an array of options, how does a cross-border logistics operator select the most suitable one?
Well, first and foremost, it is important to check your requirements. If your requirements match with a basic fleet management system, go for it. Ideally, you should keep it simple and pay attention to factors like reliability, availability, and affordability. If your requirements are not basic and you need cargo protection, engine management, video feeds, and fuel monitoring, then it makes sense to invest in advanced software depending upon whether the system will be serviced cross border.
Manage your fleet efficiently with LocoNav's Fleet Management Solutions!
Handling Risks
When it comes to cross-border transportation, fleet managers are usually not aware of the location of the drivers and do not have any say in this matter. For instance, fleet managers cannot see if their drivers are driving recklessly and risking their lives, and compromising the vehicle as well as the goods they are delivering. Similarly, fleet managers cannot know if their driver is sitting idle or took some wrong route which can affect the delivery time.
Instead of worrying about loss of stocks or theft or any other hindrance, why not just go for a telematics system that can proactively send notifications about the events and keeps the fleet manager updated about the events. For example, if the truck has been stopped at an unauthorized place or the driver has been overspeeding it, then the telematics technology would let the fleet manager know about it.
Software As A Service
A smart fleet management system is the best way to be more efficient in the operations and to deal with the problems that arise with cross-border transportation. With telematics, fleet managers would know where their vehicles are or why they have been delayed. If there's any breakdown, the local resources can be contacted immediately to solve the problem on the ground.
With the technological advancement of telematics to software-as-a-service, fleet managers have the power to manage their fleet with ease using their mobile phones. So while your truck is there in some other country for delivery, you can execute any function from a smartphone device. Also, the driver behavior can impact the reputation and credibility of the company hence fleet management features such as camera systems, sensors, and monitor diagnostics become an important factor to be more transparent from your end in response to any public query for salvaging potential reputational damage.
The Takeaway
Cross-border transport is a burgeoning issue in the North American market. With the increased trade opportunities, there's a need for investing in customizable, efficient, robust telematics and data processing solutions that can help you overcome the challenges of cross-border transportation. For instance, the major pain logistics or transportation company faces in the North American region is the delay in delivery which negatively influences customer service. With the employment of comprehensive fleet management software, any delay in delivery can be monitored and the reason behind the delay can be investigated for operational excellence.
Besides this, you can check your vehicle's location 24*7 and plan the routes accordingly. You would be able to keep a tab on the goods and services, monitor fuel level and fuel thrift, improve both driver and vehicle safety. To say it all, fleet managers can monitor the cross-border transport of stocks easily with the modern-day telematics solution in place. Hence, there's absolutely no reason for companies to worry about loss of stock, vehicle theft, unnecessary delays and time-consuming inefficiencies as a fleet management solution mitigate all these risks to a great degree to make cross border transportation far more effective and at the same time, also allow fleet managers to have control on the journey which is often unpredictable.
Summing up some of the benefits
A fleet management solution will enable fleet managers to have real-time monitoring of their fleets in other countries. Due to this, they can easily check the driver behavior and take the necessary remedial action.
Fleet managers would get crucial information about the general status of their fleets to make better business decisions in terms of operational costs, fuel management, location, and routes.
The probability of theft is reduced as fleet managers have accurate information related to all the activities across the border, and hence can take the necessary measures to combat illegal actions and threats.
Customer service is improved as fleet managers have better control of the transport route because of fleet management solution and can keep a check on delivery times as well as unnecessary delays.
General productivity, costs, and operations are optimized by employing an efficient fleet management software.
Quick Read: Explained: What the Suez Canal Saga Has Taught Us About Supply Chain Technology
Quick Read: Measuring Fleet Productivity & Managing Downtime