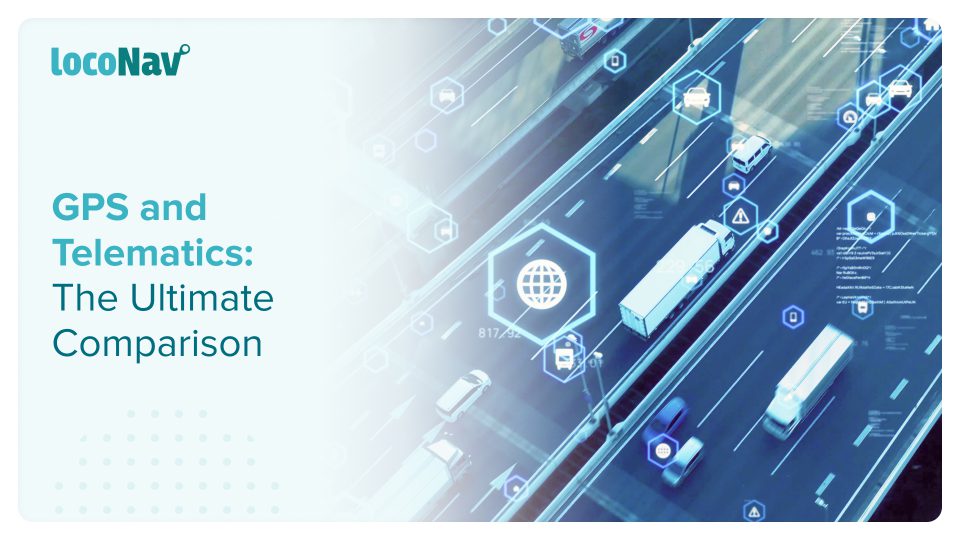 How are GPS Tracking and Telematics Different?
If you are keeping up with the current technology trends, you've probably heard about GPS and its applications for vehicles and mobile devices. Meanwhile, "telematics" is a less well-known concept that is gaining traction in fleet organisations. 
While telematics is related to GPS technology, the two concepts might be difficult to distinguish if you are inexperienced with their procedures and distinguishing qualities. Let us compare GPS and telematics to see how they are similar, the difference between GPS and telematics, and what their respective responsibilities are in the fleet industry.
Where Does GPS Interact with Telematics?
GPS is employed as part of a telematics solution, not as a competing system. A car tracking device with a built-in GPS receiver that captures real-time data on the vehicle's present location and status is at the core of telematics systems. 
A telematics solution transmits GPS tracking data to central computers via the cellular network. The data can then be analysed and transformed into meaningful information that can be viewed in fleet management software.
Why Does Your Business Need a Solution That Combines GPS & Telematics?
Because of the availability of this network of connected vehicles equipped with GPS receivers, fleet managers no longer have to operate in the dark – they know where their fleet is and what is happening on-ground. Fleets that use telematics can obtain the following advantages:
Improved fuel economy
Reduced number of aggressive driving events
Decreased engine idling time
Fleet telematics data helps managers understand what is going on, and how much it is costing them, and provides actionable insights about how they can work more efficiently. Operating a fleet without telematics is analogous to driving the speed limit without a speedometer; you are never really aware of how fast you are travelling with respect to the posted speed limit.
If you are trying to lower fleet costs but have no understanding of what you are actually spending your money on, you are taking on a subpar approach at best. A GPS telematics system can provide you with a comprehensive dashboard of data ranging from distance driven to unnecessary idling.
How is LocoNav's Telematics Solution a Right Fit for your Enterprise?
With a telematics system and GPS, you can monitor your car fleet while enhancing profitability. LocoNav's Telematics Solution driven by GPS can:
Improve Driver Guidance
With Loconav's telematics solution, one of the most important features available is the driver scorecard. A driver scorecard will allow you to closely monitor on-road performance which is usually not available with a simple GPS solution. Based on this you can properly guide your drivers on the best driving practices. This will allow you to fine-tune your driving staff as well as your fleet, therefore improving your bottom line operations.
Improve Manager-Driver Intercommunication
Keeping track of your vehicles might be difficult when your firm has a large number of them on the road. Telematics solutions enable fleet managers to speak with their drivers while they are on the road. Because of this link, your fleet may be more adaptable, altering routes and updating timetables on the fly as circumstances change.
Optimize Routing
With LocoNav's Route Optimization and Route Deviation Features, managers can plan their fleet operations to discover the best routes. This can be done by leveraging live status updates and historical map-tracking data. You can also monitor the topography and advise your drivers about extreme heights, steep inclines, bad weather, and other potential risks using satellite mapping.
Receive Accurate Reporting
LocoNav telematics software offers a complete set of reporting options to assist you in making educated fleet management decisions. You may access a variety of pre-defined and bespoke reports in a variety of formats, and you can configure the system to email you at predetermined intervals.
Enhance Driver Safety
When evaluating the data provided by a telematics system in the form of a Driver Scorecard, fleet managers might spot tendencies of unsafe driver conduct. These analytics allow a manager to provide mandatory training for increased performance or to acknowledge outstanding work. Managers also know their drivers are in good hands when telematics data reveals that the vehicles are mechanically sound with the help of Vehicle Scorecards.
Reduce Operational Costs
Telematics solutions can assist you in implementing the most effective operational practices by recognising wasteful driving behaviours and patterns that cause fuel consumption. These solutions also reduce the amount of paperwork that your drivers must complete, saving you time that would otherwise be spent on log reports and manual time cards. Telematics also increases fuel mileage, saving your organisation even more money.
Maintain Proper Maintenance Schedule
The modern telematics systems available from LocoNav can keep track of your scheduled maintenance for you, reminding you of basic services such as oil changes and vehicle inspections. These systems can also communicate directly with your vehicle's computer to anticipate maintenance and repair needs before they become issues, maximising uptime.