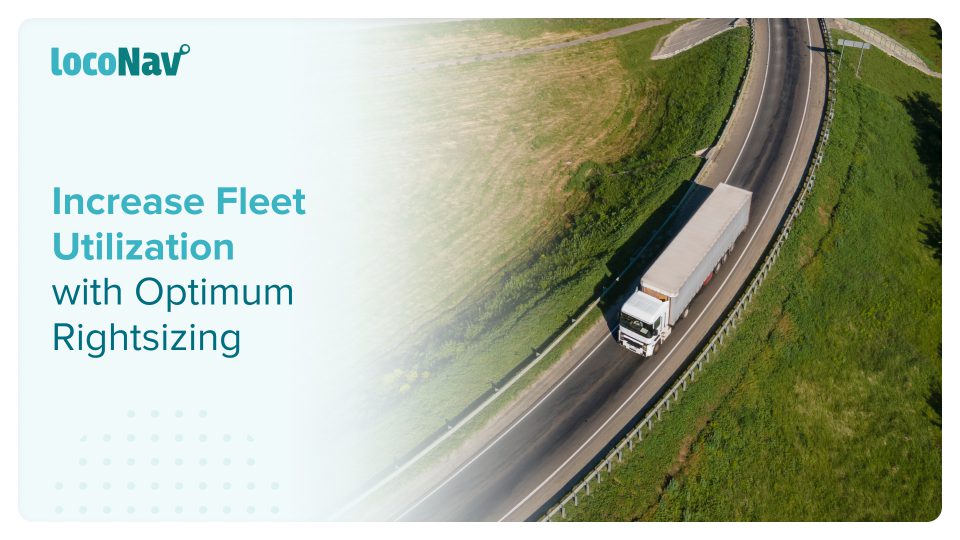 3 Simple Steps to Rightsize Your Fleet
Regardless of your current economic position, it is always vital to maximise the value of available resources in order to have room for growth. There are various advantages to right-sizing a fleet of vehicles, including lower fuel and maintenance expenses, lower greenhouse gas emissions, and a lesser capital investment in automobiles. Fleet rightsizing can be taken further by instituting a motor pool scheme in which cars are shared between departments.
Managing a fleet necessitates balancing the needs of management, drivers, and vehicle requirements. Fleet rightsizing is a step towards making operations more cost-effective and sustainable, laying the groundwork for future expansion.
This blog will outline the meaning of fleet rightsizing, its importance, and some simple steps to get you started. 
Manage your fleet efficiently with LocoNav's Fleet Management Solutions!
What is Fleet Rightsizing?
Fleet rightsizing is the practice of verifying that all company vehicles are effectively serving the duties they were brought into a business to help serve, as well as making any required changes to the scope of the fleet to make the company more operationally efficient.
Fleet rightsizing is a critical business function that some fleet managers may overlook in favour of more immediate areas that impact a company, such as driver safety, vehicle maintenance, or fuel spending, but it is a critical function that should be reviewed and analysed on a regular basis, especially since unsuccessful rightsizing can impact these other aspects of the company.
Here are 3 simple steps to ensure effective fleet rightsizing:
Determine Vehicle Utilization
Every business employs vehicles for a variety of reasons. As a result, assessing and categorising each vehicle into distinct sectors helps ensure that the return on investment is lucrative and that all vehicles are used to their full potential.
Calculate and determine vehicle utilisation by measuring vehicle usage. Consider the following questions:
What is the purpose of my vehicles?
How frequently are they used?
Calculating the utilisation of a vehicle is a lot easier than it used to be. For example, by utilising customisable fleet reports, such as the one provided by LocoNav, it is easy to see which vehicles are the most and least used.
Evaluate Over and Under Utilization
Although it may appear difficult at first, determining this number is as simple as comparing a vehicle's utilisation to the company's defined threshold. Break down the facts so that it is easier to see the broader picture.
Consider the following questions:
Do you have several locations? If this is the case, you may wish to separate the data by location to see if there are any trends of under or overutilization.
Do your workers work in shifts? If so, divide the data into time bands to see if vehicle use is optimised for each shift. For example, if three drivers work at three separate times, they might share a vehicle rather than having three different ones.
Make Necessary Changes
After obtaining all of this information, you will be able to make informed decisions about fleet rightsizing since you will know how many vehicles are required, where they are needed, and what the best type of vehicles are for your fleet.
Here are a few examples of possible scenarios:
You may have a significant excess of unused vehicles on one site, while another site may have to depend on rentals owing to demand.
If your drivers work in shifts, think about vehicle sharing, which includes looking at the times of day that the vehicles are used to see if a vehicle can be shared between drivers.
Why Should Rightsizing Be a Part of Your Fleet Optimization Checklist?
Fleet rightsizing can be a critical component of reducing your fleet operating costs, here's how:
By fleet rightsizing, you can detect surplus spare vehicles by analysing monthly mileage, engine hours, and operational days in real-time. It is sensible to have backup vehicles in your fleet in case of an emergency. However, you can avoid the expense of maintaining an excessive number of spare vehicles.
Analyzing vehicle weight, engine size, and load capacity are all important variables in identifying the correct vehicle for the job and can result in significant savings over time.
It can be tough to find the "sweet spot" for your typical vehicle lifetime, but the effort can pay dividends. By reducing non-preventative maintenance costs associated with older vehicles, you may better rightsize your fleet and cycle your vehicles within an ideal time frame.
What are the Key Components of Fleet Rightsizing?
What do you require to properly size your fleet? Here are the 2 most essential components we recommend:
METRICS
It is critical to have metrics to rely on your fleet count and composition modifications while fleet rightsizing. The goal is to obtain metrics that are objective, current, show trends, and, most importantly, show what you are searching for. you most likely have some data. To begin with, many fleet have odometer and fuel burn data. Having any statistic is better than no metrics, and the key is getting started with a benchmark figure.
A RELIABLE FLEET TECH PARTNER
Choosing the correct fleet management technology partner is critical to the success of your right-sizing programme. Here are some questions you should ask your seller. Are your technology partner's phone calls answered by a live person, or do they solely provide video or knowledge base support? Has your technology partner implemented a solution similar to yours at another firm and can provide references?
Go for partners that are genuinely driven by the idea of your success and don't merely market a one-size-fits-all solution. Having the correct fleet management technology partner, such as LocoNav, can be the difference between a successful rightsizing project and one that fails miserably.
Bottom Line
Rightsizing is a way of life, not an afterthought. It entails being aware of data trends in your day-to-day activities. You can ensure that you have the right mix of assets turning up at the right place and right time by monitoring utilisation, maintenance, and route efficiencies – all while keeping your customers happy.
Having the correct analyst toolkit is a trigger for the success of your fleet vehicles. Using a software solution to tackle your complex delivery logistics gives you an advantage over the competition.