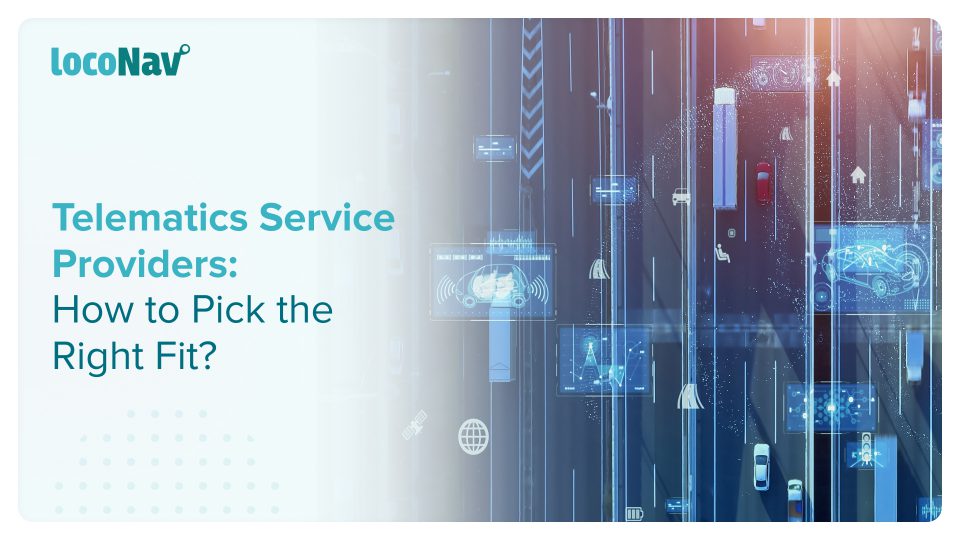 Selecting The Right Telematics Service Provider – Here's What You Need To Know
Fleet management systems have numerous benefits; nevertheless, in order to maximize their effectiveness, it is critical to select the appropriate telematics solution. There are plenty of service providers offering various types of fleet management solutions, and it can be difficult to select the finest and most suited one for your fleet. Before deciding on any services, it is a good idea to evaluate your company's needs and goals based on the size of your fleet.
With technological advancements and new inventions entering the industry, it is not uncommon to have reservations about purchasing a telematics device. A telematics system can be a game-changer, especially if your cars are on the road 24 hours a day, seven days a week. You may have all the information at your fingertips, from knowing how much fuel was used to knowing where the driver was. Fleet management can be difficult, especially with large fleets, so you must select the proper and best telematics for your fleet management.
What Part Does the Telematics Service Provider Play in Guaranteeing Value for Money?
Telematics service providers can at the very least provide GPS services. With today's technologies, you must seek out more diverse and useful info.
A competent provider will provide reports on topics such as fuel economy, RPM, and idle time.
If your telematics service provider provides the proper data, you'll notice a decrease in costs over time. Additional facts lead to more savings, from maintenance expenditures to gasoline expenditures.
The more data points and measurements a service can provide, the more benefit you may derive from it.
Some insurance companies demand telematics systems in order to cover any size fleet. Even if your insurance carrier does not mandate it, the correct telematics solution can help you save money on your premiums.
Your telematics supplier should be able to tell you about their upgrade strategy for the coming years. The extent to which they can incorporate new technology decides how much they can aid you in the long run.
Changing services on a regular basis can be costly and complex, so you want a supplier you can rely on. If things go well for you, your company will expand, which means your telematics will need to grow as well. As a result, scalable telematics solutions are required.
Make your business more profitable with LocoNav's Telematics
Things to Consider When Selecting a Telematics Provider For Your Business
Are you dissatisfied with your existing telematics service provider? Perhaps it's time to make a change. Here are the 12 factors you should consider when picking a telematics service provider.
Aftersale Support & Services
Training and assistance are essential. To achieve outcomes, your personnel must understand how to use the system. Determine whether the vendor provides customer support features such as free, limitless coaching from your dedicated sales manager.
Your employees should be able to call in with problems at any time of day, whether you run a 24-hour firm or want to contact them after normal work hours to avoid taking them away from their regular activities.
Software Flexibility To Manage Diverse Fleet & Assets
Some telematics technologies may not permit the simultaneous tracking of assets and vehicles. It's not a good idea to employ separate solutions for trucks, vans, generators, and more.
If you have a diversified fleet, make sure you can monitor everything from a single interface and that the vehicles and assets can deliver the information you require. For additional details, see this outline of vehicle and asset tracking options.
Provider's Business Profile
Discover whether telematics service provider collaborates with other companies in the same sector and how they use the solution. This can serve as proof of a successful installation and provide additional guidance on how to use telematics to benefit your organization. The company should also be able to provide client references that you can contact to review their experience.
Are They Resellers Or Manufacturers
Although resellers may offer better after-sales service, manufacturers understand the product better. Before picking a telematics service provider, you need to consider what holds the most value.
Frequency Of Software Updates & Associated Costs
We live in a technologically advanced era, and the telematics industry is no exception. Because features and functionalities are continually growing and evolving, the telematics service provider must give upgrades to their equipment and software. Some telematics service provider update product features quarterly or annually, while others update more regularly in order to keep ahead of the curve, offering cutting-edge features and technology as it becomes ready.
Make certain that the telemetry supplier you select is an innovator who uses client input to establish a roadmap of product proposals.
Installation Process
There is usually a procedure in place to ensure a smooth rollout. Here's an example of a plan for implementation:
Create essential measures for improvement.
Obtain executive support
Conduct a proof-of-concept/pilot study.
Throughout the pilot, conduct regular reviews.
Create a completed business case.
Create a roll-out strategy and installation timeline.
Plan training based on the system's roles and use cases.
Company Relevancy
It is essential to have a track record of providing great customer service. Look for the perfect balance of old and new. A telematics service provider that is too new may be an ad-hoc operation that goes out of business.
An aging business may offer obsolete items and software. They may spend almost no time modernizing their systems to meet the needs of their customers. You may potentially be reduced to a number and receive no assistance in achieving your goals.
Device Warranty & Buying Options
Warranty periods and coverage differ from one provider to the next. When you purchase telematics hardware, some providers provide a warranty that lasts a few months, a year, or even longer.
Some contracts serve as a warranty for the duration of your agreement. Ascertain that you are protected in the event that any of the devices fail and must be replaced.
Subscription Plans
Most telematics service provider offer two methods for obtaining devices.
Purchase: entails buying the devices up front as well as a monthly service cost.
Rental/subscription: The devices are included in the monthly service fee.
Rental agreements reduce the need for an upfront payment. Some fleets, however, choose to own the gadgets. It is critical to ensure that the telematics provider you select provides the choice that is ideal for your company.
Adherence To Mandates
Your telematics service provider should provide you with solutions that are tailored to your needs and also follow the mandates set by your industry and country.
Tech Adoption & Mobile Support
We are constantly on the move and have our phones/tablets with us at all times. It is critical that managers have access to vehicle data via a mobile app. It is also worthwhile to examine the mobile app's level of operation.
Conclusion
The key conclusion is that an effective solution entails more than just software. It's about finding the right h
The key conclusion is that an effective solution entails more than just software. It's about finding the right help you need and the telematics service provider you want to work with. You may measure every moving part of your operation using LocoNav's telematics solution to monitor costs and asset life cycles, as well as ensure that your fleet is always progressing toward your fleet management goals.
LocoNav telematics systems can assist fleet owners by identifying patterns and problems using analytics. They can, for example, show uncommon occurrences in certain vehicles, drivers that have more crucial driving events than the average, and vehicles that are underutilized. They can also gather insights for anticipated occurrences (for example, drivers who are at risk of more future accidents) and provide recommendations to optimize fleet usage.