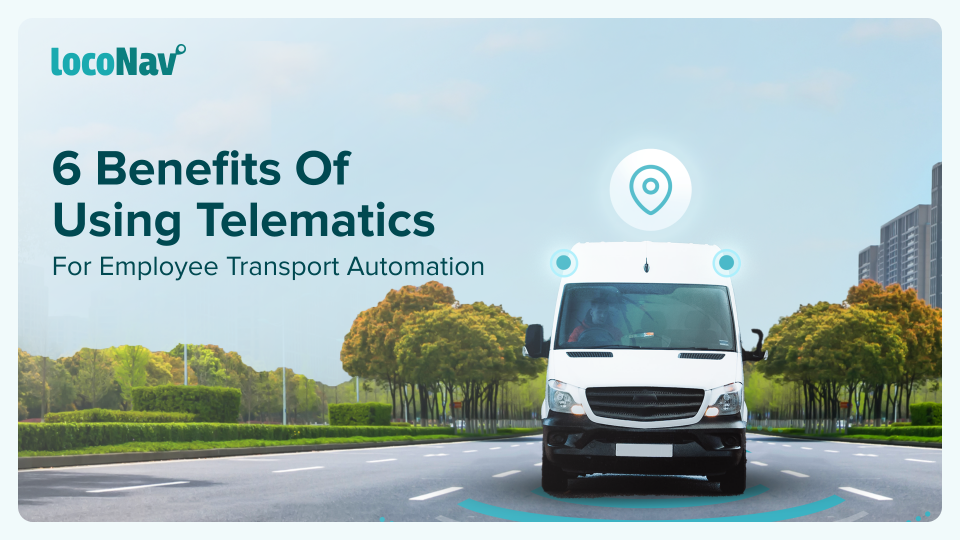 6 Benefits Of Using Telematics For Employee Transport Automation
The IT and offshore call center/customer support industry in India was the first to start large-scale transportation of employees from home to office and vice versa. This is necessary, due to the lack of efficient public transport, and, due to the need for very strict delivery standards demanded by MNCs for company policies regarding the accuracy of reporting time.
Corporate transport is thus relatively new in India. Over the past fifteen years, the transport sector has experienced exponential growth, driven by investment and new ideas. The industry has seen an increase in the number of small fleet operators, from a handful of taxis/buses to large companies. These players have grown in size trying to keep up with the growth of the industry. From any point of view, this is a huge success story, a win-win situation for the IT sector and the fleet operators. Born out of sheer necessity and driven by the pressing need for an ever-expanding IT infrastructure, fleet management has become the backbone of many industrial organizations.
It is however a system ridden with issues such as shifting industry practices, market disruptions, company-managed transport vs. outsourced employee transportation, compliance to government regulations, employee safety, road safety, statutory compliances, incompetent driver behavior, etc.
Advanced Video Telematics Solutions at Ridiculously Accessible Prices!
Telematics provides very real benefits that aim to address all the aforementioned issues. Some of these are:
Enhancing Employee Safety Features
The safety and protection of employees are of the utmost importance to the transportation system. Modern workplaces use multiple shifts, 24/7 cycles, and more and more people are employed in multiple roles. Therefore, companies must provide safe transportation for their employees.
A GPS tracking system has built-in panic buttons, fully networked software emergency alerts, real-time vehicle tracking, background checks, and license masking so employees and drivers don't need to share their phone numbers.
These features enable companies to securely transport their employees and build a reputation for employee safety by helping companies attract the right workforce.
Keeping Driver Behavior in Check
Company transportation managers use advanced artificial intelligence and smartphone sensors built into the vehicle and driver's phone to extract extensive information on driving patterns, identify risky driving, reduce accidents, monitor insurance premiums, prevent employee downtime, ensure timely vehicle maintenance and ensure fast action.
Driver Profile: Companies integrate driver profiles into such systems to access their information, provide employees with the ability to receive feedback to rate drivers, and provide feedback on their behavior and driving skills.
These options ensure employee satisfaction and safety. Companies with efficient transportation services will attract more qualified employees and ultimately increase the company's profits.
Increased Resource Productivity
The incorporation of telematics in employee transportation greatly increases the efficiency of the resources. Poor route optimization and fleet management result in increased employee downtime, unbalanced work-life balance, and employee dissatisfaction, all of which result in loss of productivity.
Automated Route Planning used AI-based solutions to identify and monitor road conditions such as traffic congestion to minimize transit time, maintain safety, and maximize fleet occupancy. This increases efficiency and ultimately company profits.
Insightful Analytics, Intelligent Reporting
Telematics uses state-of-the-art traffic software, integrated with GPS tracking systems, provides detailed analytics to support accurate fleet counting, promotes an employee safety culture, fuel management & saving practices, and enforces related policies and procedures for sustainable management and a profitable fleet.
Adhering To Statutory Compliances
Failure to follow transportation regulations in employee transportation can significantly impact an organization's reputation and credibility. It also discourages the recruitment of a talented workforce. A telematics system helps identify potential vulnerabilities and fixes cracks in the system by making sure employee transportation follows all statutory compliances. These include but are not limited to:
Valid Vehicle Registration (RC, Pollution Certificates)
Valid Driver Registration (Thorough Background Check, Driver's License)
Daily & Frequent Checks of Vehicle Compliance
Adhering To Governmental Guidelines
Keeping A Check On Vehicle Tickets
Stellar Capital Utilization
GPS tracking can monitor the number of kilometers each vehicle has traveled, so companies can accurately calculate their costs based on parameters such as distance, time, fuel efficiency versus traffic, etc, and negotiate service rates with providers. Businesses save up to 20% when comparing costs versus distance traveled.
Automation enables efficient fleet planning by creating different routes every day based on pick-up and drop-off requirements. This ensures optimal vehicle capacity and reduces costs by an additional 5-10%.
Eliminate dry running through efficient use of the vehicle. The fuel used creates a huge cost burden, especially when dry running is excessive. Reasons for dry-running include improper route planning, drivers receiving waybills for multiple destinations, poor vehicle upkeep, lack of unattended signs, etc. The automatic system eliminates this and allows efficient use of the vehicle.
In today's world of global competition, companies are under tremendous pressure to maintain revenue and manage expenses. Thus, automating the transportation of employees using GPS tracking systems allows them to manage costs and optimize employee time. This is no longer a luxury, but a basic requirement for every industrial organization.
Quick Read: Video Telematics: A Game Changer For Fleet Managers In South Africa
Quick Read: Dashcams: The Future of Fleet Mobility