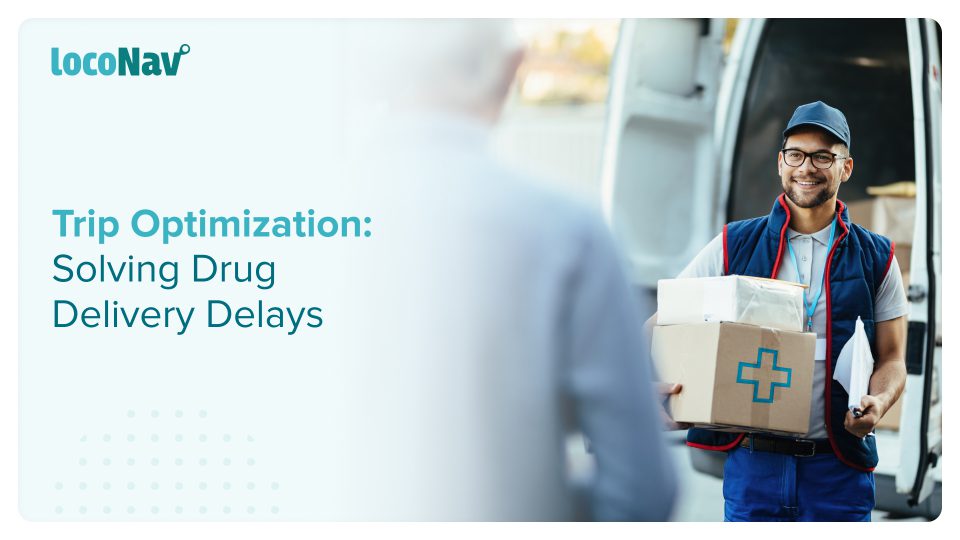 Improving Pharmaceutical Deliveries with Trip Optimization
The pharmaceutical sector is an unsung hero that few people acknowledge. This business has provided us with countless life-saving pharmaceuticals over the years by undertaking clinical trials and sophisticated research. Over the years, these life-saving medications have saved tens of millions of lives.
Transportation is critical to the global success of pharmaceutical products. Even the smallest inaccuracy might undermine your attempts to supply products to clients. Pharma organisations demand delivery management software to make last-mile delivery simple, smart, and efficient. To do so, businesses require an intuitive and unified system with end-to-end visibility and real-time control.
From tracking delivery agents to smart dispatching, route optimization, and digitising evidence of delivery, trip planning software streamlines the entire delivery process.
What is Trip Optimization?
Trip optimization is a method used by logistic organizations to optimise delivery routes by developing efficient routes, which is helped by route planning software. In other words, it is the procedure that assists in determining the most cost-effective and time-efficient route from point A to point B.
Trip optimization is important for company success because it allows companies to not only execute orders but also do so while successfully combining aspects such as driver schedules, available hours, total stops, fulfilment estimations, and legal requirements. It is critical to emphasise that trip optimization is not about figuring out the fastest or cheapest route; rather, it is about finding a path that is efficient and satisfying for all variables involved.
Manage your fleet efficiently with LocoNav's Fleet Management Solutions!
Challenges in Pharmaceutical Deliveries
Pharmaceutical distributors serve as a vital link between drug makers and healthcare facilities, pharmacies, and other medical facilities. The pharmaceutical supply chain also comes up with a number of challenges, some of which are:
Lack of Operational Transparency
The difficulty in tracking problems to their source is one of the most common supply chain difficulties in the pharmaceutical sector. Whenever drugs arrive in deplorable condition for human utilization, a fake drug is discovered in the shipment, or costs jump for no apparent reason.
Compliance
Compliance regulations must be followed by the pharmaceutical supply chain. However, restrictions are always changing. Companies will increasingly need to improve their internal control and oversight of customs and supply chains, taking compliance to a new level.
Cold Chain Deliveries
Some pharmaceutical drugs require transportation at specific temperatures. Maintaining the temperature of the cargo hold usually poses a challenge for pharmaceutical deliveries.
LocoNav Trip Optimization Features that Improve Deliveries for the Pharmaceutical Industry
Trip Optimization
Trip planning is the lifeblood of smooth fleet operations. Keeping that in mind, LocoNav's Route Deviation and Route Optimization features are designed to help you get the most out of every trip, every time.
Benefits of Route Optimization:
Multi-Stop Routes Supported: Upload multiple stops/locations for a selected trip and find the most efficient route for that trip. Add stops along the way, and get the most time-saving route every time.
Increase Trip Frequency: When you follow an optimised route, there is a significant reduction in the total travel time. This allows you to schedule more trips in the same amount of time.
Real-Time Insights: Auto-select the best road network taking into account all real-time traffic and weather conditions.
Benefits of Route Deviation:
Proactive Fleet Management: Track unapproved route deviations and receive your drivers' progress and check ETAs in real time using GPS tracking.
Improve Fleet Productivity: Keep track of a variety of KPIs that impact your company's success including delivery times, disruptions, fuel expenses, average delivery time, and cost.
Reduce Fuel Costs: Track fuel efficiency to help you save money and ensure that drivers follow the most cost-effective routes, allowing you to maximize the efficiency of your trips.
Individual Trip Creation
With the easy-to-locate "Create Trip" button along with an "Edit Trip" button, LocoNav helps users in easier trip management, scheduling, and rescheduling vehicles basis their availability.
Benefits:
Customization Possibilities: While you may have a delivery planned, you may not always know till the very end which vehicle will be assigned to which trip. With LocoNav, you do not need to make last-minute trip entries in your fleet management software. Create trips with or without a vehicle and make changes easily as per your trip requirements.
Trip Planning Flexibility: Due to the sensitive nature of the cargo, a pharmaceutical delivery fleet may have to face more downtime than normal since every aspect of the vehicle needs to be in perfect shape. With LocoNav you can assign and reassign vehicles during downtime without affecting the scheduled trip so delivery times are not impacted.
Efficient Management: To ensure smooth operations, LocoNav gives you the flexibility to even create ad hoc trips directly from the platform and allocate vehicles based on their availability.
Visibility of Individual Trip ETAs on Map & Arrival Alerts
Fleet managers may now track all ETA and arrival updates directly on the map. Users will be able to view the ETA status of specific journeys on the map and even generate notifications based on the expected remaining time to manage post-delivery operations with this new version.
Benefits:
Better Than Traditional Navigation: LocoNav connects with a mapping solution provider, which shares ETA for various trips. This is augmented by internal considerations such as journey start time and halt time at checkpoints. This enables consumers to view ETAs based on their delivery schedules.
Maximize Efficiency: By viewing the ETA status of all individual trips on the map fleet managers can better analyse timelines and maximize delivery counts.
Proactive Alerts: You can set different alerts for different locations and get assistance in operation scheduling whenever a vehicle leaves or arrives at a checkpoint.
Proper Management: Stay up to speed on the specifics of your journey by tracking the ETA of forthcoming checkpoints and individual places in one spot.
Alerts for On-Trip Vehicles
The fleet management sector has recognised and implemented the necessity for precise and continuous data. Almost all fleet management technologies available today provide a mountain of data. This might include everything from vehicle speed to real-time driving behaviour notifications. But now you can receive custom alerts to make sure your data is noise-free.
You can keep a better check of your vehicle utilisation when you obtain such simplified data. You can analyse data on a trip level instead of only making key decisions based on vehicle movement metrics if you choose to get notifications for only on-trip vehicles.
Geofencing
As a pharmaceutical fleet, you might be required to deliver critical medicines to hospitals, research facilities, chemists, clinics, and more. When juggling delivery locations, restricted regions, and accident-prone zones, you wind up with a plethora of geofenced areas and notifications for each. To address this issue, LocoNav provides a Geofence Categories feature that allows fleet managers to control all delivery site geofences at once or to rapidly evaluate all prohibited regions at once.
Benefits:
Increased Accessibility: Create and maintain geofences by categorising them as work areas, restricted zones, fuel pumps, and other sectors to track when your vehicle enters and exits them.
Better Control: Pharmaceuticals are both sensitive and expensive. Maintaining their safety during delivery is paramount. With LocoNav, you can get quick notifications when any of your drivers cross a geofence. As a result, you may take corrective action immediately and improve the safety of your fleet and cargo on any journey.