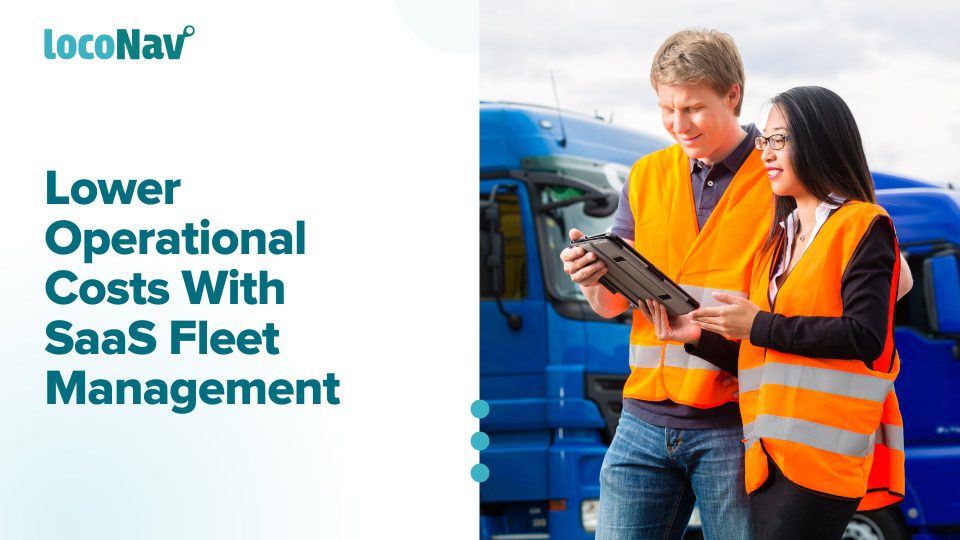 9 Reasons To Choose A SaaS Fleet Management Solution
Despite the fleet industry's recent regulatory reforms, most field service companies still work hard to retain drivers, maximise their time and productivity, and fulfil customer service standards. Knowing the ins and outs of every aspect of your business makes your hours more efficient and your money works harder for you as a business owner.
With many drivers on the road, multiple clients to alert, and thorough electronic logs to monitor, managing every aspect of a fleet is tough. From fuel use to vehicle maintenance, fleet management has plenty of room for problems to arise. The right SaaS fleet management solution can help lessen the likelihood of operational difficulties that limit productivity.
In this blog, we will discuss the most critical benefits of SaaS products from the perspective of a fleet owner in order to better understand SaaS fleet management solutions.
What is SaaS Fleet Management?
SaaS is a departure from traditional software applications. SaaS apps are paid for monthly or annually and delivered via the internet from securely housed servers and databases to the end user's web browser.
This allows SaaS solutions to be continuously updated, which enhances data security and user access. Customers are no longer confined to their desks and physical computers but may access critical company data from anywhere using a combination of desktop and mobile apps.
Manage your fleet efficiently with LocoNav's Fleet Management Solutions!
Why Should You Choose SaaS Fleet Management Over Traditional Methods?
Traditional fleet management requires users to arrange regular maintenance, administer their own data centre, and troubleshoot problems as they arise without any assistance. In comparison, many fleet owners believe that the investment in SaaS Fleet Management is worthwhile.
Let us go over the primary benefits of using SaaS Fleet Management.
Lower Costs
SaaS Fleet Management simplifies things. It uses best practices by not being tailor-made — or significantly adjustable, for that matter — and by being intended for all types of organisations in the industry it serves. As a result, all customers may enjoy a simpler interface with simple features that solve daily difficulties in a shorter amount of time.
Using SaaS Fleet Management — like LocoNav — drastically decreases operational costs. All a company needs is a subscription to the service and a few hours of training for existing employees to understand how to use it.
Improve Driver Safety & Compliance
When you have the correct facts to back you up, driver management becomes much easier. SaaS Fleet Management like LocoNav offers
Reliable numbers via comprehensive reports
Integrated video footage (both in-cab and on-road) with dashcams
Compliance requirements with documents management
Always Stay Updated
Software that must be deployed on a server or PC must be manually updated; and, in some cases, this can only be done by skilled technicians. Another area in which Software as a Service outperforms traditional methods in software management. Once issued, any upgrades, repairs, or new features are instantly accessible to all programme users at no additional cost. As a result, each user benefits from robust software that is always updated, more reliable, and compliant with the most modern norms.
Increase Convenience
SaaS fleet management companies enable a huge spectrum of tracking devices, making it easy to leverage existing hardware or technology incorporated into partner OEM vehicles. When trying to get a full fleet onboarded in a short period of time, not needing to put hardware straight into every commercial vehicle or piece of heavy machinery saves a lot of time and energy.
Improve Customer Service
You cannot be in two places at once as a fleet owner, and your hours are restricted when it comes to ensuring your clients get the care and attention they deserve. Any solution that prevents you from handling mundane activities is a fantastic asset to growing your future business.
Boost Data Security
Cloud systems are handled by professionals using the most up-to-date procedures. They accomplish this by utilising cutting-edge security technology and regularly monitoring complete infrastructures for faults of any kind.
SaaS Fleet Management Solutions are bound to be significantly more secure than locally produced — or offered — solutions that may lack the pooled knowledge of highly skilled cloud management professionals. That is yet another reason to use a SaaS Fleet Management Solution.
Save Time
Total visibility of cars and drivers via a unified platform allows owners to save time on administrative documentation and identify redundancies or easy modifications that can be implemented to increase productivity. Furthermore, getting more out of your present staff is preferable to growing the number of drivers on your payroll.
Improve Platform Learning
A SaaS Fleet Management Solution that is built with the latest UI practices in mind, it tends to take simplicity and convenience of use to a whole new level. A fleet manager — or even the fleet owner — will be able to navigate a SaaS Fleet Management Solution in a fraction of the time it would take to do so with a traditional, tailored, bespoke solution.
While SaaS solutions will allow for some customisation, they will only be on the basis of pre-defined use cases. That alone provides for a well-designed, necessary and fundamental that will assist any and all users in quickly picking up the pace. This significantly reduces the effort needed to learn the platform.
Increase Profitability
Services that deliver reliable data enable businesses to make sensible, data-driven business decisions. This can save money by improving fuel management, encouraging better route planning for drivers, or enhancing fleet upkeep management and scheduling.