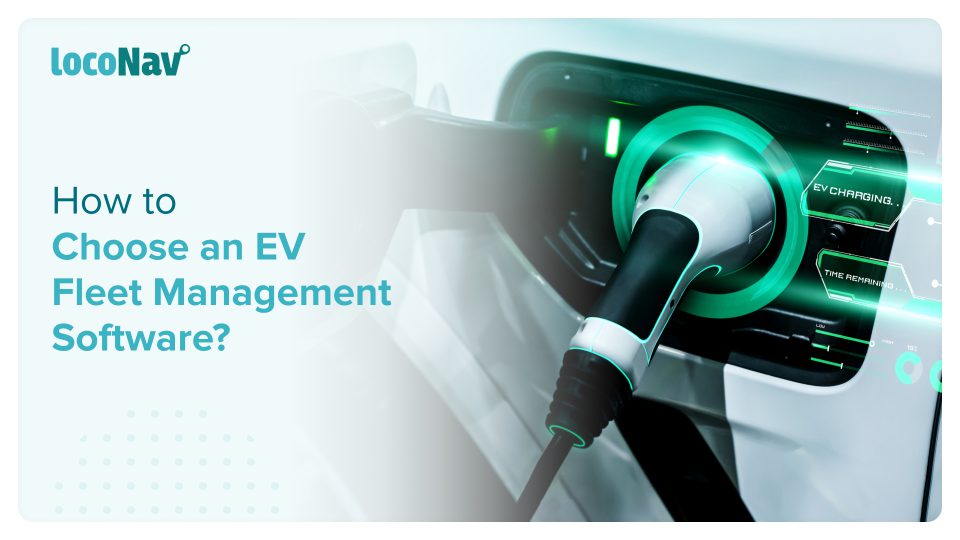 Guide To Selecting The Right Fleet Management Platform For Your EV
By now it is a well-understood fact that Electric Vehicles or EVs are going to revolutionize the automotive industry. An EV fleet will surely assist a company in lowering its carbon impact. It not only improves the quality of the air, but it also subjects your employees to fewer pollutants. While many fleet managers are concerned about the expense of purchasing a new EV fleet, there are continuous savings in addition to tax advantages. This includes cheaper fuel costs, less maintenance, and better productivity.
The transition from fuel-based vehicles to electric vehicles has been on rapid growth in terms of personal vehicle ownership. The day is not far on which the fleet industry will majorly have to deal with electric vehicles. Having said that, it is of the utmost importance that fleet owners realise that EV Fleet Vehicles will require a different approach to fleet management as well.
In this blog, we will guide you on how to choose the ideal fleet management system for your EV fleet.
How Does Selecting the Ideal Fleet Management System Improve EV Capabilities?
While we know how fleet management can boost a traditional fleet's performance, there are more than a few ways in which it can also improve EV capabilities. Some of them are:
Freedom from range anxiety – this will allow your managers and dispatchers to be stress-free and also instil a sense of confidence in your driving personnel.
Reduced operational costs – EVs are already much cheaper when compared to fuel-based fleet vehicles. But when you employ the ideal fleet management system, it can help you reduce downtime, and administrative costs, and provide charging insights. All of these will help you reduce your operational costs significantly. 
Improved Fleet Safety: The bottom line is that the safety of all stakeholders in a fleet operation is critical, and fleet businesses bear direct responsibility for it. EV management systems check compliance with assigned safety rules and take remedial action as needed.
What are the Essential Features of an EV Fleet Management Software?
Here are some essential features that any EV Fleet Management Software should have:
Optimum Fleet & Route Optimization
The main issue with electric vehicles is range anxiety. When the battery charge on an electric vehicle (EV) is low and the regular sources of electricity are unavailable, the driver experiences range anxiety. It curbs the anxiety of becoming stranded, which adds time, trouble, and worry to a journey.
In this area, route optimization can be a lifesaver. When you plan your trip with LocoNav's Route Optimization functionality, you can determine exactly how much charging your vehicle will need for a particular trip. You can also monitor your drivers and ensure that they follow the optimized route and do not take any detours. Detours can cause a discharge you might not have accounted for and that can be combated with LocoNav's Route Deviation Feature.
Maintenance Scheduling
Electric Vehicles use a much different engine than regular fuel-based vehicles. This means that the scope for on-road technical assistance is relatively limited. To avoid sudden breakdowns, a fleet manager must schedule regular maintenance activities.
With all that a fleet manager has to do, LocoNav's Maintenance features make maintenance scheduling easier. It allows you to manage all service-related details of the vehicles on a single dashboard. You can also review service history and overdue maintenance activities for your vehicles. Recording relevant information about each servicing done for your vehicles – vendor name, time of servicing, description, and invoice of the service is also supported by the platform.
Most importantly you can set one-time or recurring reminders to stay updated on the servicing required by your vehicles based on engine running hours, days of service, or distance covered.
Administrative Capabilities
Maintaining compliance with electric vehicles is a whole other area that needs to be looked at. Using the LocoNav Documents Tab on the web platform you can add and access all vehicle, driver, maintenance and analytics-related documents. You can also upload and save all vehicle-related documents such as registration, pollution, insurance, FASTag, state permits, tax tokens and national permits. This will significantly reduce your administrative load.
Vehicle and Driver Monitoring
Electric vehicles require proper driving behaviour and also regular vehicle upkeep. An ideal fleet management system for an EV fleet must possess features to monitor both these parameters. The LocoNav platform offers both Driver and Vehicle Scorecards for this very purpose.
The Driver Scorecard helps you analyse how your drivers are performing on-road. It will be on the lookout for harsh driving incidents and subsequently alert you of those. A vehicle scorecard on the other hand is a one-stop-destination for viewing and analysing your vehicle's health at all times.
Integrating EV Charging Capabilities
To effectively manage EV fleets, charging must be seamlessly connected with other technologies used by operations to plan vehicle routes and availability. On the charging front, the platform must offer intuitive and simple-to-use capabilities that allow managers and drivers to prepare for the whole vehicle journey, including all charging alternatives such as depot, at home or job site, and en route.
Many new EV fleet features, such as back-to-home reimbursement for drivers charging at home, reservations for chargers with automated allocation, support for fuel cards, and many other particular use cases, must also be enabled.
Data-Driven Dashboard
An ideal dashboard for an EV fleet must address the basic concerns that surround electric vehicles in general. EV fleet solutions give Fleet Managers a comprehensive perspective of the complete fleet operation, allowing them to easily monitor fleet operations. Fleet Managers have real-time visibility into all areas of the fleet operation, including vehicle whereabouts, ETA, ongoing jobs, completion status, deliveries (and so on), and may also maintain direct communication with their fleet drivers as they go about their daily routines.
Conclusion
Managing an EV fleet is a difficult undertaking, and employing EV fleet management software to handle key critical performance parameters like charging timetables, efficient routing, and the energy consumption is essential. This empowers EV fleet companies to conduct a viable and successful business.