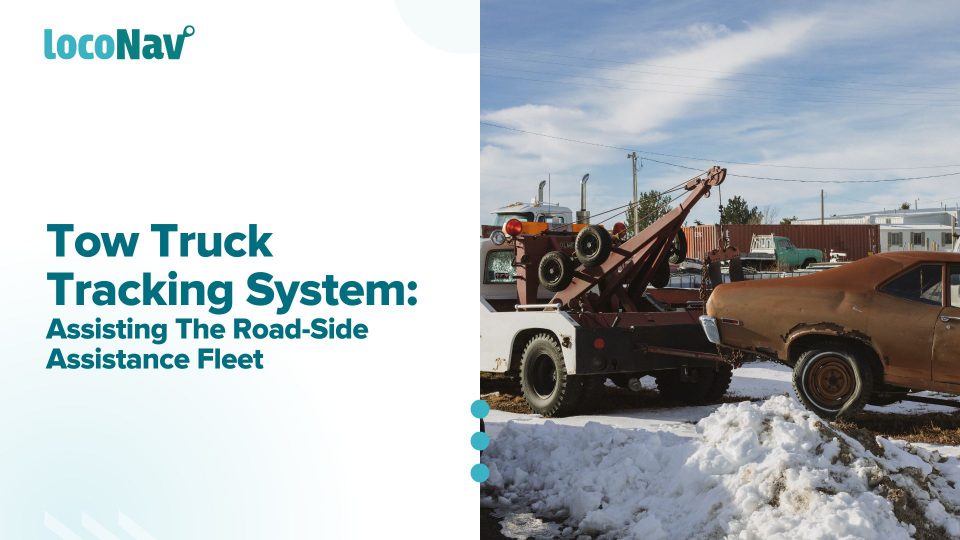 Tow Truck Tracking System: Assisting The Road-Side Assistance Fleet
Running a towing company is not easy. You, your drivers, and fleet vehicle operators face numerous hurdles in addition to being on-call 24 hours a day, seven days a week. Local and state regulations and safety issues, as well as fleet communication and vehicle mechanical concerns, are just a few examples of these challenges.
Tow trucking firms specialise in providing roadside assistance such as flat tyres, low fuel, towing, and even windshield repair. So, how do service firms like this deliver such excellent service in such a timely and effective manner? By utilising a Tow Truck Tracking System.
A tow truck tracking system enables roadside assistance businesses to maximise their efficiency and provide services to their consumers. In this blog, we will look more thoroughly at the role of GPS tracking in tow trucking fleets.
Check the live location of your vehicle with LocoNav's Tow Truck Tracking System!
What is a Tow Truck Fleet?
A tow truck fleet is made up of trucks that are used to transport disabled, poorly parked, detained, or otherwise indisposed vehicles. This may include rescuing a vehicle that has been damaged in an accident, restoring a vehicle to a drivable surface after an accident or severe weather, or towing or moving a vehicle via flatbed to a repair shop or other place.
How Can A Tow Truck Tracking System Be Beneficial For Your Company?
Here are some of the ways that a good Tow Truck Tracking System might help your towing firm.
#1 Always Know Where Your Tow Truck Fleet Is
Knowing where your vehicles are at all times can help to prevent instances of unauthorized vehicle use by employees as well as the danger of theft by thieves. With a tow truck tracking system, you can monitor where your vehicles are nearly anywhere and transmit that information to law enforcement promptly and easily. Use LocoNav's geofencing tool to create virtual perimeters to track when vehicles enter and exit certain locations.
#2 Use Remote Diagnostics for Maintenance
Most advanced GPS gadgets can communicate with a truck's onboard diagnostics system. As a fleet manager, you can quickly and effectively keep an eye on your vehicles virtually via a computer or mobile device to verify that they are in good operating order.
#3 Improve Field Communication
A tow truck tracking system allows for better openness, visibility, and reporting. LocoNav enables fleet managers to follow vehicles in the field and communicate with drivers/operators as needed.
You can receive extensive reports that provide the data you require without having to spend hours of important time gathering the information by utilising the software's automated reporting capabilities.
#4 Enhance Employee Safety
When the tow trucks in your fleet are fitted with GPS trackers, you can simply track their whereabouts in real-time. If a driver or operator spends too much time in one place, you can contact them to ensure that everything is fine or to see if they require assistance. If there isn't a response for a while, or if the driver indicates that they need assistance. You may use your tow truck tracking system to simply guide police forces or other emergency personnel to their precise location.
How Can GPS Fleet Management Reduce the Costs of Your Towing Fleet?
Using Fleet Management can help you save a significant amount of money. It can save your firm money and lower overhead expenditures. You can save money by doing the following:
FAQ
How can you tell if your truck is being tracked?
Most automobiles allow you to quickly detach the glove compartment and the panel beneath the steering wheel. If you stumble across a loose wire, it often links to an antenna that has been taped or glued on.
What data can you get from a GPS-tagged tow truck?
You may monitor actionable data on the location and status of a specific GPS-tagged vehicle using effective fleet management software, such as:
Location of the vehicle (in real-time)
Vehicle mileage
Vehicle alerts
Kilometre per litre
Idle time on the engine