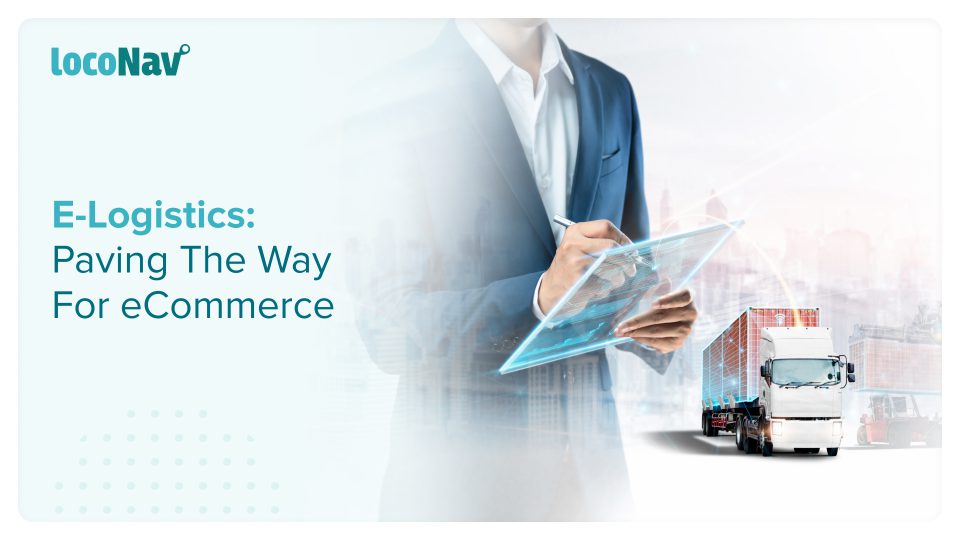 E-Logistics: What You Didn't Know
An automated and digitized supply chain are critical considerations for all online firms aiming to survive in the long run, and these take precedence over user experience. This is due to the fact that the e-commerce boom has resulted in various developments throughout history.
Advancements in technologies associated with product storage and last-mile delivery services are a few examples. Today, most logistics activities are managed by last-mile logistics software since there is simply too much work for humans to do.
The necessity to migrate to e-logistics has grown exponentially as technology and digitisation have advanced. Even now, it is a relatively new concept. Several eCommerce and logistics companies are experimenting with supply solutions on a national and international scale.
In this blog, we will discuss e-logistics and its role in supply chain operations.
Manage your fleet efficiently with LocoNav's Fleet Management Solutions!
What Does E-Logistics Mean?
It is described as the management of an organization's physical flows that sell goods on an online website or marketplace. Although the two can be complementary, e-logistics is in contrast to the traditional logistics setup by retailers. Because of its various nuances, it is a critical issue for e-merchants, necessitating the implementation of specific activities and processes in order for an e-merchant to profit from effective flow management.
Why is Traditional Logistics Giving Way to E-Logistics?
To help you understand the distinctions between e-logistics and traditional logistics, we have highlighted a few significant factors below:
The traditional logistics strategy was primarily centred on two factors: supply chain efficiency and effective pricing. E-logistics, on the other hand, is about matching consumers' expectations and delivering quickly.
In traditional logistics, information was obtained manually through the paperwork. In the case of e-logistics, however, information is obtained using a variety of electronic technologies, including Radio Frequency Identification (RFID), the internet, the Internet of Things (IoT), and Electronic Data Interchange (EDI).
Technology-enabled e-logistics is a more modern and improved version of traditional logistics that improves the whole client experience.
E-logistics, in addition to lowering costs and achieving deadlines on time, encourages inventory control through the use of a web-based system.
What Factors Contribute to the Success of E-Logistics Management?
E-logistics technology also aids in the prediction and analysis of client behaviour, which can aid in the increase of corporate revenues. A few ways in which e-logistics can drive business success are
Warehouse Management
Warehouse management comprises the principles and methods involved in running a warehouse's day-to-day operations. This includes obtaining and organising warehouse space, scheduling personnel, managing inventory, and fulfilling orders at a high level.
Closer inspection reveals that good warehouse management entails optimising and integrating each of those operations to guarantee that all components of a warehouse operation work together to boost productivity while keeping costs low.
Inventory Management
Inventory management is the complete computerised documentation of all inventory movements and intralogistics modifications. It essentially refers to the tasks of anticipating and replacing products in warehouses, distribution centres, and storage facilities.
Inventory management supplemented with e-logistics allows for accurate reporting on the number, quality, and location of all articles. A warehouse management system that knows the exact inventory levels associated with each shipment and storage location is required for this purpose.
Last Mile and Reverse Logistics
What should be done about last-mile concerns and return shipments? These are, indeed, two of the most challenging topics to deal with. Last-mile issues include timelines, prices, and sustainability. There are already a few logistics methods in place to deal with the last mile.
Return shipments reduce profitability, but they also provide an opportunity for the web business to improve its own image. Modern, intelligent apps have made it possible to appropriately handle returns in record time. eCommerce managers can reduce the losses related to return shipments by employing cargo tracking.
E-Logistics and its Way Ahead
With the deployment of e-logistics, e-commerce begins to explore the use of improved methods to optimise product deliveries and also aid in the generation and improvement of customer experience. To meet demand, the online retailer must employ a variety of logistical solutions, depending on the type of goods and geographical location. Logistics in unknown places are no longer constrained by outsourcing due to developments in e-logistics technologies.
AI and delivery software make it possible to manage your own fleet in the modern era. E-logistics aids in the real-time management and control of information. This aids in the correct picture of everything that occurs along the supply chain. As a result, e-commerce can broaden its scope and area of service without fear of becoming inefficient.