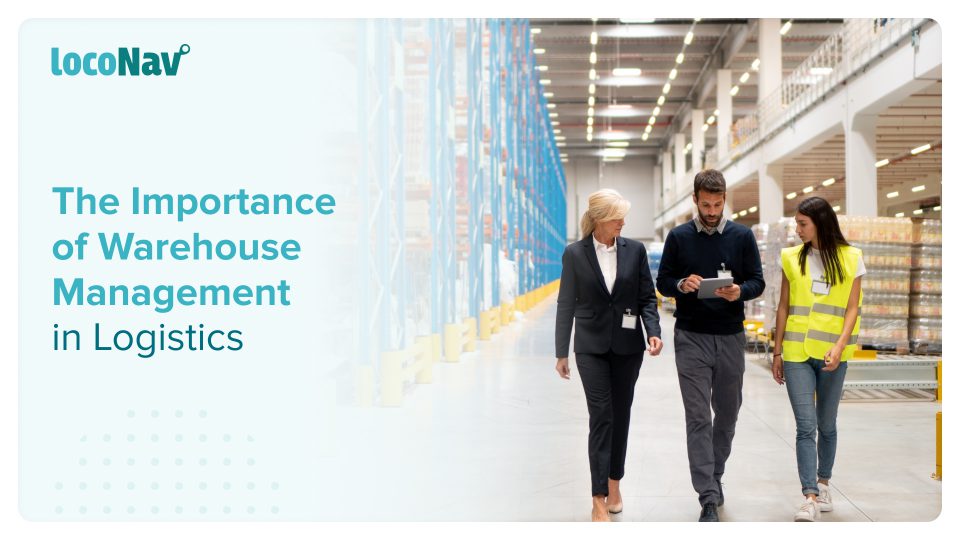 Why is Warehouse Management Important in Logistics?
The modern consumer is quite spoilt for choice. With almost every brand fighting for a market share, customer satisfaction is what can set you apart from the competition. A short delivery time is almost a standard today. But have you wondered how you can give your customers that coveted next-day or same-day delivery option? The answer is, always having stock on hand. This stock needs to be stored and managed in a way that is easy to access. This is where warehouse fleet management comes into play.
Warehousing is the cornerstone of storing things, improving customer service and lowering business costs. While it may not be a fascinating topic, warehousing significantly impacts everything from purchasing raw materials to properly managing inventory to delivering orders on time to clients.
Warehouse fleet management in logistics deals with the challenges of arranging a warehouse, and establishing a system for receiving, accounting, and stock placement. The warehouse fleet management process is critical to meeting the most important business goal, which is to maintain operating costs as low as possible while increasing profit margins.
In this blog, we will discuss the importance of warehouse fleet management in logistics.
Manage your fleet efficiently with LocoNav's Fleet Management Solutions!
New Technology in Warehouse Management 
Technology is advancing at a rapid pace in all sections of the economy. Warehouses must be equipped with technology that enables them to keep up with manufacturing, production, and consumer demand in order to be competitive.
A smart warehouse is automated for increased productivity, effectiveness, and accuracy, and the solutions adopted provide people and their processes with flexibility and capability. These are the 3 technologies you must have in your warehouse right now:
#1 Warehouse Management System (WMS)
A WMS should integrate all of your key warehouse data into one readily available platform, providing select members of your supply chain with a complete perspective of your operations, lightning-fast reporting, real-time analytics, and accurate planning capabilities.
#2 Warehouse Automation
Automation can resolve a lot of the issues that the modern warehouse is plagued with. Here are 3 parts of warehouse operations that can be automated for better productivity:
Guided Vehicles
Automated guided vehicles (AGV) are a cost-effective approach to improve your storage and retrieval processes in putaway, loading, and stocktake. AGVs are self-guided vehicles that can include forklifts and pallet carts that go across the plant following digital pathways to load and unload pallets.
These vehicles can be introduced in your warehouse without requiring a complete redesign of your layout and systems, with the possibility to add and increase your AGV complement as your business grows.
Pick-Up Tools
With the addition of automated pickup tools to your warehouse, you can achieve near-perfect picking rates. This category has a wide range of tools, however, keep in mind that your WMS is intended to simplify your warehouse operations. It optimizes picking by making it faster, better-allocating labour, and decreasing human error.
Inventory Control Platforms
When you employ an inventory control platform with asset and inventory tags, you may automate stock counting and have data synthesized fast for real-time, factual reporting that can be viewed remotely.
#3 IoT
Whether automated or manual, the IoT system syncs all of your data in a simple network, assisting in the optimization of inventory management and warehouse fleet management (with a twofold impact if coupled with an automated warehouse), labour scheduling, and consumer experience through streamlined processes and improved TATs.
What are the Economic Benefits of Warehousing in the Supply Chain?
There are numerous benefits to warehouse fleet management, but one that stands out is its capacity to shorten the time it takes for your items or resources to arrive at their destination. This implies less downtime and higher production because you can get back on track faster.
Here are 4 economic advantages of warehouse fleet management that might help your company run more efficiently:
#1 Better Inventory Management
A warehouse can assist you with inventory management by tracking. Assume your company stores things in a tiny store or garage before sending them to the end user. A warehouse allows you to keep track of how much storage your inventory consumes.
Companies that use warehouse fleet management have considerably greater control over their stocks, allowing them to increase inventory turnover. It expedites the shipping process and lowers costs by ensuring that products do not take up more space than necessary.
#2 Faster Inventory Turnover
You'll be able to fill your shelves more quickly because you won't have to wait for deliveries or worry about order lead time. When demand is high, you may also get new products in the store rapidly. It will enable you to stock up on things at their lowest prices. It enables you to keep up with market changes and capitalise on chances that you may otherwise overlook. It may even aid in the acceleration of your cash flow.
#3 Lower Labor Costs
A warehouse can be automated, requiring less labour than a regular retail store, which necessitates a huge crew. Having a warehouse reduces labour expenses and increases profits for the company. It is especially true for a company with many locations because a distribution centre will already be in place to manage shipping.
#4 Accessibility
Warehousing is advantageous since it allows you to access your materials from any location. If you have a dramatic surge in orders around the holidays, you can get to them swiftly and easily. You don't have to be concerned about not being able to locate the materials you require in time for a deadline. Warehouse fleet management will keep your resources accessible while also keeping them out of the way if necessary.
How Can LocoNav Aid in Your Warehouse Fleet Management Process?
Every year, millions of dollars are lost owing to poor warehouse operations. Large financial losses frequently result in the closure of many enterprises, whether it is due to greater operational costs, poor warehouse layout, forklift accidents, or material handling delays.
Warehouse fleet management with LocoNav can help you streamline your warehouse operations:
Reduce Accidents
One technique to ensure safe interaction is to designate low-speed and hazardous zones. Forklift drivers must slow down in these areas to avoid colliding with pedestrians, management personnel, and other forklifts.
These locations could be in congested areas, on tight corners and junctions, with conveyor belts, or in areas that hold corrosive chemicals. By using ADAS technology, you can send a speed limitation alert to forklift operators so they can stay within the designated speed limit in congested areas.
Lower Downtime
Vehicle diagnostics offered by LocoNav's Telematics Systems can ensure regular maintenance of your forklifts and other vehicles, analyse asset utilization and reduce downtime.
Asset Safety
LocoNav makes asset location tracking and auditing easier and faster. With asset tagging and GPS trackers, you can now strengthen the security of your assets by keeping track of their real-time location.
FAQ
What Is Warehouse Management System?
A warehouse fleet management system integrates all of your key warehouse data into one readily available platform, providing select members of your supply chain with a complete perspective of your operations, lightning-fast reporting, real-time analytics, and accurate planning capabilities.
What Is The Difference Between Warehouse Management And Inventory Management?
Inventory management and warehouse management are two aspects of stock management. Inventory management gives a high-level overview, whereas warehouse fleet management concentrates on the specifics of stock movement.