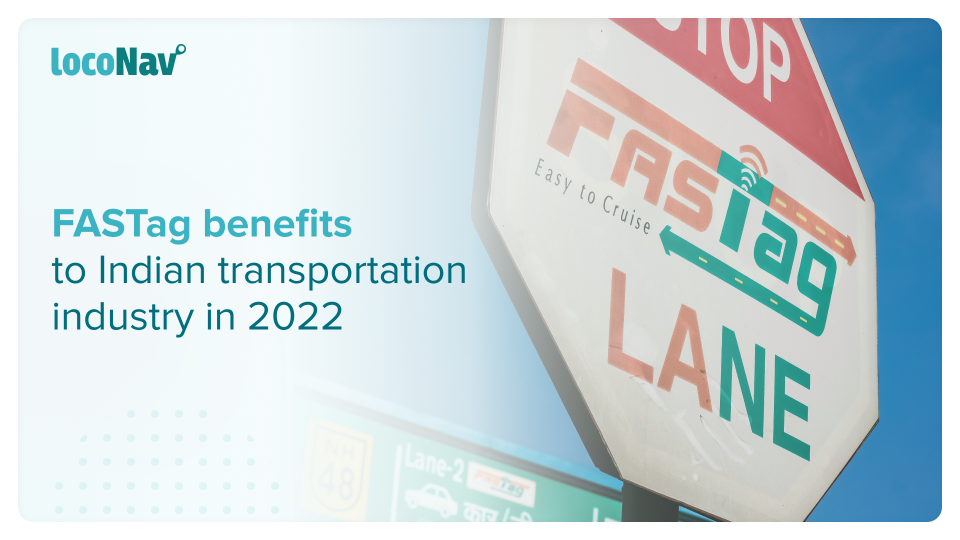 Benefits of Using FASTag in the Indian Transportation Industry
The share of the logistics sector in the economic growth of India has never been more compelling. A robust logistics sector can go far in boosting India's quest for being a manufacturing giant. However, the fact that the growth of any sector is highly dependent on and can be propelled by proper government measures and apt technology cannot be denied. Logistics and transportation have been the holding pillar for pretty much every business structure over the world since the ascent of the economy.
India is at the cusp of a digital revolution. There has been an incredible headway in the technology being adopted in the nation for the advanced digital payment ecosystem in the toll and travel sector. Thus, when the Ministry of Road Transport and Highways (MoRTH) decided to embrace the cutting-edge innovation in national highways for toll charge collection, the decision was considered worth plausible.
Tolling-related technologies have picked up momentum in the present scenario. This is for enabling the acceptance of digital payments in lieu of physical cash at toll squares. With an accentuation on implementing an effective and efficient toll collection framework, electronic toll collection (ETC), with FASTag as its brand name, emerged to be a key solution in enabling an efficient, fast, and cashless payment option for the collection of the toll charge.
Presently, FASTag adoption is voluntary. However, the impressive and organized system it brings to the table has compelled people to jump on this bandwagon. In a bid to make India cashless, the benefits to be reaped from FASTag are truly tremendous. Discussed below are some of the FASTag benefits in the transportation industry.
What are the advantages of FASTag for:
Vehicle Owners
One of the primary benefits of FASTag is that it negates the necessity of cash transactions at toll booths. Cash payments are one of the primary causes of toll booth traffic congestion. Motorists can now enjoy a hassle-free journey as they speed past toll plazas without having to scramble around for change while paying.
Long lines at toll booths are a thing of the past since FASTag allows you to pass through without having to wait in line.
In just a few minutes, you may recharge your FASTag online (or less).
Toll Collector
Toll owners and collectors are saved the hassle of manually keeping track of cash payments. Since the amount of toll collected is different for different classes of vehicles, keeping a check is a task.
Additionally, having to return the change and collect the exact money for the toll is a hassle, which can be avoided using FASTags.
Government
Other than keeping a check on long lines at toll booths, FASTags benefit the government as well.
There is no scope for bribes & collecting less than or extra money from the commuters. This helps in stopping black money transactions.
Commuters cannot speed past the toll booth without paying since the toll is automatically deducted from their wallets.
What are the additional benefits of FASTag?
FASTag has many features to its credit. Some of them are:
Emergency roadside assistance,
Accidental Death Cover
SMS and Email Alert of Transactions
Likewise, it can help the government in identifying the quantum of road use and the various types of vehicles passing through. This thus will aid budgets for road widening and other infrastructural expenses.
Some of the other major features of FASTag technology are:
There would be no need to carry cash for toll fare payments henceforth.
The FASTag is valid for a period of 5 years after the initial purchase.
Various options like debit cards, credit cards, NEFT/ RTGS, and even net banking are available for recharging FASTag online.
SMS alerts are also issued to the user on payment of toll fares or when the balance becomes low.
With a view to promoting FASTag, a scheme of 10% cashback is being made available on all toll payments using it.
Conclusion
Each FASTag carries the validity of five years. And after having purchased it you can continue to recharge it as per your requirement. To get your FASTag, the following need to be submitted:
Registration Certificate of your means of transportation
Your Passport size photograph
KYC documents such as PAN card, Adhaar card, and Voter ID.
In April 2013, the first ETC was set up on Mumbai-Ahmedabad interstate highway with six toll plazas and 3 logistic suppliers. Now, FASTag is operational at 600+ toll booths across national and state highways.