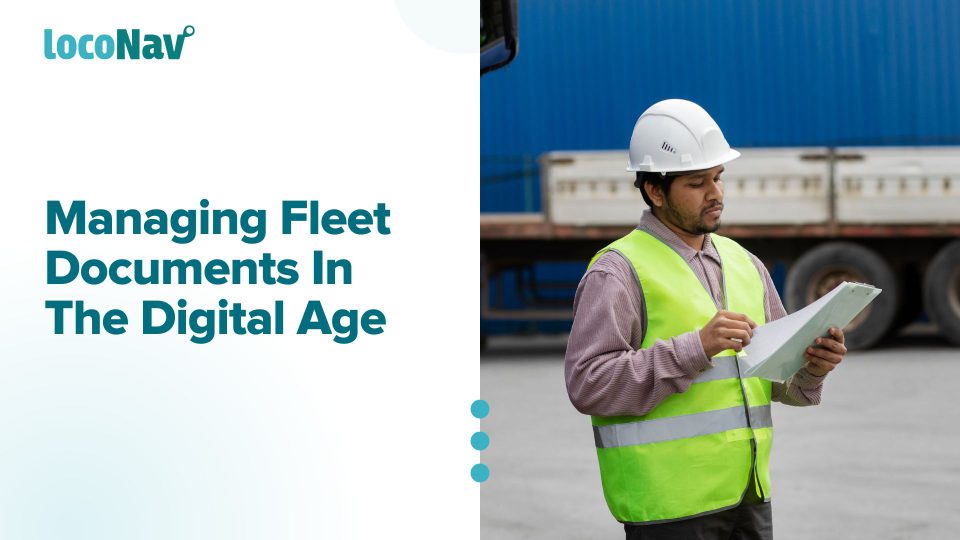 Why is Document Management Important For Your Fleet?
Managing a fleet, like any other business, comes with its own set of paperwork. Although, as more fleets convert to digitising their records, the 'paper' element of paperwork becomes less typical. While many fleets are now paperless, the use of apps and mobile devices to access these same systems is on the rise for fleet document management.
Fleets may reduce operational expenses and enhance efficiencies by embracing the practice of digitising business papers throughout a company, including driver and maintenance department documents. This approach begins with an evaluation of the available equipment and programmes, followed by an understanding of the transition to a paperless operation and best practices for organising these digital assets.
In this blog, we will discuss types of fleet documents, the benefits of employing a fleet document management system, and the best practices you can employ for efficient document management.
Manage your fleet efficiently with LocoNav's Fleet Management Solutions!
What are Fleet Documents?
Every sheet of paper that has anything to do with your fleet operations, counts as a fleet document. Fleet document management is important to keep a check on your fleet budget, maintain compliance, and maximise your fleet's productivity.
A few examples of fleet documents are:
On-Trip Invoices
Vendor Estimates and Quotes
Fuel Receipts
Maintenance and Repair Orders
Accident Reports and Supporting Video Footage and Pictures
Safety and Training Manuals
Driver Licenses
Vehicle Documents such as Registration, Pollution, Insurance, FASTag, State Permits, Tax Tokens and National Permits
Pre-Trip Checklists
Benefits of a Fleet Document Management System
Fleet document management keeps all fleet-related paperwork in one place. This not only reduces the amount of paper used by a fleet firm, but it also has numerous additional advantages.
Reduce the possibility of document loss
If you do not transition to a digital data system, a single unpreventable accident, such as a fire, can disable your fleet management systems. Fleet documents can be saved on a cloud network or in many locations, lowering the risk of losing them.
Reduce costs in both time and money
The use of a DMS reduces overhead costs for storage, printers, document delivery services, and insurance.
Data at your disposal
Documents that have been digitised and safeguarded can also be accessed from anywhere. This allows your company to expand and develop based on in-demand information that can be gathered in seconds. Because client walkthroughs and reports can be obtained instantly, advanced document management can considerably improve your customer relations.
3 Best Practices for Fleet Document Management
Here are 3 expert tips to improve your fleet document management.
Use Fleet Management Software
For modern fleet managers, fleet management software offers a sophisticated and user-friendly option. It keeps track of critical fleet data on a single cloud-based platform.
LocoNav software tracks drivers, fuel, maintenance, and vehicles. Field data from GPS trackers to update all of the information. Managers may now keep an eye on their fleet in real time.
Manage Inventory and Trip Assignments
It is inefficient to track your fleet on paper or using a spreadsheet. The data will never be "real-time" because it must be constantly updated. This makes it more difficult to make the appropriate judgments at the right moment. As a result, extra expenses are incurred, as are possibly overused or underutilised assets.
Fleet management software manages inventory and trip assignments in one location. The information is always up-to-date and easily accessible. Managers gain more visibility, enhance vehicle usage, make better use of fleet budgets, and achieve greater control over their operations in this manner.
Automate Maintenance
Stop keeping track of vehicle maintenance requirements with calendars, diaries, and sticky notes. As your fleet grows, it's critical to automate these reminders to ensure your crew keeps on top of maintenance activities.
LocoNav allows you to configure maintenance reminders for each vehicle in the system (depending on work hours or distance driven). When a vehicle is due for a service, the fleet management solution automatically sends a notification. It also maintains track of maintenance records and the fees associated with them. Keeping meticulous records and remaining on top of maintenance saves future accidents and lawsuits.
Explore LocoNav's Fleet Document Management
Here are some features of the LocoNav "Documents" tab that can help you ace your fleet document management:
Add and access all vehicle, driver, maintenance and analytics-related documents
Upload and save all vehicle-related documents such as registration, pollution, insurance, FASTag, state permits, tax tokens and national permits
Keep a record of driver details such as name, contact number, Aadhar number, active/inactive status, assigned vehicle, license number, driving license issuing date, driving license expiry date, guarantor name, tracking ID
Get easy access to documents with filters on the basis of vehicle number and/or driver name
Keep detailed documents with supporting images and notes related to the particular document