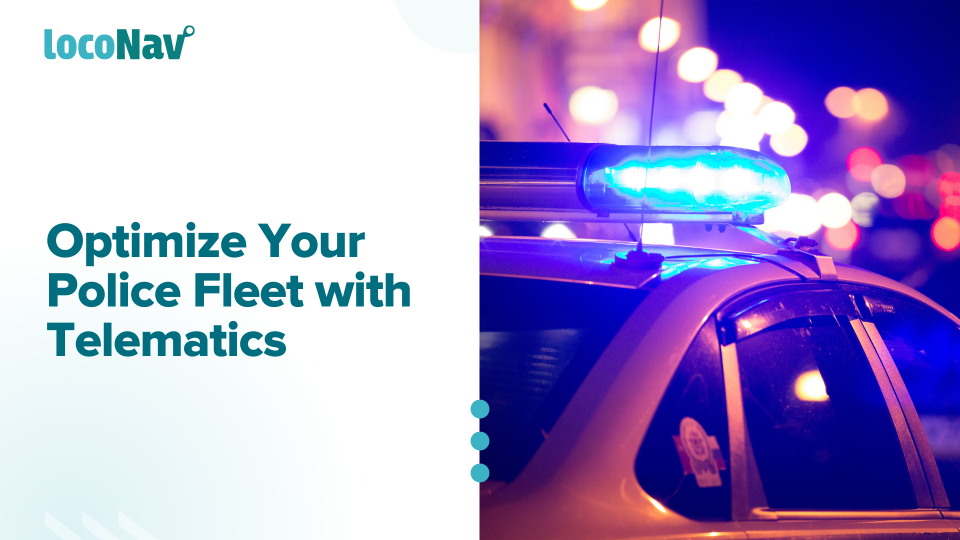 Police Fleet Management: How Can It Help?
Wear and tear is an inevitable aspect of the job for police vehicles. Police vehicles, regardless of make or model, must match the high demands and expectations of an officer's day-to-day responsibilities. Law enforcement agencies have specialised needs and high expectations for their fleets.
Police fleets, in particular, are required to react and respond swiftly in any situation, putting them under enormous pressure to be constantly ready. However, outdated vehicles and limited funds for modifications or replacements can make it difficult for first responders to optimise operations and improve vehicle health.
Police fleet management is a significant area where law enforcement agencies may save money. Small adjustments can save fuel, labour, and money without compromising performance or police work. In this blog, we will discuss the challenges a police fleet faces and how LocoNav can help you with your police fleet management.
Manage your fleet efficiently with LocoNav's Fleet Management Solutions!
Challenges of Managing a Police Fleet
Long Vehicle Lifecycle
There is no doubt that police fleet vehicles are heavily used, and budgetary concerns frequently delay their replacement, making this a major worry for public safety. Improving fleet vehicle lifecycle management and getting the most out of them is part of police fleet management.
Limited Budget
The vehicles used by law enforcement get used excessively. This excessive wear and tear will necessitate more costly and frequent repairs, maintenance, and part replacement. Police departments with limited resources must maximise the use of each and every police car, but not at the price of the officers who operate the vehicles, which are frequently driven at high speeds.
Assets Spread Out Over Large Areas
Police fleet managers frequently struggle to gain information into their fleet vehicles' and assets' actions and then use that insight to improve fleet operations. It might be extremely challenging to track the movement of all fleet cars and equipment while seeing their position.
Driver and Vehicle Safety
Officers must act fast when pursuing fleeing automobiles or responding to situations. This may cause them to speed, increasing the risk for the officers, their vehicles, and other vehicles on the road. Officers must also relay accurate information rapidly while focusing on driving safely, which is difficult under normal circumstances.
LocoNav Solutions Suite to Streamline Police Fleet Management
LocoNav Solutions Suite is an inspired combination of fleet and asset management solutions that will help you manage your fleet end-to-end. Here is how it can help you optimize your police fleet management efforts:
Consistent Maintenance
GPS fleet tracking software systems can help police fleets remain on top of vehicle health with maintenance features such as:
Creating preventative fleet maintenance plans
Using engine diagnostic data to improve cost control using OBD Devices
Use LocoNav Vehicle Scorecards for examining vehicle wear and tear in relation to driving behaviour.
Leverage Actionable Insights
Telematics technology can assist police fleet operators in the following ways:
Compile information from all devices (OBD, GPS trackers, dashcams, fuel rods) associated with each vehicle.
Visualize data to send trucks more efficiently.
Improve responsiveness
Vehicle and driver scorecard features also allow a graphical user interface to display performance over time, allowing fleets to compare performance quarter after quarter, month after month, and year after year. Police fleet management enables the measurement of a variety of KPIs, as well as automatic reports and alerts to send that information where and when it is required.
Fleet Safety
Data from digital fleets can help enhance driver and vehicle safety, but it is likely to come from numerous sources. Police fleet management can assist fleets in integrating these data streams in order to give reliable analytics and reporting on:
Reduce Operational Costs
Police fleet management can assist fleet managers to boost efficiency while decreasing operational costs by allowing them to:
Reduce fuel consumption—one of the most expensive aspects of any fleet—by using idling and over-speeding alerts, as well as identifying unauthorised vehicle usage and confirming fuel costs to aid in the reduction of fraud.
With near-real-time alerts, dispatchers may enhance routing to decrease mileage to minimise vehicle wear and tear.
Reduce insurance prices by incorporating telematics data into fleet safety programmes.