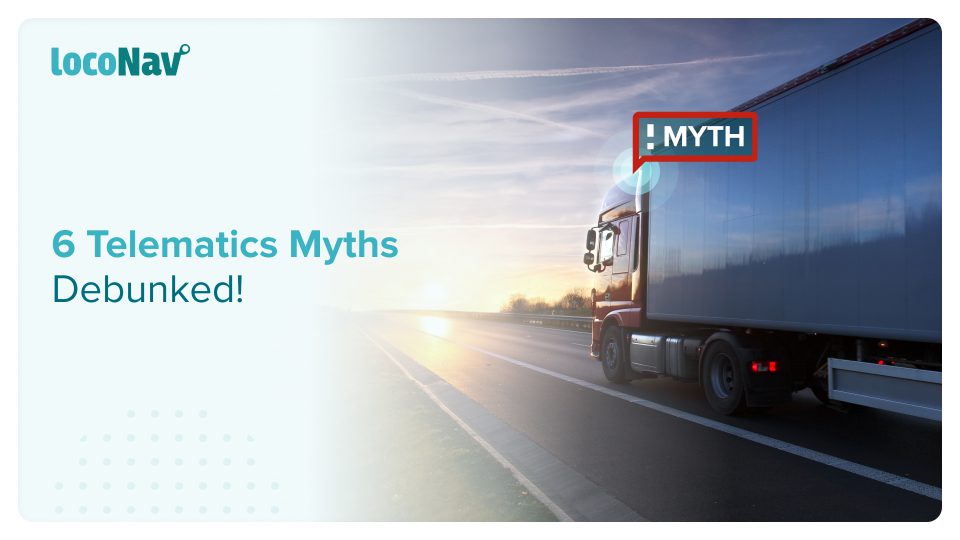 6 Telematics Myths Debunked!
As a provider of telematics to numerous industries, LocoNav has discovered that many fleet owners still believe in certain telematics myths. In fact, we have discovered that even if a misconception is false, it can still be a barrier to a company's adoption of telematics technology. Limiting the organization's ability to attain its greatest potential.
To help organisations limit the number of myths they believe, we have put together a list of the 6 most prevalent telematics myths below.
Myth #1 Telematics Device Integration is Tedious
The telematics misconception that we and others in the tech industry face are that adopting and managing telematics takes too much time for organisations. It's natural that there's a misperception that managing telematics takes time, from installation to reporting and evaluating data. The truth is that a telematics system can be as time-consuming as you desire.
Beginning with installation, it may appear to be a difficult or technical process that requires the assistance of a professional. But this is not the case. The latest offerings are not only small and compact but they are also engineered to be quick and easy to install. Simply locate the OBD-II port in your vehicle, insert the device, and you're done!
Manage your fleet efficiently with LocoNav's Fleet Management Solutions!
Myth #2 Telematics and GPS are the Same
Since telematics and GPS are not the same things, your vehicle module is not tracking your whereabouts. A telematics module gathers data such as speed, fuel efficiency, vehicle condition, airbag deployment, and more, rather than tracking positioning and movement like a GPS tracker would.
Myth #3 Telematics is Expensive
When shopping for a telematics system, compare suppliers on hardware, software, and installation expenses. LocoNav provides a choice of data options based on what the fleet is prepared to manage.
Second, a telematics device should be viewed as an investment rather than an expense, with the ROI factored in, such as how you are trying to recoup the cost of the product by using the software to achieve goals like minimising fuel consumption and maintenance costs.
Myth #4 Telematics Data is Used to Increase Insurance Premiums of Drivers Who Often Engage in Harsh Driving Practices
Increased insurance rates might account for a significant amount of a company's fleet management costs. Increased accident rates are frequently associated with increased insurance-related expenses. Fleet management software can resolve the safety issues that contribute to higher crash rates, resulting in lower insurance premiums.
Telematics solutions address fundamental issues such as risky driving behaviour in real-time, as well as conducting a necessary training programme. One of the most efficient methods to lower insurance costs is to ensure that your current solutions result in rapid changes in safe driving behaviour across your fleet.
Myth #5 Telematics is Only For Tracking
Since the terms telematics and GPS devices are frequently used interchangeably, the popular misconception is that telematics places "dots on a map." Nothing could be further from the truth. You may not need to track points on a map, but may safe driving assist your organisation? What about lowering fuel costs?
A telematics device can track data such as a driver's speed, idle time, harsh braking, and more. It may be used to optimise your fleet and cut expenses, keep your fleet on a regular preventive maintenance schedule, forecast battery failure ahead of time, and make fuel tax filing a snap, among other things.
Myth #6 If I Have a Fleet Management System, Why Do I Need Telematics?
The terms telematics and fleet management are frequently used interchangeably. However, this is not entirely accurate. Businesses are increasingly relying on fleet management and telematics technologies to increase fleet visibility and productivity. 
There is some overlap between the two tools and their roles in fleet management, though. In general, telematics is concerned with the data collected, sent, and stored by your vehicle, whereas fleet management is for your entire fleet and its life cycle.