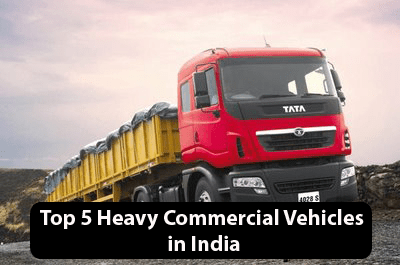 Top 5 Heavy Commercial Vehicles of India
1) TATA PRIMA 4928.S

Tata Prima 4928.S is a member of the Tata Prima truck family.
TATA Prima is a tractor-trailer truck, which has an estimated cost of INR 32.13 lakh only. Drawing power from a CuMmins 6 ISBe 270 30, water-cooled, direct injection, turbo-charged, after-cooled diesel engine, Tata Prima 4928.S is a good fit if your business is related to transporting cement bags, containers, steel coils and more. It can also transport over dimensional cargo (ODC) with ease. The truck is available in BS-III variant and can generate a maximum torque of 970Nm @ 1200-1700rpm. Tata Prima 4928.S comes equipped with a manual nine speed gearbox, power steering, AC, ABS and fog lights.
2) ASHOK LEYLAND 4923

Ashok Leyland 4923 is a cowl option truck in the company's portfolio which is available from an ex-showroom price of INR 26.7 lakh. It can be used as bulker, tip-trailer, skeleton and flatbed trailer and is fit to carry loads ranging from coals to stones, vehicles to general goods and more. It's available in one wheelbase option of 3,810 mm and is backed with same engine specifications of 5,660 cc H Series CRS TCIC BS-III motor, churning out 225 bhp power and 800 Nm torque. It has decent gradeability of 21% and power steering which help in easy maneuvering. It has GVW of 49,000 kg out of which 43,590 kg is available as maximum payload capacity.
3) EICHER PRO 1114XP

Eicher Pro 1114XP is one of the most profitable product of the Eicher PRO philosophy. It has the highest rated payload in its category, robust and rugged aggregates that ensure high reliability and durability and cabin with superior driving comfort, while retaining its best in class fuel efficiency. Aptly known as the Mileage Ka Badshah, Eicher Pro 1114XP ensures high profitability and prosperity for its owner.
4) BHARATBENZ 3123R

BharatBenz 3123R is middle-heavy weight category truck with GVW of 31,000 kg and payload capacity of 19,700 kg. It has engine specifications of DE170 6-Cylinder 6.4 Litre BS-III pump, with 228 bhp power and 810 Nm torque.
If you are lookign to carrry loads like FMCG, machinery, packed stuff, cargo boxes and others, then BHARAT BENZ 3123R is good fit for you. BHARATBENZ 3123R has a price of INR 23.0 lakh with 2 wheelbase span of 5,175 mm and 6,375 mm available in total 4 variants. The safety and easy maneuverability have been taken care off with ABS, side impact beam, parking brakes, seat belts, steel bumper and power steering and 18% gradeability. The cabin includes features namely 3-way adjustable seats, noise reduction precautions, digital instrument cluster, and ergonomic design.