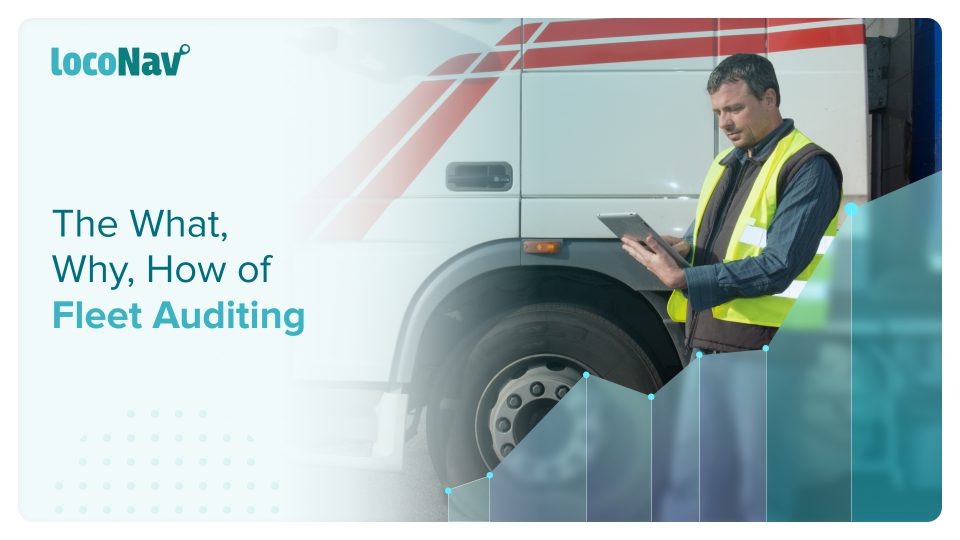 Why is Fleet Auditing Important?
It is easy for fleet managers to become engrossed in the minutiae of their daily tasks and lose sight of the overall health of their fleet. It is always an excellent opportunity to take a step back and look at your organisation holistically, diagnose any problem areas, and devise a plan to address those concerns.
This is where audits may help. Some people may cringe at the mere mention of an audit since it's not the most exciting management task and has a generally negative perception, particularly in the fleet industry – but undertaking a simple internal fleet audit doesn't have to be a huge burden of time or effort, and it can yield some pretty revelatory information.
In this blog, we will delve into the basics of fleet audit – its KPIs, how it is conducted, and how it can contribute to improving operational efficiency.
What Does Fleet Auditing Mean?
Internal or external audits typically focus on the company's financial health, which includes fleet operations. However, the productivity of fleet operations is not restricted to financial considerations. A fleet audit, for example, may look for automation potential in fleet operations, such as automated invoicing. As a result, an efficient fleet isn't only concerned with profit. Other modifications that improve efficiency, such as automation of some fleet operations, may be recommended by a fleet auditor.
A fleet audit assesses fleet operations' conformity with a company's or standard's methods, procedures, and rules. The audit entails gathering data from real operations and comparing it to the processes, procedures, and regulations. It has nothing to do with service-level agreements (SLAs), cost comparisons, or business forecasting.
Next, we will discuss a few factors in a fleet audit checklist.
Manage your fleet efficiently with LocoNav's Fleet Management Solutions!
What Key Indicators are Measured in a Fleet Audit?
We have listed a few critical elements to look at in your fleet operations and how to approach remedial measures to any problems you may find. A fleet audit checklist must include:
Regulatory Documentation
Maintaining adequate documentation on each vehicle is critical to avoid complications on the road when things like crashes or road checks occur, especially for the commercial fleet – if you don't have the correct paperwork on hand, you could face big fines, which never look good on your bottom line. A fleet audit is an excellent opportunity to ensure that you have certain fundamental papers in order to remain compliant.
Budget Reports
Internal audits are an excellent time to review previous fleet budgets and assess how effective those estimates were as you prepare for a new fiscal year. You'll want to look at the overall costs, from the total cost of ownership of each vehicle to fuel expenses and maintenance charges, and see how those budgets have increased or changed over time with the company's general growth.
Look for cost-cutting opportunities in your next budgeting, and be prepared to reconcile any inconsistencies or fraud with new processes or safeguards, such as locking down fuel card purchases to correct an overinflated fuel budget.
Technology
Audits are an excellent opportunity to evaluate the technology that your fleet uses to improve efficiency and streamline daily chores. There are a few pieces of technology that are necessary, but there are also some more alternative solutions that can make your job a lot easier while providing a high return on investment.
Telematics devices can be a valuable tool for combining data from vehicles on the job and calculating how much money you could be earning or losing on the road, from GPS tracking and route planning to driver behaviour monitoring and odometer readings.
Processes & Policies
Most days, a fleet centres on vehicles, routes, and maintenance, but it's also crucial to examine the human side of your operation, specifically the protocols and procedures you put in place to keep everything running smoothly.
Maintenance, along with fuel, accounts for the majority of most fleets' annual expenditures, so it's critical to ensure your systems for inspections, preventative maintenance, repairs, and interacting with third-party maintenance providers are watertight to minimise any costly inefficiencies. Look for opportunities to reduce drivers' and technicians' time by simplifying these processes as you audit them.
How is a Fleet Performance Audit Conducted?
Here are the basic steps to follow while auditing fleet performance:
Step 1: Record basic fleet information
↓
Step 2: Review fleet safety policy/fleet handbook
↓
Step 3: Review health and safety policies
↓
Step 4: Assess vehicle defect report forms
↓
Step 5: Assess vehicle monitoring procedures
↓
Step 6: Review forward plan for replacement of vehicles
↓
Step 7: Analyze fuel usage
↓
Step 8: Assess drivers and operator licenses
↓
Step 9: Inspect insurance arrangements
↓
Step 10: Verify driver training
↓
Step 11: Review third-party service providers
↓
Step 12: Assess security protocols
↓
Step 13: Review inventory
↓
Step 14: Review audit findings
How does Fleet Auditing Improve Operational Efficiencies?
Identifying these issues can significantly contribute to increased fleet productivity. A fleet audit can improve operational efficiency by identifying the following:
Compliance problems that could result in significant fines
Problems with vehicle maintenance that could lead to an accident
Employee safety concerns at the shop, facility, and so on.
Unsafe driving actions that could cause injury or death
Training concerns with managers, supervisors, drivers, and others
Conclusion
As discussed in this blog, a regular fleet audit is imperative to a smooth functioning fleet. A properly conducted fleet audit can uncover a variety of issues that may potentially cost your fleet a lot. The core steps of a fleet audit involve reviewing and maintaining proper documentation. This is where LocoNav steps in. With LocoNav's "Documents" tab you can make your fleet auditing process a breeze.
Features of the LocoNav "Documents" tab:
Add and access all vehicle, driver, maintenance and analytics-related documents
Upload and save all vehicle-related documents such as registration, pollution, insurance, FASTag, state permits, tax tokens and national permits
Keep a record of driver details such as name, contact number, Aadhar number, active/inactive status, assigned vehicle, license number, driving license issuing date, driving license expiry date, guarantor name, tracking ID
Get easy access to documents with filters on the basis of vehicle number and/or driver name.
Keep detailed documents with supporting images and notes related to the particular document.