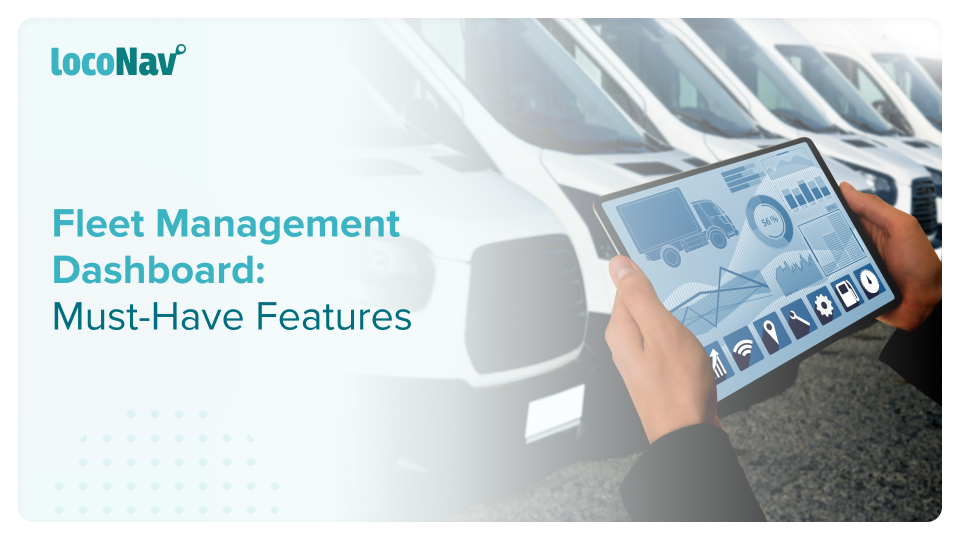 7 Benefits of Using a Fleet Management Dashboard
Understanding the fleet management processes can help you stay competitive by lowering administrative costs and meeting customer expectations. You can hire a fleet manager or outsource fleet management to a reputable software provider.
Managing a fleet can be a demanding and costly task. If your company utilises three or more vehicles, expert fleet management can assist you in successfully managing your vehicle pool. Switching to a fleet management dashboard for this can be one of the most beneficial business decisions you can make.
In this blog, we will discuss the various aspects of using a fleet management dashboard.
What is a Fleet Management Dashboard?
The fleet management dashboard serves as the main command centre for fleet managers to access and analyse information about their drivers, as well as get real-time notifications.
LocoNav's fleet management dashboard, with its simple user interface, allows managers to rapidly and efficiently track, monitor and analyse their fleets. Users can receive more information, including insightful reports, about vehicle health and performance. It also allows you to track your assets, monitor driving behaviour, create geofences, and provide expense reports as well.
Manage your fleet efficiently with LocoNav's Fleet Management Solutions!
Important Modules of a Fleet Dashboard
Different fleet businesses have different requirements regarding their fleet management dashboard. And it is quite likely that as your fleet grows, your demands will change. However, here are some of the most important modules that your fleet dashboard must have:
Route Management
Aside from knowing where the present vehicle is, real-time data can be used for optimal route planning and improvement. Data like stop lengths, vehicle capacities, traffic bottlenecks, and drivers' lunch breaks can all be taken into account by fleet management systems. The technology can provide the most efficient route and assist in finding a more fuel-efficient path between checkpoints by analysing all of this data.
Vehicle Maintenance
The vehicle maintenance module can assist you in keeping your fleet operational by reducing the diagnostic and inspection processes. Your fleet management dashboard can monitor all collected data about your fleet, organise checks automatically, and inform you about upcoming diagnostics.
Trip Management
Successful trips make a successful fleet. A fleet management dashboard worth its salt will provide you with information on the daily trips your fleet takes and all metrics related to it. This includes speed, distance, time, and more.
Driver Management
Apart from making sure that your fleet is operationally sound, you need also to look after its drivers. The driver management system saves personal information about your personnel and analyses their driving performance.
All of your driver records will be current and organised and driving behaviour will be recorded. You may simply retrieve this data using your device with a few clicks. Your managers can check to see if a specific driver has a valid driver's licence and has passed the requisite medical examinations to maintain compliance.
Fuel Management
Fleet management systems with fuel consumption monitoring can help you save money by reducing idling time and pollutants. Automated systems can monitor your vehicles' fuel tanks and create user-friendly information.
Fuel usage data can help you regulate and improve your fuel costs. Depending on your requirements, fleet management systems can generate such reports automatically on a weekly or monthly basis. You can assess whether your fuel consumption control strategy is effective or not by keeping an eye on this data.
What are the Different Types of Reports Available on LocoNav's Fleet Dashboard?
Keeping track of everything is crucial when it comes to handling a fleet. LocoNav's reporting system helps you keep a close eye on your fleet. The LocoNav fleet management dashboard prioritises important KPIs. With these visible and variable key metrics at your disposal, you have vital data for efficient fleet management and monitoring, as well as understanding your expenditures.
The different types of reports available on the LocoNav fleet management dashboard are:
Vehicle-Based Reports
These include reports related to vehicle health, vehicle movement, and vehicle health.
Fuel-Based Reports
LocoNav provides precise, statistical information that can help you save money on fuel while improving your fuel economy and business profitability. Fuel-based reports give you particular information that you can easily track, allowing you to efficiently manage your resources while saving you time and money.
FASTag and Expenses Reports
These include reports pertaining to toll tax transactions made with your FASTag and also an expense analysis report that shows fleet managers how much each vehicle costs in terms of fuel, maintenance fixes, operational costs, and downtime.
Trip-Based Reports
Trip Reports from LocoNav give crucial information for each driver and asset/vehicle, allowing you to make educated fleet decisions. These include daily distances covered, geofence alerts generated, and also route deviations.
Driver Performance-Based Reports
Drivers who have access to driving performance data can learn not just how their performance helps or hurts the organisation, but also where they can improve for personal growth.
Device-Based Reports
There are various devices deployed on a fleet vehicle, such as GPS trackers, video telematics units, and more. LocoNav's device-based reports help identify the health of those devices and whether or not they are up and running.
What are the Benefits of Managing a Fleet Ecosystem Through an Advanced Dashboard?
A fleet management dashboard offers numerous advantages to both the fleet manager and the organisation as a whole. Managers and business owners can devote more time to more important concerns by automating routine processes and centralising numerous fleet management activities. The following are some of the many advantages of using a fleet management dashboard:
Receive a detailed view of your fleet's previous and current performance. Compare performance with historic data to make relevant changes to boost productivity and increase profits.
Quickly access real-time data regarding your fleet to make more informed decisions.
Maintain a repository of all fleet-related information for quicker access.
Analyze individual vehicles or vehicle groups to identify the ones that need maintenance.
Monitor vehicles and driver behaviour with real-time alerts – you get to receive near real-time alerts on where your cars are at any particular moment.
Alert your drivers in case of idling, harsh driving, tailgating, or making unnecessary stops.
Easily access detailed fleet reports to assess fleet performance.
FAQ
Is LocoNav's dashboard user restricted?
Yes. LocoNav allows you to restrict users based on the level of data they are allowed to access. You can set privacy settings based on roles and restrict sensitive information to only key stakeholders.
Can FASTag be integrated with a fleet dashboard?
Yes. With a fleet dashboard like LocoNav, you can easily integrate your FASTag with it and keep track of all toll transactions.
What are the types of devices that can be configured with the FMS dashboard?
An FMS dashboard can be configured with various devices such as OBD Devices, FASTags, GPS Trackers, Fuel Rods, Dashcams, and Telematics Units.