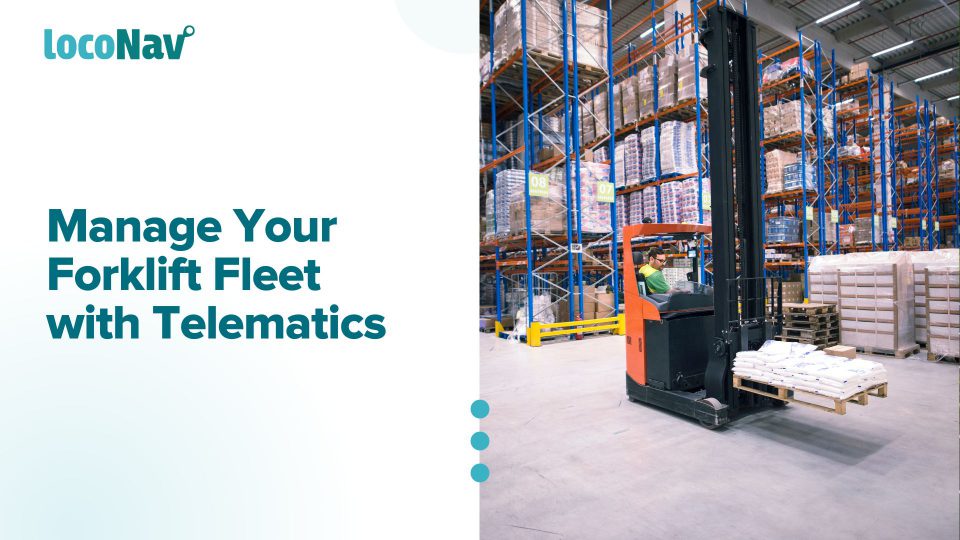 Improve Forklift Operations With Fleet Telematics
One of the primary issues that many supply chain and forklift fleet managers face when it comes to data is that they frequently feel as if they are drowning in the sea of information accessible. They fail to identify and prioritise the data they require, as well as comprehend how to apply it to achieve corporate objectives.
As the Internet of Things (IoT) evolves and supply chains become more interlinked, we are constantly creating and discovering new data pockets that can be collected and analysed. Telematics for forklifts allows your fleet to run as smoothly and effectively as possible. Today's telematics systems provide substantial advantages for materials handling systems by utilising GPS technology, wireless communication, and telemetry.
Telematics systems can identify which operators have handled the equipment, when and for how long, as well as track operator behaviour such as speed and patterns of movement and report on maintenance and its requirements.
In this blog, we will discuss forklifts and how they can benefit from using telematics technology.
Advanced Video Telematics Solutions at Ridiculously Accessible Prices!
What is a Forklift? Which Industries is it Commonly Used in?
A forklift is a small industrial vehicle with a power-operated forked platform in the front that can be moved up and down for insertion under a load to lift or transport it. Forklifts are used in a variety of industries, including warehouses and huge storage facilities.
Electric batteries or combustion engines power forklifts. Some forklifts allow drivers to sit while driving and controlling the machine, while others require them to stand. It is widely employed in the transportation of resources and goods across the industry.
Forklifts are used for
Industrial forklifts are extremely handy on construction sites because they can transport heavy building materials over great distances and across uneven terrain.
Forklifts are commonly employed in warehouse management. Forklifts are mostly used to load and unload trucks as well as transport cargo. There are several different types of forklifts available, ranging from pedestrian-operated units to heavy-duty driver-operated trucks.
Forklifts have been utilised in ship stacking and unloading. Heavy-duty forklifts are now utilised to transfer large containers from delivery vehicles to dockside storage areas and finally to ships. It is used to move wood and steel goods after they have been offloaded.
Forklift Telematics: How Is It Useful?
Telematics, which employs sensors and monitoring technologies, provides operators with REAL-TIME INFORMATION on productivity as well as a bird's-eye view of the equipment in use at any given time.
Telematics REDUCES EXPENSES by allowing you to manage a fleet of forklifts and their batteries to guarantee they are used in the right areas and in the correct way.
Wireless communication and tracking technology INFORM CONTROLLERS about how their fleet is being used, and how drivers are doing and offer information about forklift safety.
When telematics is used, the system can send messages to plug-in batteries that are running short on charging, as well as offer location-based data. This data will be used by sophisticated fleet managers to OPTIMISE OPERATIONS.
A forklift with a telematics-enabled linked vehicle management system connects communication systems with the truck's onboard electronics and the BMS to IMPROVE FLEET HEALTH.
Telematics allows you to REMOTELY MONITOR AND TROUBLESHOOT forklifts to ensure that they back up and running as soon as feasible in case of a breakdown.
Error-code reporting issues real-time alerts to maintenance crews as the forklift performs its usual tasks. To MINIMISE DOWNTIME, quick countermeasures can be taken in response to malfunctions.
Your company's fleet of forklifts is one of the most expensive investments it will face. According to Grand View Research, the global market for materials handling equipment telematics is predicted to increase to 6 billion GBP by 2025 as applications and implementation expand.
Cost reductions from telematics technology installation vary greatly by industry and are depending on the size and type of the business. However, reports continue to show considerable economies and savings, as well as significant returns on investment.