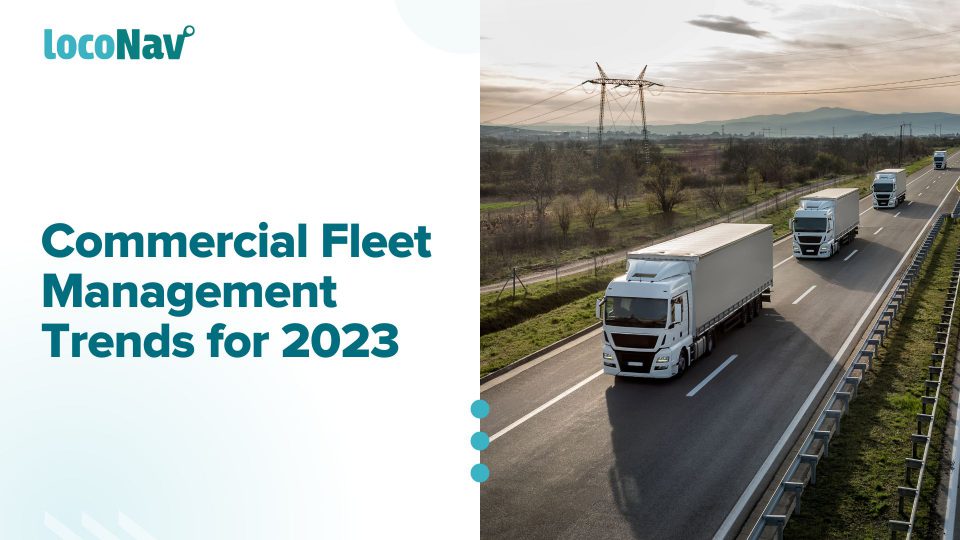 What Are The Key Trends In Commercial Fleet Management For 2023?
Worldwide, fleet decision-makers are facing an unusual period of high fuel costs, driver shortages, and ongoing fears of a global recession, making 2023 one of their most difficult years to date.
If you can forecast future market developments utilising firm data and statistics, your company's fleet strategies will be effective. Unfortunately, even with access to data, predicting how market developments will affect your firm and how to use figures and statistics to your benefit can be difficult.
To help you plan your fleet strategies for the coming year, In this blog, we will highlight the most important commercial fleet management trends. These will help you for the rest of this year and into 2023, allowing you to carefully analyse the present status of fleet management and help you plan for the future.
Manage your fleet efficiently with LocoNav's Fleet Management Solutions!
What is a Commercial Fleet?
Let's get the obvious out of the way first.
A commercial fleet is a collection of vehicles used by a firm to further its business aims. Fleet cars comprise commercial fleets.
Vehicles in a fleet are either owned by the company that manages them or hired from a third-party source. A commercial fleet vehicle can be any sort of vehicle, including trucks, sedans, buses, vans, and SUVs, to name a few.
Commercial fleets range in size from tiny (a couple of vans doing menial projects) to enormous (a massive national construction company with thousands of vehicles) and anything in between.
Highlighting Commercial Fleet Management Trends
Here are some emerging trends that may not be making the headlines, but will significantly impact your fleet in the coming year and possibly beyond.
#1 Electric Vehicle Interception In The Commercial Fleet Market
With stricter emission regulations, the sale of electric vehicles (EVs) increased in 2022. In 2023, EV adoption is expected to rise even further as more companies develop high-end models that will improve connectivity through increased data interchange and smart fleet software. The capabilities of automated vehicle (AV) technology have substantially increased around electric vehicles.
#2 Increased Acceptance Of Remote Fleet Management Technology
Prior to COVID, there was a desire to establish more distant fleet staff throughout the twenty-first century. However, that shift has been further accelerated after March 2020.
That is why fleet managers must prioritise the development of a remote infrastructure that allows for smooth communication with drivers and full visibility into fleet operations. While this has its challenges, there is a growing array of increasingly intuitive telematics equipment that uses sensor and camera technology to assist fleet managers in remote asset management.
#3 Upward Trend In Safety Expenses
Fleet managers are always concerned about safety. But how will businesses achieve higher safety standards? Primarily with fleet management software like LocoNav, which may be utilised for a variety of tasks.
The first step is to prevent distracted driving. Cell phone use is a major cause of accidents and a persistent problem for many fleet managers. However, LocoNav is able to transmit near-real-time notifications anytime a driver indulges in unsafe driving behaviour. This will allow you to respond quickly, taking corrective actions and discovering learning possibilities to make your fleet as safe as possible.
#4 Inclination Towards Dashcam & ADAS Purchase
To minimise major accidents, commercial fleet management has a huge obligation to improve driver safety and efficiency. A distracted driver can jeopardise a company's brand and cost them billions of dollars in insurance and legal fees.
Dashcams are one method used by businesses and government bodies to combat distracted driving. Dashcams are a crucial tool for ensuring driver responsibility and keeping fleet assets and other drivers safe on the roadways. LocoNav is ready to assist in assuring compliance with safe driving standards by offering dashcams that track in-cab and on-road activity.
#5 Data Security To Be The Core Of Operations
Fleet vehicles contain a substantial amount of sensitive data that must be safeguarded. Fleet management will prioritise enhancing cybersecurity measures in 2023. Several fleet managers are moving their attention from tactical to strategic management and upskilling in IT to take on additional duties. With more data visibility, they will focus more on data gathering and review.
#6 Influence Of API Integration In Selecting Fleet Software
In the upcoming year, the need to do more with less will rise even further. Your fleet software will be crucial in determining the success of your commercial fleet. Software that offers liberal API integration will help you add more features and functionalities to your fleet management solution without disrupting your operations.
Many fleet owners are resorting to custom software APIs to combine a number of products that were not initially designed to work together to assist drive the usage of data and analytics in vehicle fleets. The ability to connect databases from outside sources using an API key not only enhances the functionality of a fleet tracking device but also provides deeper data analysis capabilities when evaluating the efficiency of your fleet vehicle and driver.
Explore LocoNav Solutions Suite
While trends in any industry come and go, a reliable solutions partner will help you ride every wave that comes. LocoNav Solutions Suite is an inspired combination of fleet and asset management solutions that will help you manage your fleet end-to-end. From vehicle tracking to vehicle management, video telematics to detailed reports, and fuel monitoring to tyre management. We equip you with every possible tool you need to keep your fleet up and running in the coming year and beyond.