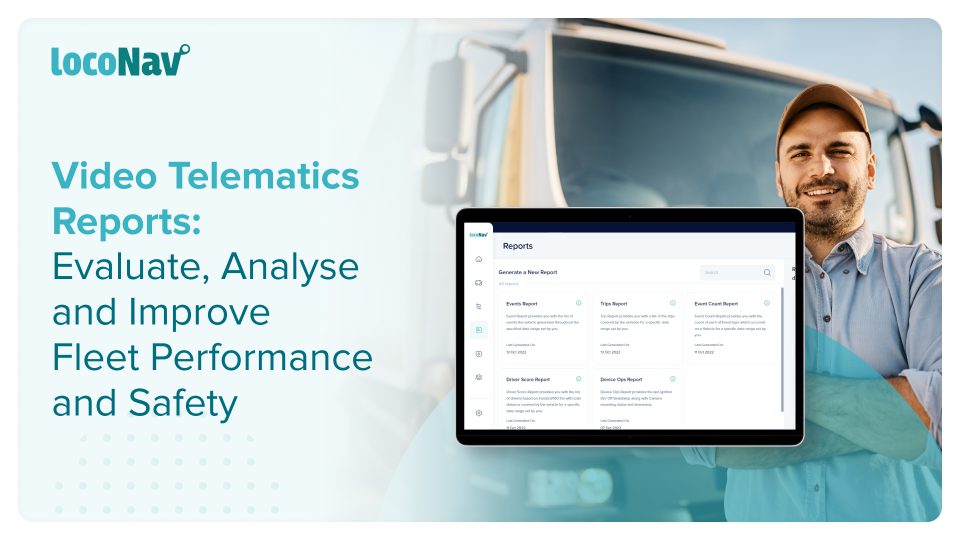 Video Telematics Reports: Evaluate, Analyse and Improve Fleet Performance and Safety
Video telematics makes it simpler for fleet managers to secure their fleet when necessary and coach drivers for better vehicle performance & safety, ensuring the fleet saves money, and delivers consignments on time.
However, it can be a tedious & time taking process for fleet managers to go through each and every dashcam recording to analyse how the trip is going, how the driver is performing, if the cargo is safe, etc. To deal with this, they need a more structured & organised data view to evaluate and analyse the performance & safety of their driver, vehicle, and cargo.
As difficult as it may be, it's no surprise that smart reporting combined with excellent video telematics can have a significant impact on your ROI. Keeping that in mind, we have released all new reports to help amplify the positive impact of video telematics.
Advanced Video Telematics Solutions at Ridiculously Accessible Prices!
What New Reports Have Been Introduced?
Events Report:
Event Reports are a consolidation of driving events a vehicle generates throughout the chosen date range. Events included in this report are: Harsh Acceleration, Harsh Braking, Harsh Cornering, Distracted Driving, Exceeding Maximum Speed, Traffic Speed Violation, Drowsy Driving, Tail Gating, Traffic STOP Sign Violation, Lane Drifting, Forward-Collision-Warning, and Cellphone Distracted Driving.
As a fleet manager, A collated report of your driver's engagement in harsh driving or violation of traffic rules can be insightful for you as a fleet manager. These instances, also called events, can provide deep insight into driving behaviour and may even help you coach your drivers better.
Trips Report:
The Trips Report provides trip details along with the number of incidents for every trip covered for a chosen date range. The trip report gives details such as Vehicle name, Driver Name, Trip start & end, Trip Distance (In Km), Total Incidents Trip Duration.
With this, a fleet manager can ensure optimal fleet utilization. Additionally, they can analyse other things such as the average incidents recurring on a particular trip and deep dive into the problems causing it, and then come up with subsequent solutions.
Event Count Report:
Event Count Report provides you with the number of times each driving event occurred on a vehicle for a chosen date range.
This report can help you identify at-risk drivers and vehicles and allow for timely remedial action.
Driver Score Report:
Driver Score Report provides you with the list of drivers scored on an incident/100 km basis along with the total distance covered by the vehicle for the chosen date range.
This report can help you identify at-risk drivers and vehicles and allows you to set up a driver coaching program to strengthen your fleet and cargo safety.
Device Ops Report
The Device Ops Report provides data regarding Device Details, Last Ignition On/Off Time and Camera Mounting Status along with timestamps for each update.
While you may employ certain devices to safeguard your fleet, it is also important to make timely checks on those devices as well.
Benefits of the New Video Telematics Reports:
Detailed Performance Review
Using our ready-made video telematics reports, valuable and actionable insights on driver and vehicle performance. This allows you to then come up with an action plan to improve fleet productivity.
Prompt Business Decisions
By analyzing historical data you can gain a better understanding of existing fleet performance trends. These valuable insights can help you make quicker & data-driven business decisions.
Increased Fleet Safety
By monitoring and analysing in-cab and on-road events and instances, you can come up with a more fortified roadmap to improve the safety of your drivers, vehicles, and cargo.
Easy Sharing
You can now easily download or email ready-made reports and share them with your team at the touch of a button, at the touch of a button. Users can send report emails to single or numerous email addresses at once.