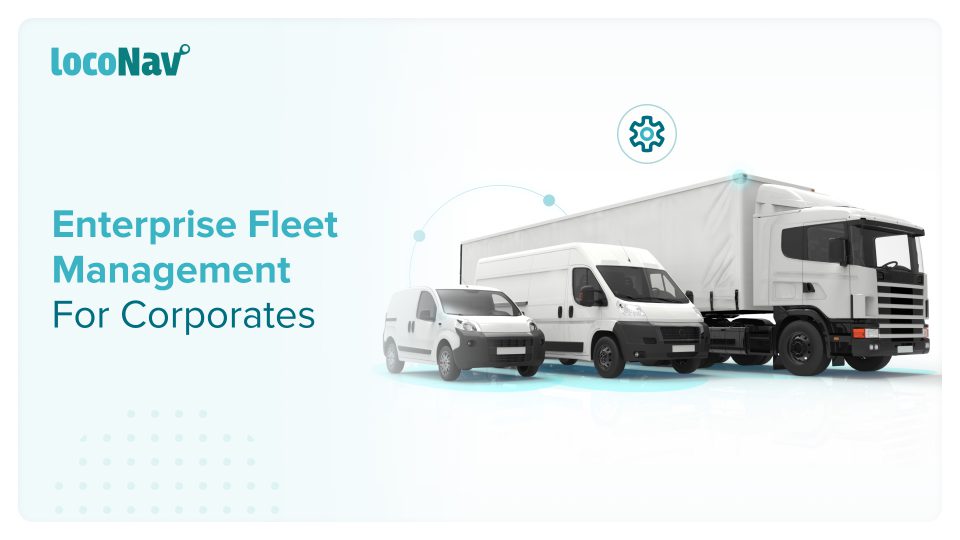 Why Should Corporates Invest in Enterprise Fleet Management System?
Regardless of vehicle or fleet size, maintaining a fleet efficiently can be a challenging and costly task. If expenses are not controlled, they can quickly grow from servicing and insurance charges to unanticipated troubles and breakdowns. As a result, fleet managers should make use of an enterprise fleet management solution.
Enterprise fleet management software can be important to the growth and profitability of your business. It will enable your organization to manage its assets significantly more efficiently, resulting in additional savings for your company while also assuring workers ' safety and compliance with regulations. In this article, we will discuss the advantages of business fleet management in terms of safety, regulation, day-to-day operations, and other factors, so that you may determine which enterprise fleet management software solution is ideal for your needs.
Manage your fleet efficiently with LocoNav's Fleet Management Solutions!
What is an Enterprise or Corporate Fleet?
An enterprise fleet is a collection of cars, lorries, or other commercial vehicles used by a company. According to the nature of the enterprise organizations, enterprise fleets are on the larger side, ranging from at least 15 to 1000s of vehicles.
The number of cars in the fleet is not the only factor in determining whether a fleet can be classified as an enterprise. Another similarity between enterprises and enterprise fleets is that they depend on fleet managers to ensure that each vehicle is properly maintained and operated.
Need for Fleet Management System for Corporate Fleet Managers
When it comes to fleet management, large business organizations that span a large region, possess thousands of vehicles, and are responsible for a large number of drivers face a number of unique issues:
A fleet of thousands creates a massive amount of data that fleet managers must analyze. The greater the fleet, the more data is created.
Enterprise fleets are used in huge organizations that run numerous separate information systems that must all work in harmony and efficiently. Data must be entered many times or manually transmitted across programs when software systems do not interact, resulting in decreased productivity.
The larger the organization, the more assets must be managed and utilized. This raises the likelihood of assets 'disappearing' or not being utilized to their best ability, both of which constitute a considerable financial loss and cost to the organization.
Fleet managers struggle to efficiently monitor all assets. Misuse of business assets, such as driving outside of work hours or outside of specified regions, can result in increased costs for the firm as well as potential lawsuit concerns.
Benefits of Enterprise Level Fleet Management Services
A business fleet tracking solution will provide numerous advantages. These advantages include:
Enterprise fleet tracking solutions provide organizations with the real-time vehicle and asset location and diagnostics, such as ignition status, idle time, fuel burn, usage, and more, assisting businesses in understanding performance, increasing efficiencies, deterring theft, and reducing unauthorized use.
Fleet tracking provides organizational executives with the historical data they need to ease compliance processes and stay up to date on ever-changing requirements.
GPS fleet tracking is also an excellent tool to recognize and reward good driving habits. Improve driver safety by tracking bad habits and offering auditory coaching alerts. Businesses may examine and comprehend safety occurrences and discover trends in positive or negative driving events when linked with cameras, sensors, and other AI-equipped equipment.
By promptly identifying drivers who are participating in risky behaviors like speeding or hard braking, safety managers can develop accident-specific training courses or provide real-time coaching to reduce risk.
LocoNav Fleet Management Solutions for Corporates with Large Fleet
LocoNav's Fleet Management Solutions are ideal for corporate companies with a large fleet. Here's why.
Enterprise fleet management is critical, without a doubt, but fleet maintenance is as crucial if you want to manage your fleet efficiently and correctly. Business fleet maintenance is a component of fleet management, and it should be integrated into your enterprise fleet management strategy for optimal outcomes.
All you have to do is repair your vehicles on time and check for wear and tear. Take note of your fleet maintenance costs and identify if they begin to climb as the vehicle ages. To become a successful manager and achieve more, you must incorporate these maintenance elements into your enterprise fleet management.