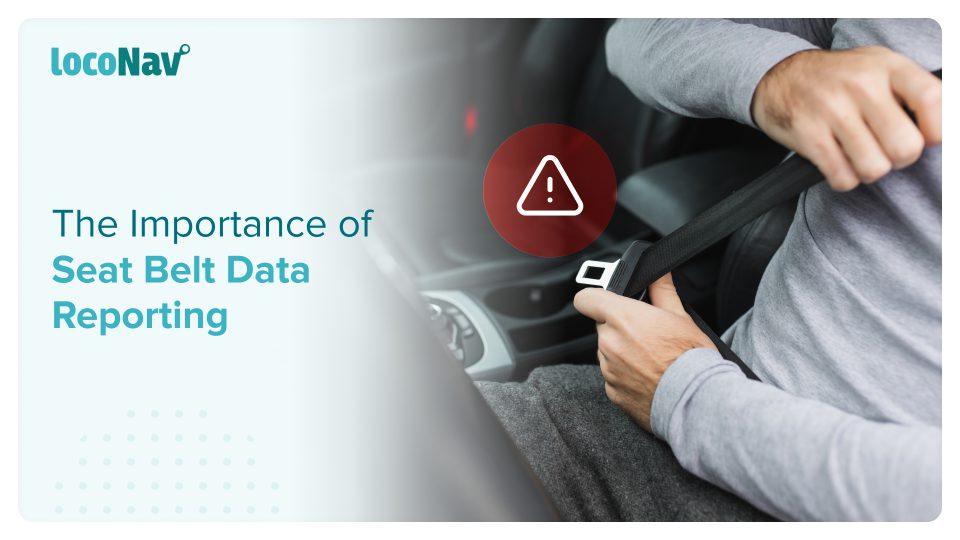 Why is Seat Belt Data Important for Fleet Safety?
Seat belts are still the most impactful injury-prevention equipment in your vehicle, despite recent safety features. Fortunately, more people are getting ready each year. Driving has never been safer or more exciting thanks to advancements in automotive technology. Tire pressure monitoring systems, lane departure warning systems, and backup cameras are preventing accidents and saving lives. Nonetheless, wearing a seat belt is your best defense against harm in the event of a collision.
Even if your vehicle has top safety ratings, you are still at risk of an accident while driving. Wearing a seat belt is one of the most effective ways to reduce the risk of injuries and deaths while driving. Buckling up will not only keep you safe, but it will also keep you comfortable.
Seat belt data can be reported differently by different vehicle models, makes, and years. As a result, it's critical to find a way to track seat belt usage across your fleet accurately. Recording seat belt data assists your fleet's drivers in remaining compliant with your driver safety programs, thereby safeguarding both the driver and your company.
Manage your fleet efficiently with LocoNav's Fleet Management Solutions!
Why Should Seat Belt Information be Included in Fleet Reports?
The main reason why seat belt information needs to be monitored and included in the fleet reports is that it will instill accountability and increase seat belt usage. This directly affects fleet safety in the following ways:
Develop Driver Safety Program
Some people refuse to buckle up despite the warning audio and visual signals because no one knows or reports that they are not wearing a seat belt. By using seat belt data, you increase visibility, and drivers, knowing they are being monitored, begin developing safe driving habits.
Increase Driver Safety
The very first thing your company can do is automate the performance and analysis of safety training materials, and procedures using seat belt data.
Reduce Company Liability
Safety procedures implemented and maintained by seat belt data provide you with all the necessary information to recreate any event and better understand what actually occurred. Your business can then do everything possible to eliminate all risks, and the data can provide paperwork, resulting in no or minimal liability.
Automate Safety Efforts
The software you use can assist you in setting up fully automated safety procedures that will assist you in eliminating the use of the driver seat belt for the purpose of enhancing safety. Our software supports a variety of customizations that will be beneficial:
If the driver is not buckled up, the system will notify him via SMS or email.
Another feature of our system is the driver scorecard, apart from the other metrics it monitors, it also ranks the drivers on the basis of seat belt violations.
How can Fleet Managers Encourage Efficient Usage of Seat Belts?
As you can imagine, ensuring that your drivers are familiar with all safety procedures is one of your responsibilities — and standard operations — as a fleet owner or manager. Aside from constructing and ensuring compliance with seat belt safety precautions, there are numerous actions you can take to enhance fleet safety.
Employing good drivers and teaching them how to handle vehicle accidents and how to drive responsibly in order to avoid them are examples of such actions. You can also keep track of your drivers' travels. That is, to keep track of all the minor behavioral details that matter.
Overall, you should ensure that everyone who works with your fleet places safety above all other considerations. That includes everything from wearing a seat belt to driving sensibly and adhering to the organization's other safety procedures.
What are the Challenges Faced While Collecting Seatbelt Data?
While it appears that reporting seat belt data should be simple, with only two states – buckled or unbuckled – it is not. Among the numerous complexities are:
Seat belt information is unique to the OEM
This means that different models and manufacturers report data in different places using different On-board Diagnostics Parameter IDs (OBD-II PIDs), the code used to demand engine data. This means that if one vehicle reports seat belt data, another vehicle may report an open door.
Seat belt data cannot always be automatically transmitted.
Seat belt data is sometimes broadcast voluntarily, while other times it must be demanded from the engine computer. Furthermore, when the state changes, data is sometimes only reported once.
Data from seat belts can be "bouncy."
It frequently jumps around for the first few seconds after turning on the ignition before settling to the correct value. One would not expect 20+ buckling and unbuckling events in the first few seconds of starting the car. This means that once the dust settles, telematics devices must ascertain what the accurate seat belt data is.
Drivers do not always wear their seat belts.
Some drivers fail to use or incorrectly use seat belts, while others use them in unusual ways, such as taking them off in the middle of a trip or buckling them behind their back. Taking unusual driver behavior into account also makes it difficult to verify seat belt data.
How have Tracking Seatbelt Violations Been Made Simpler With LocoNav's Solutions?
LocoNav provides 2 solutions for tracking seatbelt violations: Vehicle Scorecard and Driver Scorecard.
LocoNav's Vehicle Scorecard is a powerful yet easy-to-use dashboard that identifies the monitoring gaps between driver and vehicle assignment and tracks drivers' behavior which results in the reduction of fuel & maintenance costs.

The Vehicle Scorecard ranks vehicles into 6 different categories: Overspeeding, Idling, Sudden Braking, Sudden Acceleration, Sharp Turn, and Seat Belt Violation.

Alerts and notifications assist businesses in tracking fleet drivers in real-time. To avoid mishaps, anything found amiss is immediately red-flagged and called to the attention of fleet managers. When a driver fails to wear his or her seat belt, the fleet manager is notified, and an alert is sent to the driver. When the ignition status changes, this status is updated.
LocoNav's Driver Scorecard is a tool for evaluating the performance of your drivers based on measurable driving metrics. Apart from the other metrics it monitors, it also ranks the drivers on the basis of seat belt violations.