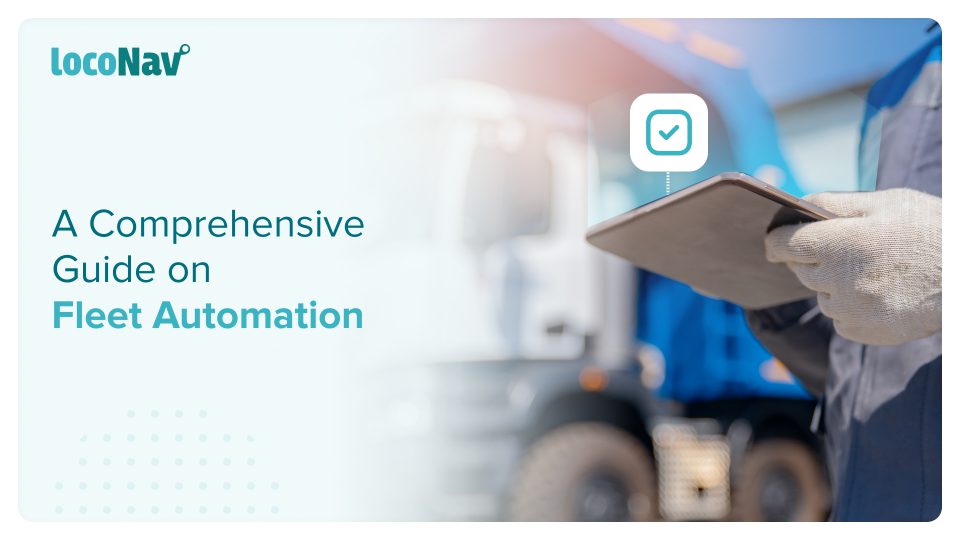 A Comprehensive Guide on Fleet Automation
Making the most of emerging technology to handle workloads better has never been more crucial in an industry that relies on speed and momentum. Multiple activities can be managed and filtered through one trustworthy source to merge innovation and efficiency in today's modern environment, where innovations are leveraged to benefit both customers and enterprises alike.
Every industry has different strategies to optimise its processes in order to save money and enhance productivity. Fleet management automation can be an excellent tool for developing an effective system and moving a firm forward. Fleet automation enables your company to do more with fewer resources. The software monitors vehicles, assets, equipment, employees, job sites, and any other data and alerts that you require.
In this blog we will discuss the following:
What is Fleet Automation?
Key Components of Fleet Automation
Advantages of Fleet Automation
Impact of Fleet Automation on the Fleet Industry
What is Automation in Fleet Management?
Fleet automation in fleet management is a cutting-edge technology that gives fleet managers real-time data on the state and operation of their fleets. It is easy to use and channels the insights it collects onto one platform. It is frequently used to assist merge information from many systems into one single source of information.
A fleet automation solution monitors every notification from your fleet; it is considered a system that provides crucial information that helps managers automate daily operations while also providing bigger-picture assistance along the way.
How is Automation Useful for Fleet Managers?
Let us now go over a few benefits of automated fleet management processes:
Reduced Fuel Cost
More vehicles on the road equal higher fuel use and higher fuel costs. Managers can detect fuel-saving opportunities using fleet management automation, such as reducing engine idling caused by being stalled in traffic. Furthermore, they can maximise every vehicle's capacity so that more deliveries can be made with fewer trucks. This would also assist to reduce fuel use and, thus, costs.
Increased Fleet Visibility
Only fleet management automation allows for real-time fleet tracking. It can assist fleet managers in keeping track of the current state of all vehicles. They can also give them quick alerts to remind them of key events such as a last-minute order cancellation. It can also help them track the drivers' performance.
Lowered Maintenance Costs
Fleet maintenance costs can place a strain on a company's finances. Fleet managers can handle numerous vehicle-related problems before they develop by keeping track of kilometres travelled, engine hours, fuel consumption, and other relevant information. They can arrange preventative maintenance accordingly, lowering maintenance costs that might otherwise be excessively owing to the occurrence of a larger problem with the vehicle.
Enhanced Driver Safety
One of the primary concerns of fleet management is driver safety. They can use fleet management automation to look at each driver's performance, experience, background, behaviour, capability, and other characteristics before assigning them trips.
Manage your fleet efficiently with LocoNav's Fleet Management Solutions!
What are the Key Components of Fleet Automation?
While fleet automation is now an integral part of an innovative and modernized fleet operation, it is critical to identify the finest fleet software for your unique business goals. A fleet automation solution should have the following features in order to remain competitive in the fight for business innovation:
Process simplification and user-friendly systems
Data integration that is useful and actionable
Tips for monetizing your fleets
A solution that works in tandem with your telematics to improve your processes
Manual operations are seamlessly integrated into automated workflows
Identifying Areas of Automation
There are almost certainly innumerable processes in your firm that could be automated. Almost any task that is recurring, high-volume, and standardised – or has the potential to be standardised – represents an opportunity.
Here are some tasks that have the scope for automation in fleet management:
Reporting and Consolidation of Reports (with LocoNav, once you set the parameters for a custom report, its creation and sharing can be automated on a daily, weekly, or monthly basis)
Vehicle Scorecard Analysis (with LocoNav, you can consistently analyse your vehicles once you set the parameters)
Driver Scorecard Analysis (with LocoNav, you can automate your driver performance analysis after a one-time parameter setting process)
Buying and Recharging Fuel Cards
Recurring Payment Processing
As a result, when narrowing down automation prospects, it is vital that you:
Determine whether automation of the activity is cost-effective based on the volume
Determine which task phases are or can be standardised.
Determine how many stages do not necessitate human judgement.
Impact of Automation on:
Let us analyse the impact of automated fleet management systems on various parts of the fleet management process.
Fleet Management
Automation allows Fleet Managers to gain in-depth information on every vehicle at all times, recording and analysing driver behaviour, and keeping track of vehicle condition.
The more effectively vehicles can track and report their own maintenance requirements, the easier it is to be proactive and save downtime.
Continuously gathering and comparing vehicle and driver data allows you to schedule repairs and maintenance based on a specified timetable.
Capturing this data digitally and in real-time gives fleet managers greater control over data that can help steer process improvement and fleet productivity.
Fleet Tracking
The administration of your fleet's drivers is one of the most important aspects of a well-functioning organisation, and it may even need the majority of your attention.
A lack of effective driver reporting can have disastrous effects on the health of your fleet. Traditional means of communication, such as job sheets and cell phone conversations, are not always as clear as needed for adequate reporting which is where automation helps.
Driver tagging, a new technology that follows and analyses a single individual's behaviour and behaviours, has rendered manual driver sheets obsolete.
Key Takeaways
As you monitor insights from your present IT solutions, creating automatic responses to fleet-related events is a required evolution. Using automated fleet solutions to build processes that trigger automated actions reduces your response time to daily events by eliminating manual labour.
Using the proper fleet automation system allows you to optimise the investment you have made in your existing systems, allowing you to operate faster and more efficiently while providing value without requiring extra resources.