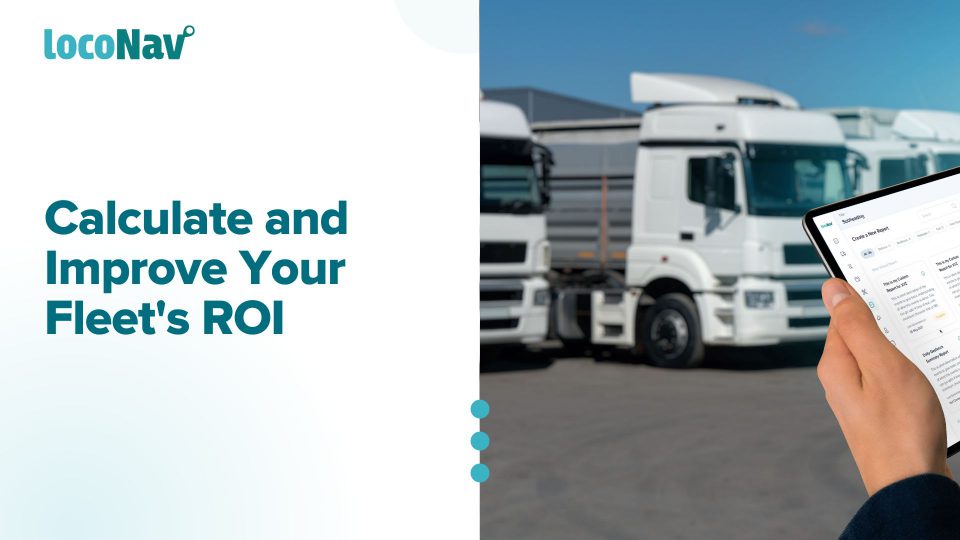 The Significance of Calculating Your Fleet's ROI
Your business makes many investments, but nothing is more significant or continuous than your fleet investment. Your fleet is the foundation of your business, from making deliveries to moving materials and even carrying people.
You want your fleet to be as profitable as possible, with a high return on investment (ROI). But how can you be certain that the profit you are making is sufficient to cover your expenses? Measuring your fleet ROI can provide you with the figures and data you need to determine whether you're on pace to reach your business objectives.
In this blog, we will discuss what Fleet ROI is, how it can be calculated, what it means for your fleet, and tips to improve fleet ROI.
Manage your fleet efficiently with LocoNav's Fleet Management Solutions!
What is Fleet ROI?
Fleet ROI is the ratio of a fleet's net profit to the cost of its investment.
A high ROI indicates that the profits earned by your fleet outweigh the operational costs. Conversely, a low fleet ROI means that your fleet is spending more money on fleet operations than it is earning.
Everyday operational expenses of a fleet are vehicles, vehicle maintenance, vehicle replacement, fuel expenses, taxes, insurance, employee salaries, licenses and permits, and asset depreciation.
How Can You Calculate Fleet ROI?
Once you have measured your existing performance and created a baseline performance level before implementing new software, you will have numbers to calculate your return on investment versus in a few months.
In general, use the following formula to calculate your ROI:
ROI = (Earnings – Investment cost) / (Cost of investment)
Knowing where to go for data is the first step in estimating fleet ROI. Particular metrics can help you understand how well your fleet is performing. The appropriate data can have a significant impact on the decisions and improvements you make to improve fleet ROI.
The second stage is to have the appropriate tools to collect and organise your data in order to make it valuable and actionable. Knowing where to search is one thing, but being able to record and interpret the appropriate data might open up new avenues for boosting fleet ROI.
5 Tips To Improve Fleet ROI
Let us now look at some strategies for increasing fleet ROI. These include where to look for data, how to capture it, and how to use it to your benefit.
Use Your Fleet Data
Here are some examples of how you can use fleet data:
Improve Fleet Safety
One of your key considerations when calculating fleet ROI should be driver safety. Understanding how many safety issues occur in a certain period will help you understand how your drivers are performing and where your funds are going. Accidents are expensive, and decreasing them can free up funds and enhance profitability.
You can use the data you collect to determine which drivers need to be retrained to achieve the aim of fewer safety incidents. This can also lower your insurance premiums, resulting in cheaper monthly costs.
Automate Operations
Along with these fleet ROI suggestions, you will need means to collect the data to put these ideas into action. The solution is to automate your operations using technology. Sticky notes, spreadsheets, and mounds of paper data are no longer necessary. In today's market, cutting-edge technology is required to provide data that may be used to boost ROI.
Track Your Assets
You can benefit from enhanced production, fewer losses, and a higher ROI by tracking your fleet. Knowing where your vehicles are can help you in a variety of ways. You can see which trucks are idling, possibly wasting time and money for the company. You will be able to identify the quickest route to destinations to save fuel and time on the road.
You may even ensure that your deadlines are met and that the proper drivers are dispatched for each job. Tracking your assets can provide instant cash benefits to your company while also tightening up procedures.
Invest in Preventative Maintenance
Preventative maintenance is taking your trucks to the shop before they develop problems. You can maintain track of your vehicles' maintenance history and address issues before they disrupt your operations. Because your vehicles are among your company's most precious assets, preventing wear and tear via preventative maintenance is one of the most effective methods to care for them. As your vehicles spend less time in the shop, your revenues rise.
Conclusion
Data can be intimidating. The correct fleet management software will sort and present this data in a way that is convenient for you. Gone are the days when you felt that you had no control over your profit margins. Fleet management software lets you track your spending and see where your money is going. Then you can apply that knowledge to make changes where they are needed, increasing your ROI one step at a time.