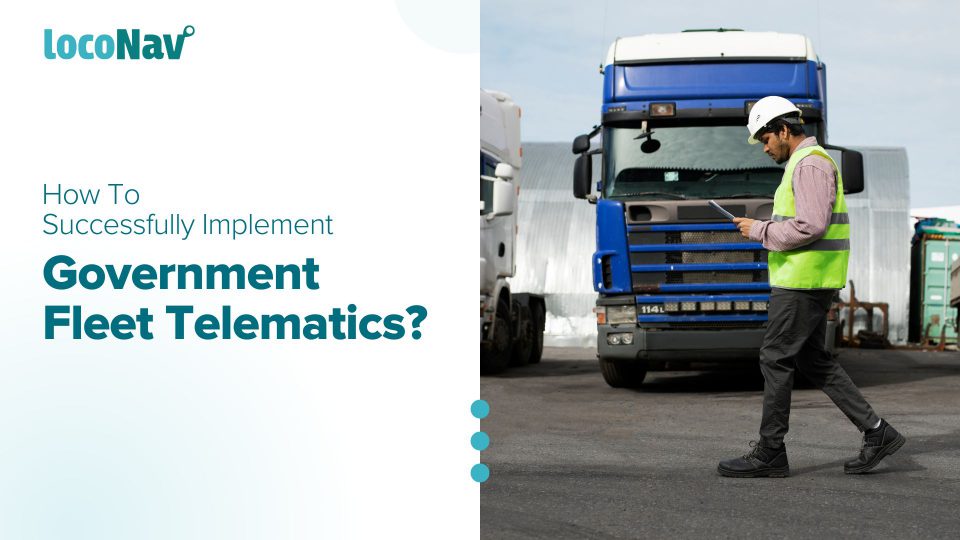 Adoption Of Telematics In Government Fleet Operations
Since the government sector is continually changing, one of the most challenging issues for fleet managers is catching up with innovations and corresponding laws.
Organizations are dealing with continual change, such as the deployment of digital vehicle inspection reports (DVIR), changes in emissions laws, the rise of electric vehicles, and growing data security trends and needs.
The ever-increasing power of networks, particularly the transition to 5G, is driving much of this change, presenting unprecedented new prospects for the internet of things (IoT) connectivity. In the midst of this upheaval, government agencies must select the best way to optimise their fleets.
There are numerous things to consider when deciding which government fleet telematics solution to install, and you may be comparing features from several suppliers.
Manage your government fleet efficiently with LocoNav's Fleet Management Solutions!
How Can Telematics Improve Government Operations?
A government fleet telematics solution developed to meet the unique problems of a government agency provides numerous benefits for operations management, including the ability to:
Monitor operational status and levels of service
Increase operator safety
Always know where your vehicle is
Increase operational efficiency and reduce expenditures
How To Choose A Government Fleet Telematics Solution?
You may be evaluating several elements and comparing features from various manufacturers to select the best government fleet telematics. The following checklist breaks down significant questions and issues.
Clarify your goals and criteria
Before you choose a vendor, you should plan and future-proof your government fleet telematics programme. You can find a partner who helps and empowers you to reach your priorities, plans, and business goals by defining the existing problems and mandates leading your agency to investigate telematics.
Determine critical vendor characteristics
As you assess alternative offers, identify vendor criteria to choose an experienced, dependable, and results-driven partner for your government fleet telematics programme.
Consider using case studies
Inquire about how a vendor has assisted other government agencies in completing a successful procurement. This ensures that your implementation is done on time, under budget, in accordance with rules, and with short- and long-term success.
Define your essential success metrics
What does effective deployment entail for your organisation? Answering that question will assist you in making a purchase selection that will result in a simple orientation program, stakeholder buy-in and contentment, and easy agency-wide adoption.
Understand how you will be helped at each level
Customer service is essential for both onboarding and post-deployment. Is your vendor going to provide management processes? Will they provide key account management, solutions engineering, technical support, and continued education after the purchase?
10 Steps to Successfully Implement Government Fleet Telematics
With continually evolving technology and compliance regulations, government fleet operators already have a lot on their plates. These 10 measures will aid in the smooth introduction of government fleet telematics:
Understand the project's size and shape
Taking the effort to document a thorough vehicle list, including parking spaces for each vehicle, vehicle availability, as well as room for additional vehicles arriving, is critical to the success of this operation.
Examine your answer
With the data and insights provided by your solution, you can take advantage of additional features that you may not have required during the first installation.
Every partner organisation should have a project manager
To avoid issues, end customers and other interested parties, such as 3rd party installers, should each choose a project manager for the implementation.
Create and maintain a communication rhythm
Weekly meetings with project managers and stakeholders guarantee that everyone has the opportunity to discuss concerns as they emerge.
Create a scope of work and keep it up to date
Your working group can minimise confusion and retain the responsibility by drafting a project plan that describes who does what, major deliverables, and dates, and agreeing to these particular goals in advance.
Create best practices for the field
Before beginning work on the fleet, your crew should detail the process of removing the old device and installing the new one, as well as any add-ons, step by step.
Plan the entire project and keep it up to date
The team should revise the strategy to incorporate projected installation times for each location and vehicle type. Evaluate this plan at least two weeks before implementation.
Examine as you go
One team member should be in charge of ensuring that no errors have occurred.
Never stop assessing
When reinstalling a government fleet telematics device in a new vehicle, ensure that the network technology is still functional throughout the vehicle's expected life.
Leverage OEM-provided technology
Your vehicle provider can assist you in gaining information from OEM telematics units (from vehicle manufacturers). If your project has been delayed, utilising OEM units allows you to use fitted vehicles while focusing on others that cannot.