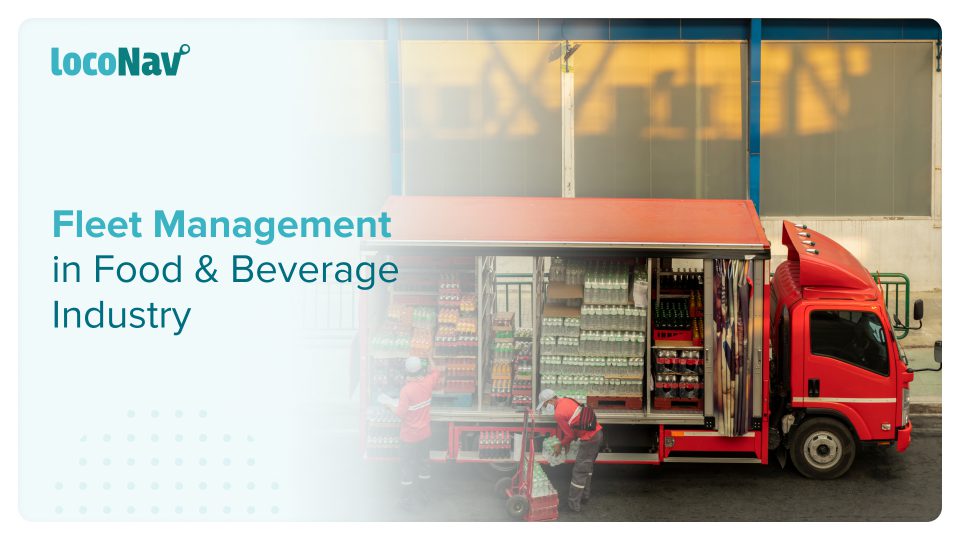 How Do Fleet Management Systems Reduce Food Deterioration In-Transit?
It pays to keep your clients pleased in any business – now more than ever, clients have the flexibility to switch between vendors whenever they want. The food and beverage transportation business is no exception. If you fail to satisfy your client's expectations, you risk not only squandering a lot of food but also losing consumers to competition.
Customer service is a competitive edge that will keep you from losing business to competing carriers. If you can transport your loads securely and on schedule, your clients will be satisfied, returning for more and spreading the word.
Telematics and fleet management technology improve your customer service. It can help you strengthen your competitive advantage and boost customer satisfaction by boosting the reliability of your loads, increasing driver efficiencies, and building extra confidence with your clients.
In this blog we will discuss the following:
What food and beverage fleet management is,
The significance of fleet management in the F&B industry,
Challenges faced in transporting perishable cargo, and
The benefit of deploying LocoNav's fleet management solutions for the transportation of food and beverages.
Manage your fleet efficiently with LocoNav's Fleet Management Solutions!
What Does Fleet Management Mean For The Food & Beverage Industry?
Time is of the essence when transporting food and beverages. These businesses must be able to transport fresh food and beverages domestically or across the country. Tracking your vehicle allows your food and beverage distribution company to deliver perishables safely and quickly while saving money on fuel and extra pay.
The importance of decreasing driving times while delivering perishable food and beverages cannot be overstated. Fleet managers can use vehicle positioning technologies to find the most effective delivery routes and send their drivers accordingly. Managers also have up-to-date information to change routes in the event of unforeseen barriers such as traffic or adverse weather.
Important Transportation Factors for the Food & Beverage Industry
The service-centric methods of operating a business are here to stay. Consumers have taken a liking to speedier and more convenient interactions with businesses via roadside pickup and home delivery options.
Food and beverage vendors, third-party logistics providers, and last-mile transportation companies must:
Respond to the need for real-time visibility.
Ship shipments on time while protecting cargo integrity.
Develop collaborative ties across the supply chain.
Create, strengthen, and sustain consumer trust.
Compete in a difficult market while dealing with supply chain disruptions.
Luckily, telematics and tracking technology such as dashcams, dynamic routing software, and fleet management platforms make meeting these requirements easier than ever. Continue reading to find out how.
What are the Major Challenges Faced When Transporting Perishable Goods?
Food waste and expiration can be reduced by using adequate transportation and equipment for perishable commodities delivery. Solving the issues associated with perishable commodities delivery will contribute to this transition and save billions.
Here are the 3 major challenges related to transporting perishable cargo:
Maintaining and Monitoring In-Transit Temperature
When transporting perishable goods shipment, it is critical to understand each item's transportation requirements. Proper resources are especially important when dealing with perishables such as food and beverages.
It can be inconvenient to constantly stop and check the temperature of the perishables and the vehicle to ensure everything is in order while moving the products. The job is practically impossible without the proper technology and equipment for perishable goods shipping.
Delivering Perishable Items on Time
When arranging for perishable commodities delivery, some difficulties might be anticipated. Congestion, weather, and a lack of appropriate equipment are all examples of disruptions that can create supply chain delays.
Avoiding Cross Contamination Between Different Product Types
Cross-contamination is undesirable and results in major health problems for both transportation providers and clients purchasing the products. Failure to adequately prepare products for perishable goods shipping might result in contamination and the need to discard all products.
Why Should F&B Distributors Invest In Fleet Management Systems?
While fleet management is a beneficial asset for nearly all industries, it is particularly crucial for the food and beverage industry to invest in it to:
Ensure Pristine Quality
With food and beverage fleet management, you can gain total visibility and control over the food conditions and avoid shipment loss. Receive real-time notifications when temperatures fall outside of acceptable ranges. Before items are lost or polluted, detect theft and temperature failures.
Manage Compliance
Lower the administrative load of temperature data administration, precisely track driver duty hours, and comply with international food safety standards.
Reduce Chances of Consignment Rejection
Receive real-time temperature notifications, delay alerts, and interactive reports to offer consumers detailed breakdowns of all temperature and sensor data points to demonstrate product transportation circumstances. Temperatures in transit are monitored by LocoNav fleet management solutions to prevent product spoiling and rejected deliveries.
Match Customer Expectations
Proactively communicate with consumers about arrival times, delays, route changes, and temperature logs to boost confidence, trust, and customer retention, and win more business.
How can Food & Beverage Distributors Benefit from LocoNav's Fleet Management Solutions?
LocoNav has fleet management solutions for all of your F&B needs. All in one spot, from simple GPS monitoring for route planning to vehicle maintenance reporting and destination analytics. Gain an advantage over the competition and exceed customer expectations with dependable, accurate software that improves fleet visibility, route planning, and data management.
The LocoNav advantage for Food & Beverage Distributors is:
Food and beverage fleets frequently run on irregular schedules. It's vital to be especially diligent with your consumer interactions to accommodate these diverse schedules. LocoNav can send you an ETA in real-time.
Our fleet management for food allows you to share any vehicle's real-time GPS location with your customers, reducing the need for a back-and-forth between dispatchers, drivers, and consumers.
Temperature monitoring devices can assist your fleet in monitoring temperatures while in transit, preventing product spoiling and rejected deliveries.
When used in conjunction, dashcams, route optimization, and fleet management software and applications improve delivery ETA accuracy by tracking all cars in a fleet in real-time and determining when a driver will arrive at their allotted locations.
Speed, unexpected transit delays, and any approaching obstacles are all taken into account to provide accurate delivery status updates.