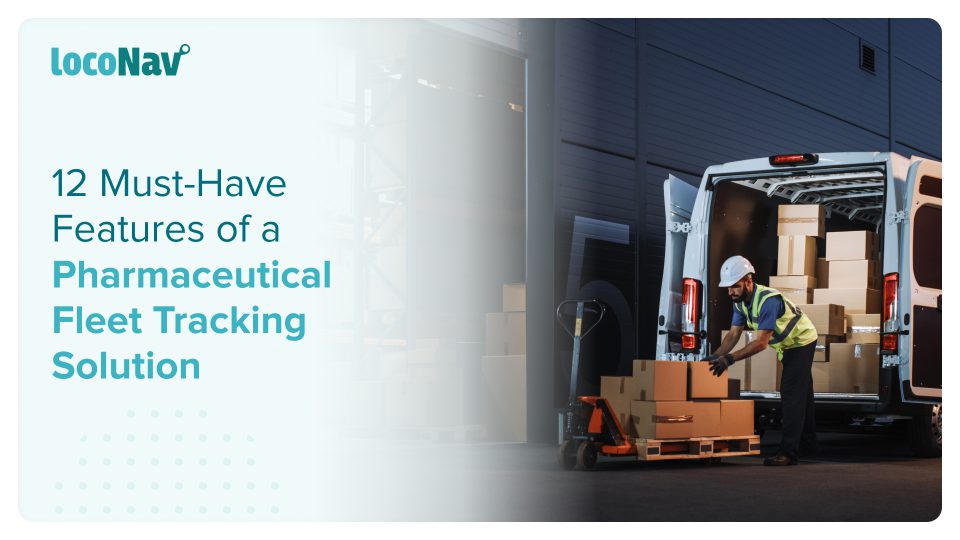 Features to Look For in a Pharmaceutical Fleet Tracking Solution
The value of the global pharmaceutical manufacturing market was estimated to be 486.62 billion USD in 2021. The logistics landscape of the pharmaceutical industry has undergone a massive shift. To transport a product that holds great value in both monetary and public welfare sectors, the emergence of new technologies has been quite rapid.
It is only fair that pharmaceutical manufacturers and distributors require real-time location updates to safeguard their products. Pharmaceutical fleet tracking has come a long way from just the dots-on-a-map interface. It is an essential business tool that offers logistics visibility as well as detailed insights into all aspects of fleet operations and logistics management. Pharmaceutical fleet tracking systems that are efficient and accurate have a proven track record of lowering last-mile delivery costs.
In this blog, we will discuss the significance of deploying a pharmaceutical fleet tracking solution, and the must-have features of such software.
Check the live location of your vehicle with LocoNav's Pharmaceutical Fleet Tracking System!
What Factors Contribute to the Theft of Pharmaceuticals?
To prevent theft, it is important to understand the factors that contribute to the theft of pharmaceuticals. These include:
Drug Abuse
Prescription drug abuse is widespread and rapidly increasing, with some claiming that it is the nation's fastest-growing drug problem. Thieves may steal pharmaceutical cargo for personal use or to sell them to drug addicts.
High Value of Pharmaceuticals
The economic gap in society exposes expensive products to the threat of theft. Pharmaceuticals are expensive and this can make them a target for robberies.
Inability to Access Expensive Drugs
Some drugs, although critical, are expensive or present in low demand. Such drugs can also be a contributing factor in pharmaceutical cargo theft.
What are the Benefits of Investing in a Pharmaceutical Fleet Tracking System?
With the constantly evolving GPS technology, you get benefits that go beyond just location tracking. These include
Increase Productivity
GPS tracking systems allow you to monitor daily business operations digitally. Managers can oversee how vehicles are used, driving behaviour, gaps in the process, and much more, which ultimately contributes to reducing costs and increasing revenue.
Improve Customer Satisfaction
The most basic feature of a vehicle tracking system – location – not only tells you where your vehicles are but also how far they are from your customers, allowing companies to provide detailed and timely communications with customers. Vehicle tracking systems can also improve route planning, which boosts customer satisfaction by improving on-time delivery metrics.
Improve Order Cycle Lifecycle
A critical component of efficient fleet management is lifecycle management. A vehicle tracking system provides data on both the vehicle and the driver, allowing for more efficient lifecycle management.
Fortify Product Safety
More sophisticated vehicle tracking systems provide fleet managers with metrics that can aid in decision–making that improves the safety of your drivers and the vehicles with which they share the road.
Key Features To Consider While Investing In Pharmaceutical Fleet Tracking
While the most basic requirement for pharmaceutical fleet tracking is location updates, there are a few other features that should be considered when investing in a pharmaceutical fleet tracking solution.
The pharmaceutical fleet tracking device must be small enough to be concealed within the vehicle. This allows for unbiased tracking as well as reduces the chances of device tampering.
The device must have optimum connectivity so that location information can be relayed to the fleet manager continuously. In areas of no or low network connectivity, the device must be able to store the information and transmit it as soon as the signal is restored.
This is basically the make-or-break feature of a pharmaceutical fleet tracking system. Various location-based alerts can improve pharmaceutical logistics.
As a fleet manager, you can devise a proper route for your vehicle to follow. This route is devised keeping in mind road conditions, as well as safety concerns some areas might have. LocoNav's Route Deviation alerts can instantly notify the manager if the driver strays from the set route.
Location tracking can also help in triggering another potential issue which is idling. If a vehicle is standing idle at a location for very long, it can expose the cargo to safety risks. LocoNav's idling alerts can notify the manager who can then connect with the driver to find out the issue.
The pharmaceutical fleet tracking device must have a tamper alert. In case the device is damaged or detached, the manager must be informed in real-time.
LocoNav's ETA alerts can inform the manager as well as the customers about the ETA. This aids in better coordination by eliminating unnecessary phone calls and improves customer satisfaction.
Some areas might be more prone to pharmaceutical theft than others. By using a pharmaceutical fleet tracking system, you can circumvent your vehicles from theft-prone areas and also receive alerts in case any vehicle enters that area.
Additional Steps To Ensure Smooth Pharmaceutical Transport
While GPS in itself is a powerful tool for smooth logistics, certain other functionalities offered by LocoNav can help in improving pharmaceutical transport. These are:
Door Open/Close Alerts
Since the cargo is quite prone to theft and is valuable, door open/close alerts can further safeguard the pharmaceuticals along with all the GPS tracking features.
Temperature Monitoring
Pharmaceuticals are created and meant to be stored at specific temperatures to ensure maximum efficacy. Therefore it is essential to transport them in vehicles that have a temperature sensor for the cargo hold. LocoNav's temperature sensors alert the fleet manager in case the temperature drops below or shoots above acceptable levels.
Driver Behavior Monitoring
LocoNav's driver scorecard will help you identify driving misbehaviours and correct them before they escalate enough to damage your valuable pharmaceutical cargo or your vehicles.
Engine Immobilization
LocoNav allows you to immobilize your engine in case you sense any threat from previous alerts. This will put the engine on lockdown and with the live location information, you can dispatch a relief team immediately.
FAQ
What kind of vehicle and driver data can I track?
With a pharmaceutical fleet tracking solution you can track the following data:
Vehicle Data:
Speed
Distance Covered
Vehicle ETA
Driver Data:
Over-Speeding Data
Idling Time
Can I plan trip routes with a fleet tracking system?
Yes, with a comprehensive solution like LocoNav, you can create a route that is optimized in terms of time and fuel consumption as well as tracking the location.